Clinton Offers Proof of Health, Addresses Email Concerns on 'Jimmy Kimmel Live!'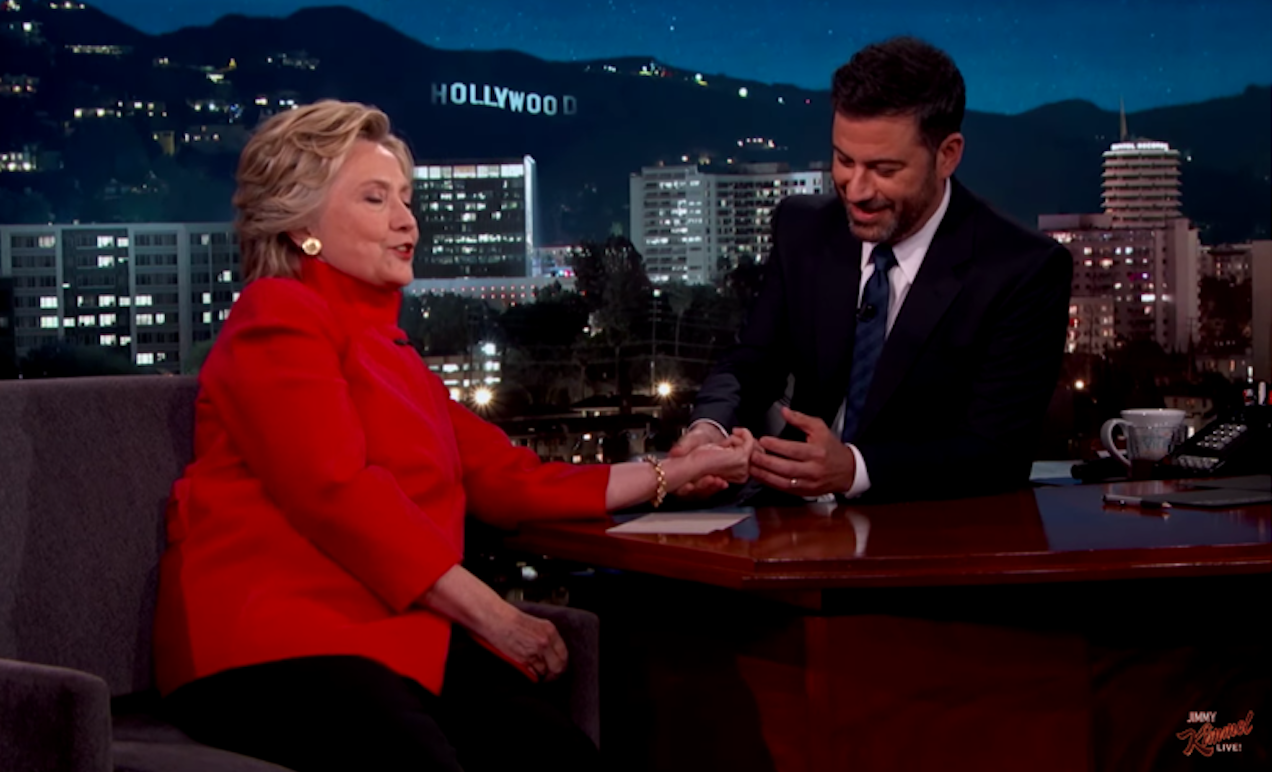 Donald Trump has been trailing Hillary Clinton in the polls for weeks, and his campaign's latest tactic to right the ship has been to call into question his opponent's health. Trump himself has repeatedly warned supporters about what he says is Clinton's lack of "stamina," while Rudy Giuliani told people to "go online and put down 'Hillary Clinton illness'" and "take a look at the videos for yourself," pointing them toward conspiracy websites. The co-chairwoman of Women Vote Trump, Amy Kremer, even implied that Clinton might have CTE, the disease that afflicts many ex-football players who suffered repeated blows to the head.
In response, Clinton told Jimmy Kimmel on Monday night: "I do feel sometimes like this campaign has entered into an alternative universe. I have to step into the alternative reality, answer questions about am I alive, how much longer will I be alive."
She added: "Back in October the National Enquirer said I'd be dead in six months. So with every breath I take I feel like I have a new lease on life. But I don't know why they are saying this. On the one hand it's part of the wacky strategy. Just say all these crazy things and maybe you can get some people to believe you. On the other hand it just makes no sense. I don't go around questioning Donald Trump's health. As far as I can tell he's healthy as a horse."
Kimmel then asked Clinton if she could open a jar of pickles. She could. So there, conspiracy people.
While Trump and his campaign have been bombarding the cable news outlets with theories about Clinton's health, the Democratic nominee has largely remained silent, opting, as she has since the Democratic National Convention, to give Trump as many chances as possible to gaffe away support. For the most part, it has worked, and on Monday night Clinton expressed gratitude for some of the high-profile Republicans who have endorsed her, particularly former National Security Advisor Brent Scowcroft, George W. Bush Treasury Secretary Henry Paulson and Hewlett-Packard CEO Meg Whitman. "They're putting country before party," Clinton said. "That's what they say to me and that's what I think we all should be doing."
Also discussed was, of course, Clinton's emails. A federal judge has ordered a review of nearly 15,000 unreleased emails be conducted by September 22, which means they could be released publicly by early October, just in time for the debates. Clinton says she isn't worried, though. When Kimmel asked her if there was cause for concern, her immediate response was, "No."
"My emails are so boring," she said. "We've already released 30,000-plus, so what's a few more."
But won't this give Trump some ammunition for the debates?
"He makes up stuff to use against me," said Clinton. "If he would stick with reality I wouldn't have a worry in the world."