Hillary Clinton's Health 'Continues to Improve,' Doctor Says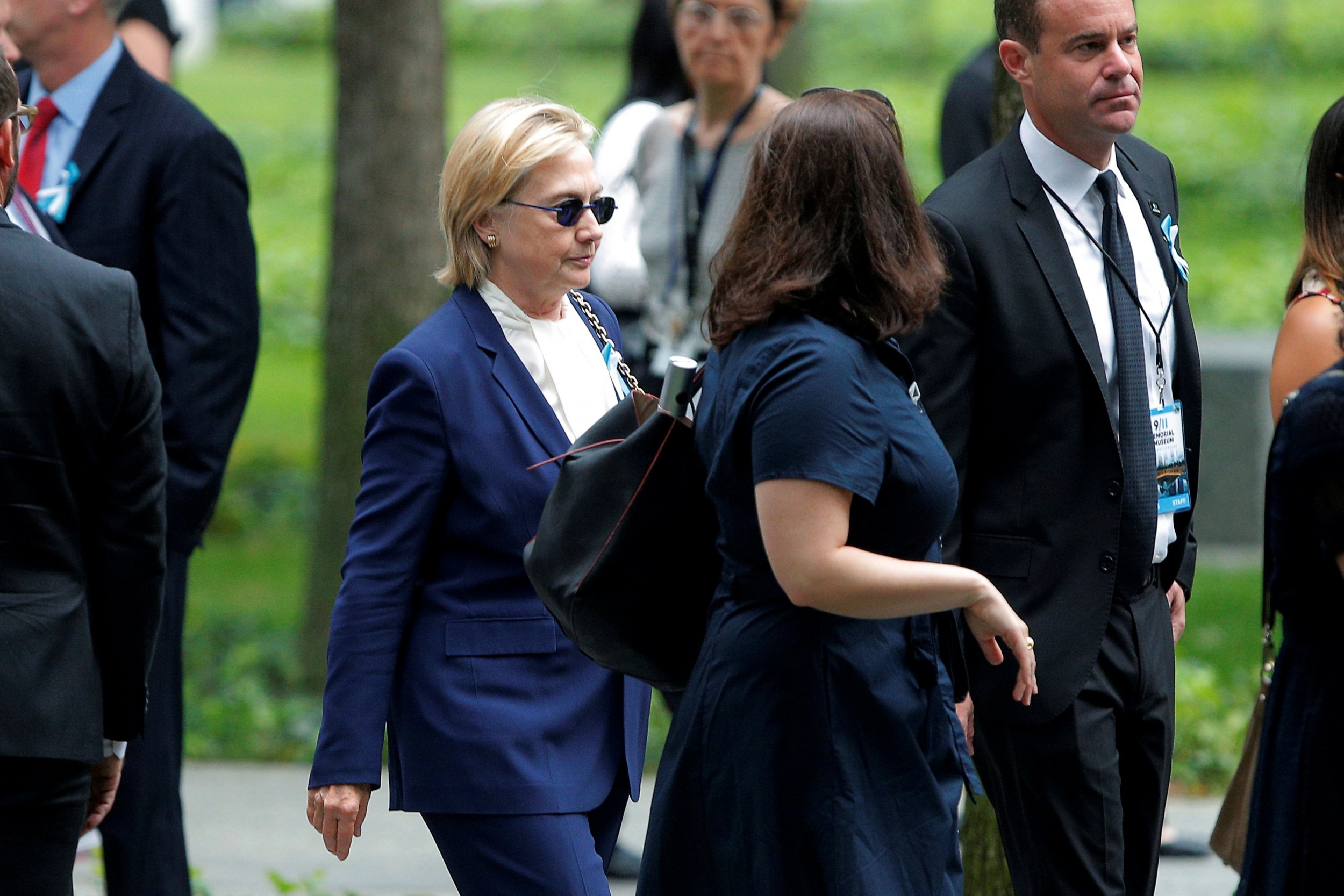 Hillary Clinton's health continues to improve since her recent diagnosis of mild pneumonia, her longtime doctor wrote in a letter released by her campaign following her near collapse at a 9/11 memorial service this past Sunday.
The Democratic presidential nominee's longtime physician, Dr. Lisa Bardack—who diagnosed Clinton with small right middle-lobe pneumonia on September 9—said in the letter dated Wednesday that Clinton has had "relatively stable" blood testing and several allergy flare-ups in the past year, which have been a typical pattern for most of her life. In January, a tube was placed in her left ear to help drain fluid after she experienced symptoms of sinusitis and an ear infection. Two months later, a CT scan of her brain and sinuses showed no abnormalities of the brain and mild chronic sinusitis.
In addition to taking antibiotics to battle the pneumonia, Clinton takes a blood thinner, Coumadin. She has had a normal mammogram and breast ultrasound.
Clinton's campaign published the letter online a day before the 68-year-old candidate returned to the campaign trail Thursday with an event in Greensboro, North Carolina. Her three-day absence from the trail came at a critical time in the election season, as the first of three presidential debates will take place in less than two weeks at Hofstra University in New York.
Clinton's opponent, Donald Trump, had refrained from attacking her over the pneumonia diagnosis until Wednesday night, when he questioned her health and physical stamina at a campaign event. "I don't know, folks, you think Hillary would be able to stand up here for an hour and do this? I don't," he said to applause from the crowd.
Meanwhile, on Thursday morning Trump released a medical note of his own from his longtime physician, Dr. Harold Bornstein. The doctor describes the 70-year-old Republican nominee as in "excellent physical health" overall. But he says Trump takes a cholesterol-lowering drug and is overweight for his body mass index, according to his physical results from September 9 at New York's Lenox Hill Hospital.
The letter, dated Tuesday, also explains that Trump was hospitalized once, for an appendectomy, when he was 11. His last colonoscopy, in July 2013, was normal and didn't reveal any polyps, while his liver and thyroid functions, as well as his cardiac evaluation, all are said to be within normal range.
On Wednesday, Trump shared some of the results during a taping of The Dr. Oz Show. He presented the host, Dr. Mehmet Oz, with a summary of his recent physical exam, although his campaign said just hours earlier his physical wouldn't be the focus of the discussion.
Trump's hourlong appearance on the talk show is set to air Thursday. Early clips posted online show Oz asking him why he hadn't yet released his medical records, in what appears to be a moment set up for the show.
"I really have no problem in doing it. I have it right here. I mean, should I do it? I don't care. Should I do it?" Trump asks the audience, to sounds of applause. He then presents Oz with two documents: a report from Bornstein and a letter from Lenox Hill Hospital.
If elected, Trump would be the oldest person to assume the presidency. "I feel as good today as I did when I was 30," Trump told Oz, adding that his age is close to that of the 69-year-old Ronald Reagan when he became president.
The doctors for both Trump and Clinton said each is medically suited to occupy the Oval Office.
Several recent polls out of battleground states show Clinton and Trump neck and neck in the race for the White House. A CNN/ORC poll in Florida showed Trump with 47 percent support and Clinton with 44 percent, while a poll in Ohio has Trump at 46 percent and Clinton at 41 percent. Meanwhile, a CBS News/New York Times poll released Thursday shows the candidates tied at 42 percent nationally.