Clinton Apologizes After LGBT Groups Criticize Her Over Praise for Nancy Reagan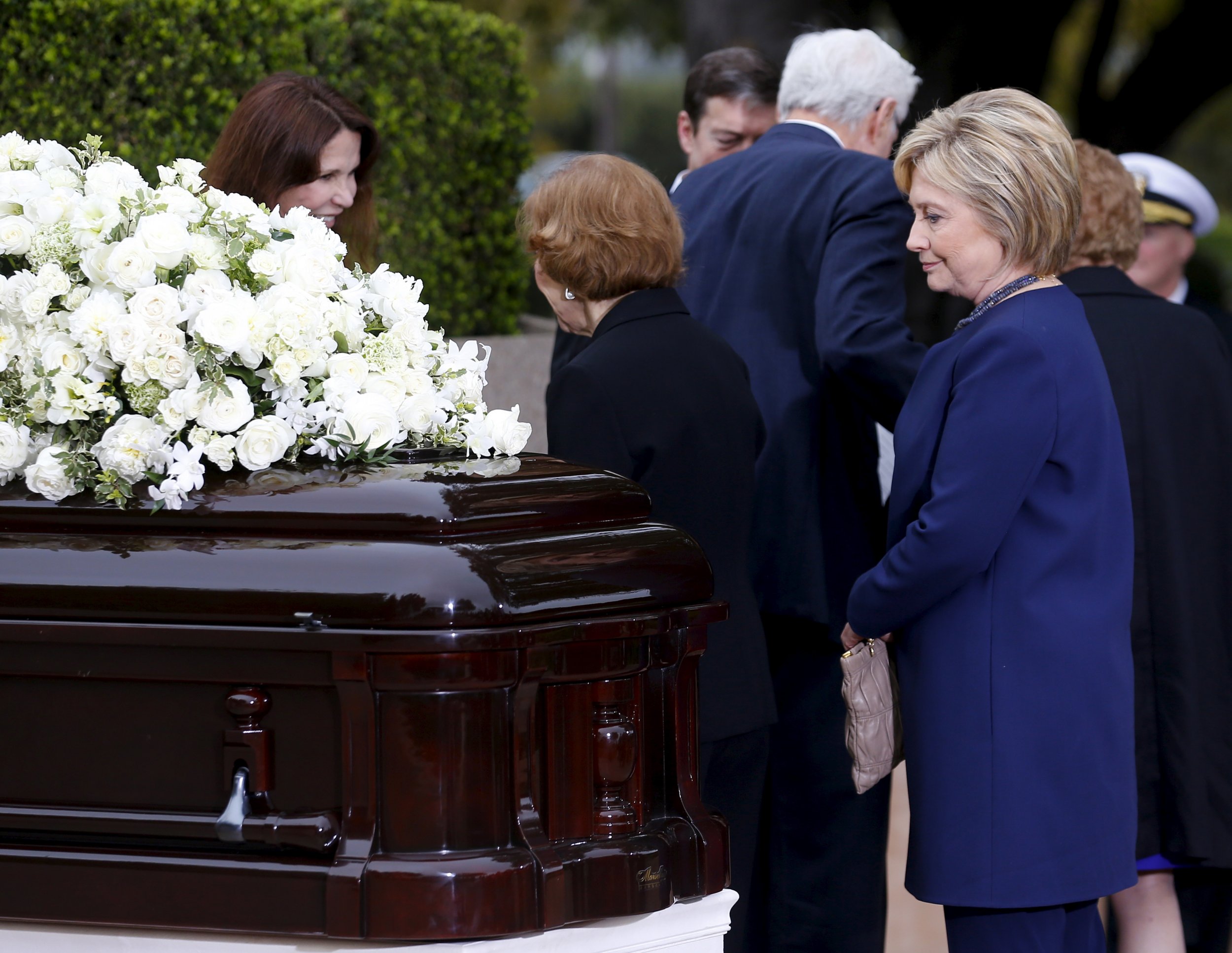 Hillary Clinton apologized Friday for her praise earlier in the day on live TV of former first lady Nancy Reagan's efforts to stop the spread of HIV/AIDS, which killed millions of Americans, most of them gay men, in the 1980s and '90s.
"It may be difficult for your viewers to remember how difficult it was to talk about HIV/AIDS back in the 1980s," Clinton told MSNBC's Andrea Mitchell on Friday afternoon during coverage of Reagan's funeral. "And because of both president and Mrs. Reagan, in particular Mrs. Reagan, we started a national conversation, where before nobody would talk about it, nobody wanted to do anything about it."
Clinton later released a statement that she "misspoke" about President and Nancy Reagan's record on HIV/AIDS. "For that, I'm sorry," she added.
Clinton had also told MSNBC that she appreciates Nancy Reagan's "very effective, low-key advocacy" in the fight against HIV/AIDS.
LGBT rights groups, including at least one that has endorsed Clinton in her run for the White House, don't think so highly of Nancy Reagan when it comes to HIV/AIDS and were quick to respond to her remarks.
"While I respect her advocacy on issues like stem cell [and] Parkinson's research, Nancy Reagan was, sadly, no hero in the fight against HIV/AIDS," tweeted Chad Griffin, president of the Human Rights Campaign, the largest LGBT rights group in the United States. Multiple spokespeople for Clinton declined to comment directly on her remarks, instead pointing Newsweek to Griffin's tweet.
Peter Staley, a prominent HIV/AIDS and LGBT rights activist, criticized Clinton on Twitter, calling her comments "the most offensive thing possible [for] my generation of LGBT Americans."
A representative of Lambda Legal, one of the country's oldest civil rights groups for LGBT Americans and those with HIV/AIDS, also disputed Clinton's characterization of Nancy Reagan's role in the HIV/AIDS crisis.
"The notion that the Reagan administration started a national dialogue on HIV/AIDS is absurd and offensive," says Kyle Palazzolo, a staff and HIV attorney at Lambda Legal. "It ignores not only the harm that occurred to so many as a result of the government's inaction but also the work of so many real advocates who fought for those who were dying around them."
Last week, BuzzFeed News reported that Nancy Reagan declined to help her longtime friend Rock Hudson, who lived most of his life as a closeted gay man, when he asked the then-first lady for help in receiving treatment for AIDS. Hudson died of AIDS in 1985.
Even some members of Bill Clinton's White House have publicly differed with Hillary Clinton's depiction of Nancy Reagan. "On a personal level, she was someone who was not against gay people," Richard Socarides, a former Clinton adviser on gay issues, told ABC News. "But when the country needed leadership, President Reagan was not there, and his wife—who was able to do more—was not willing to step up. It reflects rather harshly on both of them."