Hillary Clinton Honors Transgender People Who Were Killed In 2018 for Transgender Remembrance Day
Hillary Clinton listed the transgender people who were killed in 2018 to remember them for the 19th annual Transgender Remembrance Day.
Clinton listed the 22 transgender people who were killed this year. Twenty of the transgender people killed were people of color, according to GLAAD.
"Ciara Minaj Carter. Nikki Janelle Enriquez. Londonn Moore. Shantee Tucker. Dejanay Stanton. Vontashia Bell. Sasha Garden. Keisha Wells. Cathalina Christina James. Diamond Stephens. Antash'a Devine Sherrington English. Gigi Pierce. Nino Fortson. Karla Patricia Flores-Pavón. Sasha Wall. Amia Tyrae. Phylicia Mitchell. Zakaria Fry. Celine Walker. Tonya Harvey. Christa Leigh Steele-Knudslien. Viccky Gutierrez," Clinton wrote. "On this Transgender Day of Remembrance, we remember the names and the lives of those we've lost to violence this year," Clinton wrote, along with the list of names.
Other politicians like California Senator Kamala Harris and New York State Attorney General Leticia James also tweeted about Transgender Day of Remembrance on Tuesday to honor those who were killed.
TDOR is annually observed on November 20 to honor the lives of those who were killed in hate crime attacks, according to GLAAD. Transgender Awareness Week is also observed from November 12 to 19 in order to help raise the visibility of transgender people and discuss the issues many transgender people face, according to the organization. The tradition began in 1999 after the death of transgender activist Rita Hester from Boston, who was stabbed 20 times, according to GLAAD.
"The Transgender Day of Remembrance seeks to highlight the losses we face due to anti-transgender bigotry and violence. I am no stranger to the need to fight for our rights, and the right to simply exist is first and foremost," said Transgender Day of Remembrance founder Gwendolyn Ann Smith on the GLAAD website. "With so many seeking to erase transgender people—sometimes in the most brutal ways possible—it is vitally important that those we lose are remembered, and that we continue to fight for justice."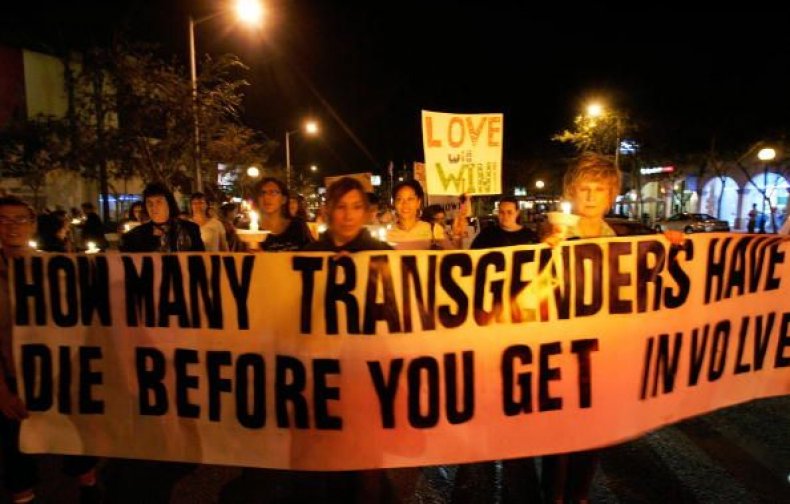 In 2017, 26 transgender people were killed in the United States and nearly all of the victims were transgender women of color, according to GLAAD. Out of the 1,338 victims targeted due to sexual-orientation bias in 2017, 24.9 percent of victims were anti-lesbian, gay, bisexual, or transgender (mixed group) bias, according to the FBI 2017 Hate Crime Statistics report released in November.
In October, The New York Times reported that the Department of Health and Human Services explained in a memo that it would push to define gender as male or female. Following the news, Trans Lifeline, a phone service that offers emotional support to the transgender community, reportedly received four times the normal number of calls, according to an Instagram post. The hotline also said it received two times the normal number of first-time callers.