Hillary Clinton Hopes Biden Administration Will Move Quicker Against Russia
Hillary Clinton wants to see the Biden administration move quicker in imposing stronger sanctions against Russia as its military continues the invasion of Ukraine.
"I would hope that the administration and European allies and others would move even more quickly to impose sanctions, not only on the economy of Russia, but also on individual actors within that economy—all the way up to [Russian President Vladimir] Putin," Clinton told MSNBC's Morning Joe on Friday.
"When push comes to shove, people are in NATO because they need collective defense against a resurgent Russian imperialism," she said.
Clinton's comments come as Ukraine's allies announced new sanctions against Russia this week after Putin ordered the invasion late Wednesday.
Less than 24 hours after the attack began, U.S. President Joe Biden addressed the nation, announcing new measures to pressure Russia into backing down. They include an export blocks on technologies and sanctions against major Russian banks, making it harder for the country to do business in dollars, Euros, pounds and yen.
On Thursday, Biden applied sanctions to families close to Putin: Sergei Ivanov and his son Sergei, Nikolai Patrushev and his son Andrey, Igor Sechin and his son Ivan, Andrey Puchkov, Yuriy Solviev and his wife Galina Ulyutina and Alexander Vedyakhin. The U.S. did not impost sanctions directly on Putin.
But the latest sanctions have not entirely deterred the Kremlin.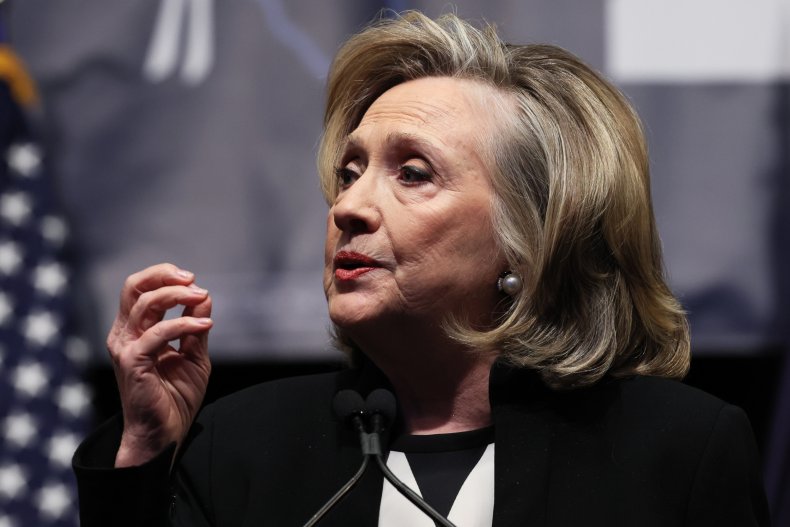 Although Putin stated that his country was "ready to negotiate" with Ukraine as of Friday morning, Russian troops had already started closing in on the Ukrainian capital of Kyiv at the time of those remarks.
According to state agency RIA, Kremlin spokesperson Dmitry Peskov said that the talks would have to be about Ukraine declaring "a neutral status," something that Ukrainian President Volodymyr Zelenskyy has not agreed to.
On Friday, Clinton urged the Biden administration to continue mounting pressure on those with close ties to Putin, saying it was the only way she predicts Putin will re-evaluate his plans.
"The only pressure that Putin would respond to, or that could have any kind of impact on his thinking, would be those who he relies on to launder his money, to keep the funding going into his secret accounts robust," the former secretary of state said.
"We've got to go after those oligarchs who are supporting Putin financially. They need to pay a price, whether their yachts are seized or their homes are seized or whatever it might be to get their attention," she added. "This is a critical moment, and we've got to bring maximum pressure on Putin as quickly as possible."
Clinton said she'd also support further military assistance—through weapons and the addition of more troops.
On Thursday, Biden announced that 7,000 more service members would be deployed to Germany but maintained that the U.S. military would not fight in Ukraine.