Hillary Clinton Interviews for 'Secretarial Position' in Surprise Cameo on Murphy Brown Premiere
Former presidential candidate Hillary Clinton helped launch Murphy Brown's return to television on Thursday night with a surprise cameo.
In the first episode of the revival series, titled "Fake News," Clinton plays a woman named "Hilary"–with one "L," who interviews for a secretarial position at Murphy Brown's new cable news show.
Brown, an investigative television journalist played by Candice Bergen, mistakes the job candidate for Clinton, the former candidate, to which Hilary responds: "I get that a lot."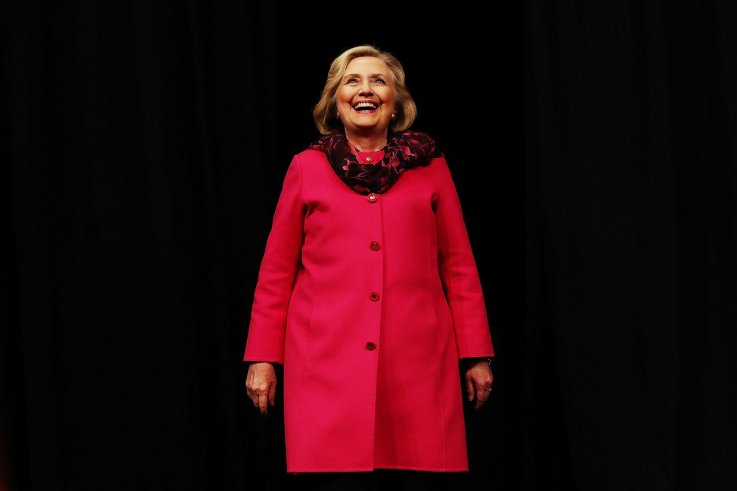 "Your reputation precedes you," Hilary says to Brown, "but I want you to know I'm not afraid of hard work. I'm qualified and ready on day one."
The former secretary of state also jokes that she has four years' worth of experience working as a secretary for "a very large organization."
Asked about her skills and experience, Clinton quipped: "I do have some experience with emails," referring to the controversy surrounding her use of a private email server for official communications during her time as secretary of state.
Brown tells Hilary that while she is "impressive," she may be "a little overqualified."
Still, the investigative journalist takes down Hilary's contact information, with the candidate's email turning out to be: Hilary@youcouldhavehadme.com.
The rest of the episode centers on Brown bringing her news team back together for a show that hits on current events, with Brown getting into a Twitter spat with President Donald Trump at one point.
The original Murphy Brown aired for a decade from, 1988 to 1998, during the time Hillary Clinton became first lady when her husband, former President Bill Clinton, took office in 1993.
Soon, Clinton will also appear in another CBS show.
She and former secretaries of state Madeleine Albright and Colin Powell are expected to make guest appearances, playing themselves on the upcoming season premiere of Madam Secretary.
The fictional political drama television series, created by Barbara Hall and executive produced by Morgan Freeman and Lori McCreary, follows the life fictional character Elizabeth McCord, a former CIA analyst and political-science-professor-turned secretary of state.
That episode is slated to air on October 7.
Hillary Clinton Interviews for 'Secretarial Position' in Surprise Cameo on Murphy Brown Premiere | U.S.