For Clinton, Older Voters Could Be All-Important in Iowa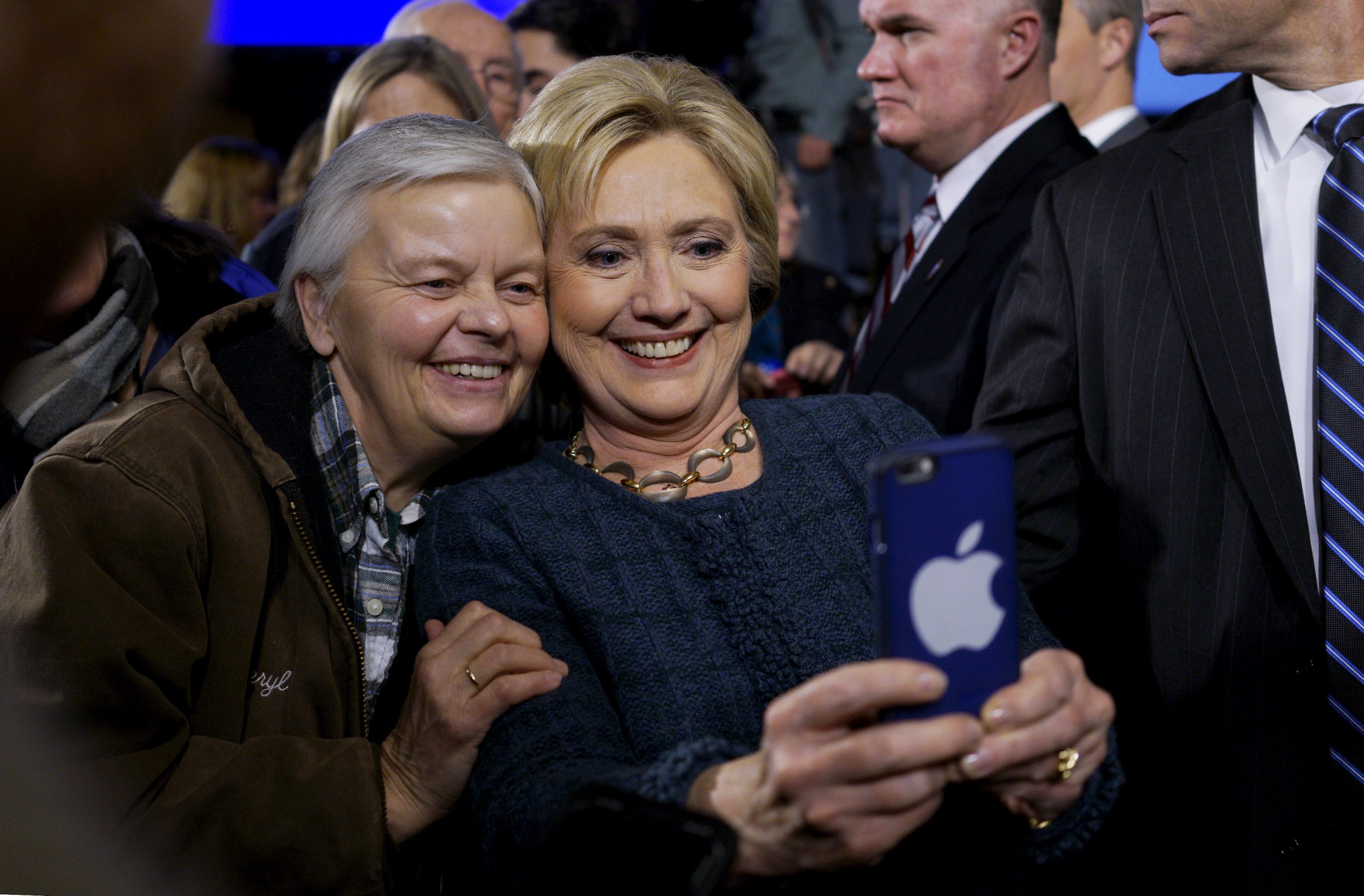 Gray-haired grandmas may not be as sexy a voting bloc as millennials, who have been getting the bulk of headlines in the coverage of 2016 voter demographics. But for Hillary Clinton, the senior vote could be her ticket to victory next week in Iowa's Democratic caucuses.
Polling has consistently shown that seniors are the one age group where the former secretary of state has a clear edge in Iowa over her main rival, Vermont Senator Bernie Sanders. A CNN/ORC International survey conducted from January 15 to 20 found that Clinton led 63 to 34 percent among likely Democratic caucus-goers aged 55 and older. There was an even greater gap in a CBS News/YouGov poll done around the same time, with Clinton leading Sanders 61 to 28 percent among registered Democrats 65 and older.
The reverse is true among young voters in the 18- to 34-year-old range, who show a marked preference for Sanders. On its face, that makes for an odd juxtaposition, given that Sanders, at 74, would be the oldest person ever elected president. Yet Sanders's perceived authenticity and promises of radical change have many 20-somethings "feeling the Bern," something that has been much remarked upon in the press. Seniors, however, are more consistent voters, which indicates that Clinton's edge among older Iowans could ultimately be more meaningful.
"People that historically go to the caucuses obviously skew older, so that just means that it's a more stable universe of folks," says Democratic political consultant Paul Tewes, who managed President Barack Obama's Iowa campaign in 2008. The downside: "It's harder to grow because of that."
"Younger folks," meanwhile, "probably don't have the same tradition of going to the caucus, but enthusiasm can excite them, and they can double and triple the normal numbers," says Tewes. That youthful enthusiasm is what he and the Obama campaign tapped into so successfully in 2008. New York Times exit polling from Iowa showed that the 17- to 29-year-old crowd represented the same proportion of Democratic caucus-goers as the 65-plus voters that year. In 2004, in contrast, voters 65 and older made up 27 percent of Democratic caucus votes, to just 17 percent for 17- to 29-year-olds.
Sanders's Iowa hopes will dim if turnout in next Monday's caucuses mimics the 2004 model, rather than 2008. And as The Des Moines Register pointed out earlier this month, he could be at a disadvantage because college-age voters tend to be concentrated in certain cities, while the state party distributes delegates based on geography, not sheer numbers. In 2008, the caucuses were in early January, when students were still home for the holidays rather than packed in a handful of college towns, which helped Obama. "We could distribute our strength among young people more evenly across the state," explains Tewes.
But, he adds, "I've seen caucuses, especially in these rural areas, where five or six of these high school kids can walk in and be half the room."
Sanders certainly isn't ceding the senior vote to Clinton. His campaign is distributing a mailer in Iowa on Social Security that cites AARP, prompting a response from the Iowa branch of the nonpartisan organization, which represents millions of retired Americans nationally. "AARP did not authorize the Sanders campaign to mention AARP or use the AARP logo, and we did not participate in its production," it reads.
Certainly, the septuagenarian independent lawmaker has the record to appeal to Iowa's oldest voters. He's built his career in Congress talking about defending Social Security and fighting sky-high prescription drug prices—priorities for seniors. One of his crowning moments was putting together the first bus trip to take constituents to Canada to buy low-cost prescription drugs.
Social Security, however, is not something that has been raised much in the national discussion. It was mentioned only once (by Sanders) in Democrats' most recent debate in Charleston, South Carolina. But AARP Iowa State Director Kent Sovern says the issue comes up consistently on the campaign trail in the Hawkeye State. "This is often the first question that candidates are getting at local forums," says Sovern. That's due in part to a concerted effort by Sovern's organization to push the issue both with its own members and with the candidates. "We've got red [AARP] shirts in the audience...all across the states," he says.
The future of Social Security may not be what's drawing senior voters to Clinton, however. Older Democratic women are particularly keen on electing a woman to the White House, points out Iowa State University political science professor Steffen Schmidt. It's something they may not have another chance to see in their lifetimes.
Tewes says he's confident neither campaign is betting it all on one slice of core supporters in Iowa. Winning the caucuses, he emphasizes, is about reaching as many people as possible, regardless of age or other demographic. "You have to really not constrict yourself from day one in who you talk to and how many times," says Tewes. "There's no such thing as a regular caucus participant."