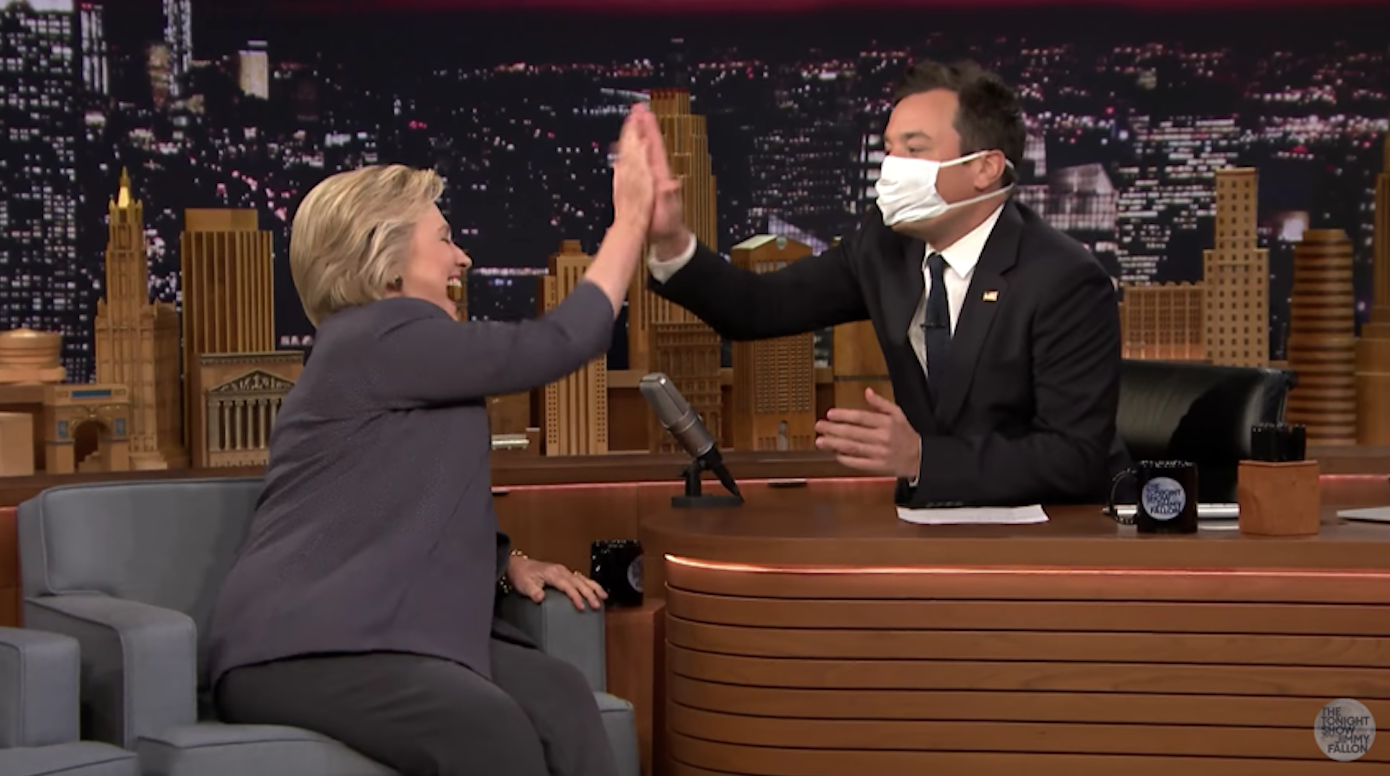 Jimmy Fallon was widely panned last week for giggling like a schoolboy as he tousled Donald Trump's hair and asked the Republican presidential nominee a number of comically easy questions on The Tonight Show. Well, Fallon is an equal opportunity suck-up, and Monday night he invited Hillary Clinton to his show for a similarly laugh-happy round of softball batting practice.
After donning a surgical mask and pumping a few squirts of sanitizer into his palms, Fallon asked Clinton about her health (She was recently diagnosed with pneumonia but says: "I am not contagious!"), whether Bill is a good nurse ("He's very solicitous.") and how she's able to balance seriousness and positivity on the campaign trail ("It's especially tricky for women."). Unlike with Trump, he didn't ask her about her board-game preferences. Guess we'll have to wait until 2020 to hear that, if she's up for re-election.
The ease of the interview shouldn't come as a surprise, nor should it have when Trump was his guest last week. Fallon is not a tough interviewer. He doesn't pretend to be. His show is about having fun, laughing, hair-tousling and breaking eggs over people's heads. It's essentially a kids' show for adults. As Fallon exited the Emmys on Sunday night, TMZ asked him about the criticism. "Have you seen my show?" was Fallon's justifiably perplexed response.
If you wanted to see Trump pressed on, say, whether he supported invading Iraq, maybe you should have tuned in to NBC's Commander in Chief Forum earlier this month. Oh, wait...
But given the general low-pressure nature of Fallon's interviews, there was some substance to Clinton's appearance on Monday night. No, she wasn't pressed about her emails or her strategy to defeat ISIS, but she did offer a few inspiring words when asked about breaking down barriers.
"Some people are not happy about the barriers being knocked down," she said. "Your former guest, Donald Trump, has refused to actually admit that President Obama is an American. For five years he's been hammering in this so-called Birther movement, which I think is so sickening. Then he went after a distinguished federal judge because he was born in Indiana of Mexican heritage. He went after the Gold Star family whose son was heroically lost in Iraq, because they're Muslims. You just have to take a deep breath and say to yourself, 'What kind of country do we really want?' I want a country where barriers are knocked down, and where little girls and little boys can go as far as their hard work will take them without regard to race and ethnicity and religion and gender and sexual orientation."
"I have two little girls and they're going to be so psyched that I interviewed you one day," Fallon responded. "They're going to be asking me about you. This is a historic night for me."
Again, he's an equal opportunity suck-up.