Hillary Clinton Joins Biden in Warning Trump May Retaliate if He Loses 2020: 'Be Ready'
Former Secretary of State Hillary Clinton joined former Vice President Joe Biden and other Democrats in warning that President Donald Trump may retaliate if he loses the 2020 presidential election.
In an interview with The Daily Show's Trevor Noah, Clinton was asked whether she was worried that recent stories of irregularities in mail-in voting would be used by the president to undermine a potential loss in the upcoming election.
"Well, I think it is a fair point to raise as to whether or not, if he loses, he's going to go quietly or not. And we have to be ready for that," Clinton replied. "But there have been so many academic studies and other analyses, which point out that it's just an inaccurate, fraudulent claim."
Presumptive Democratic nominee Biden also recently addressed Trump's resistance to leave the White House in an interview with Noah last week.
"I promise you, I am absolutely convinced, they [military personnel] will escort him from the White House with great dispatch," Biden said.
However, Trump's campaign said Trump would not be resistant if he loses in November.
"This is just another unsubstantiated liberal conspiracy theory of a sad and bitter person. President Trump has been clear that the election will take place on November 3 and that he will accept the results," deputy national press secretary Ken Farnaso told Newsweek in a statement.
"What reporters should ask though, is why Biden is so intent on fueling confusion among voters at a time when they're looking for normalcy. Every time Joe Biden opens his mouth he tries to divide Americans and spread confusion. For the good of the county, he should stop," Farnaso added.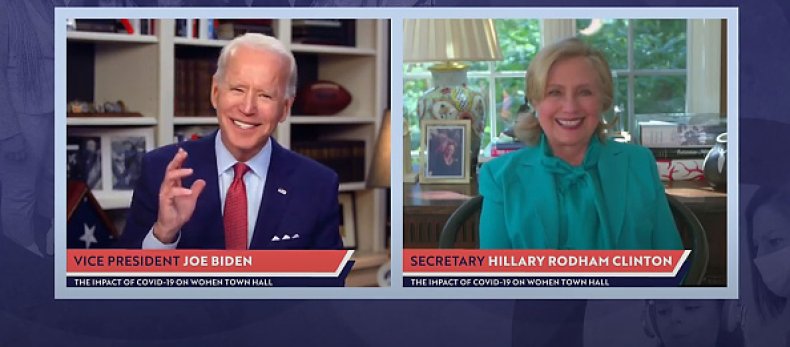 Both Biden and Clinton expressed concern that voter suppression will be an increasing challenge come November.
"It's my greatest concern. My single greatest concern. This president is going to try to steal this election," Biden told Noah. "This is a guy who said that all mail-in ballots are fraudulent while he sits behind the desk in the Oval Office and writes his mail-in ballot to vote in the primary."
"If people get to vote and they for whatever reason vote for Donald Trump, OK. We'll accept it," Clinton said Monday. "Not happily. But I don't think that's what will happen. Because I think that more people who can actually get to the polls whether by mail or in person and get their votes counted, then we are going to have the kind of election we should have and then it'll be a win both in the popular vote and in the Electoral College."
Political commentator Bill Maher has been known to ask the Democratic guests on his HBO show Real Time about the possibility that Trump may refuse to leave office even if he loses the election.
"If you win and the next day he claims he's avoiding the election because of irregularities he's hearing about, what do you do?" Maher has asked on his show.
"I've asked Democrats, what do we do if he doesn't go? Their answer is always some variation of we have to win big," he added.
Update 07/14/20 3:10 p.m. ET This story was updated to include comments from Farnaso.