Hillary Clinton Jokes About Bernie Sanders Criticism: 'I Thought Everyone Wanted My Authentic, Unvarnished Views'
Former first lady and presidential candidate Hillary Clinton cracked a joke after being criticized for saying "nobody likes" 2020 presidential candidate Senator Bernie Sanders, before saying she'd support the Democratic candidate for president, whoever it turns out to be.
In an upcoming documentary on her life, Clinton called Senator Bernie Sanders a "career politician" and that "nobody likes him."
"I thought everyone wanted my authentic, unvarnished views!" Clinton tweeted Tuesday. "But to be serious, the number one priority for country and world is retiring Trump, and, as I always have, I will do whatever I can to support our nominee."
Clinton was quoted by The Hollywood Reporter in an interview Tuesday as saying about Sanders, "He was in Congress for years. He had one senator support him. Nobody likes him, nobody wants to work with him, he got nothing done. He was a career politician. It's all just baloney and I feel so bad that people got sucked into it."
"I will say, however, that it's not only him, it's the culture around him," Clinton added. "It's his leadership team. It's his prominent supporters. It's his online Bernie Bros and their relentless attacks on lots of his competitors, particularly the women."
Sanders seemed to take the comments in stride, telling ABC News Tuesday that "On a good day, my wife likes me."
"Secretary Clinton is entitled to her point of view," Sanders said. "My job today is to put together a team that can defeat the most dangerous president in the history of the United States of America."
Newsweek reached out to Sanders for comment but did not receive a response in time for publication.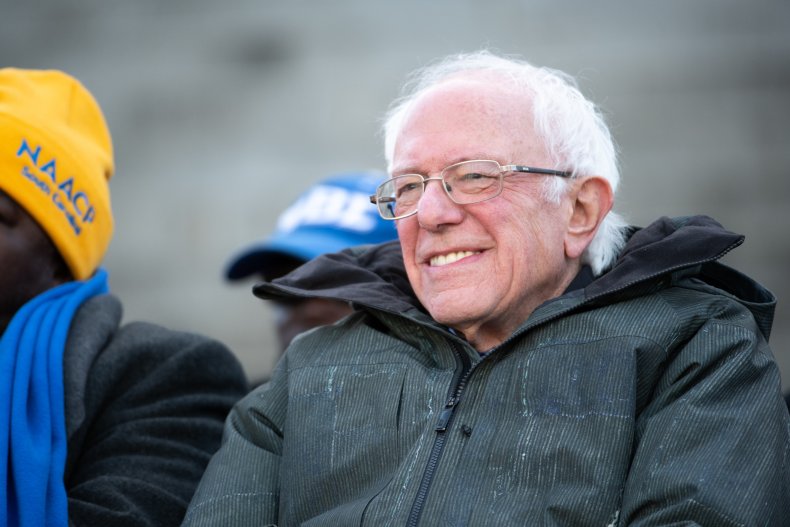 Researcher James Zogby accused Clinton of "being divisive" in criticizing Sanders.
"This is a damn shame," Zogby wrote. "#Bernie did 41 events for Clinton in 2016 & pressed his supporters to get behind her campaign. (I know because I was there.) Being divisive at this point is wrong & only plays into the hands of those we need to defeat in November."
Presidential candidate Tulsi Gabbard, who publicly denounced Clinton during her campaign, tweeted simply "I like Bernie."
Although both Clinton and Sanders ran against Donald Trump in the 2016 Democratic race, Sanders ended up giving Clinton his endorsement after she won the nomination.
"It is no secret that Hillary Clinton and I disagree on a number of issues," Sanders said in his endorsement announcement. "That's what this campaign has been about. That's what democracy is about."
"I have known Hillary Clinton for 25 years. We were a bit younger then," Sanders added. "I remember her as a great first lady who broke precedent in terms of the role that a first lady was supposed to play as she helped lead the fight for universal health care. I served with her in the United States Senate and know her as a fierce advocate for the rights of children."
Clinton has yet to publicly endorse a Democratic candidate for president.