Hillary Clinton Says 'Fair Question' to Ask if Lindsey Graham 'Sold His Soul to the Devil'—'It's Like He Had a Brain Snatch'
Hillary Clinton has opined about her former congressional colleague, Republican senator Lindsey Graham, saying he appeared to have had a "brain snatch" since she worked with him.
The former secretary of state told Stern Show host Howard Stern on Wednesday that she didn't know "what happened" to the senator, but remarked that she had found him "funny" in the past and noted he had written a short profile of her for TIME magazine.
Elsewhere in the interview Clinton said Stern had asked a "fair question" when he queried whether Graham had "sold his soul to the devil."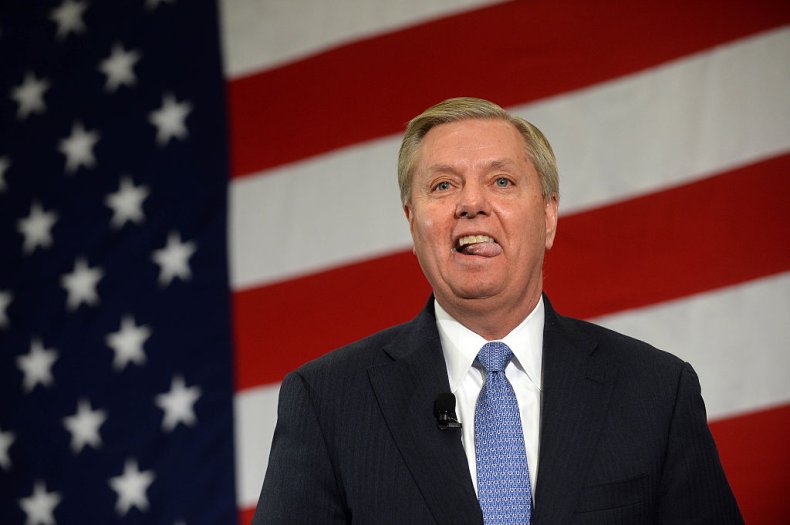 Clinton said some GOP senators had "fallen off the edge" and had "changed their personality and politics" since the 2016 election.
The 2016 presidential election candidate confirmed that Lindsey Graham was one such example, saying he was "good company," "funny" and "self-deprecating" when they traveled together as senators.
"I saw him as somebody had been working to try to figure out what he believed and try to do things," the Clinton said.
When Stern then asked if Graham had "sold his soul to the devil," Clinton responded: "I don't know the answer to that. I think that's a fair question, however."
"What I don't understand is how he went from being the real friend and the real confidant of the maverick John McCain, who I didn't agree with politically but I found him to be a man of integrity, of real strength of conviction," Clinton said.
She went on to say that she didn't know "what happened" to Lindsey Graham, adding that she hadn't talked to him in a long time.
"You know how TIME magazine has a top 100 people and all that, one year, a couple of years ago when I was in it, he wrote the tribute to me," Clinton said of Graham. "And then now it's like he had a brain snatch."
Newsweek has contacted Lindsey Graham's office for comment but did not receive a response by time of publication.
Writing about Clinton for TIME magazine in 2006, when the then-senator appeared in the magazine's "100" list, Graham described her as someone he had found "common ground" with.
"Senator Clinton would be a formidable opponent for Republicans in November 2008 as the nation remains closely divided," Graham wrote. "Some say she cannot be elected President. I say those who underestimate Hillary Clinton do so at their own peril."
But in the thirteen years since he wrote that profile, the senator from South Carolina has not been quite so flattering about the former secretary of state.
At a hearing with Attorney General William Barr regarding the Mueller investigation, Graham tried to deflect attention onto the 2016 Clinton election campaign, suggesting it had attempted to obstruct a probe into her decision to use a private email server, The Washington Post reported.
Hillary Clinton served as a New York senator alongside Graham from 2001 to 2009, when she was confirmed as Secretary of State under the Obama administration.
The Stern Show interview with the former secretary of state yesterday came under scrutiny from Fox News hosts, with Tucker Carlson asking a medical correspondent to give his thoughts on Clinton's health.
Sean Hannity also said it made "no sense" why Howard Stern "loved" Clinton and hated President Donald Trump, according to The Hill, adding that the host was "not the guy I grew up listening to."