Hillary Clinton Says Matt Lauer Firing Is 'Karma' for Unfair Campaign Questioning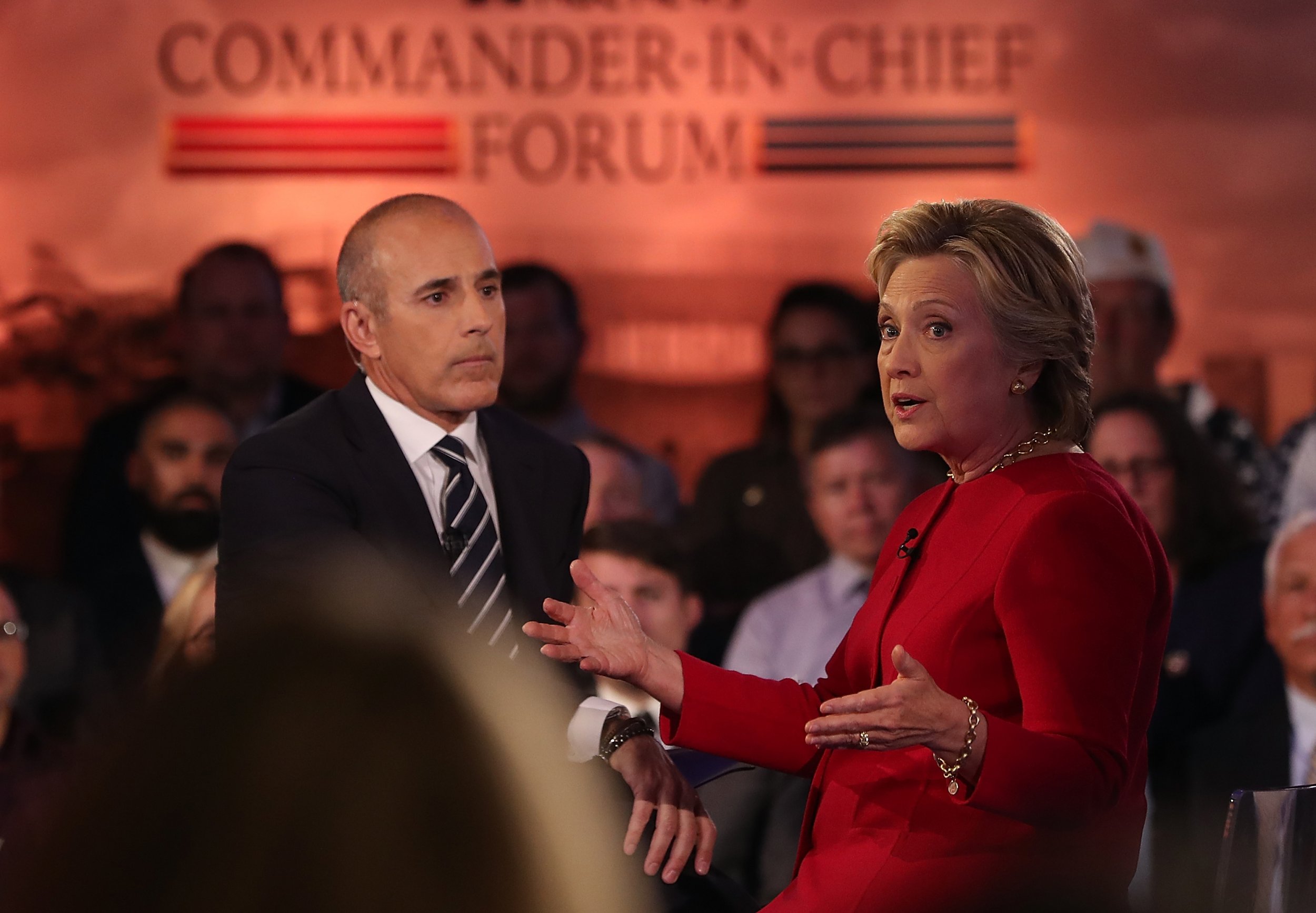 Former Secretary of State Hillary Clinton brought up "karma" when asked about Matt Lauer's sexual misconduct allegations this week, nearly a year after the NBC host hosted a TV debate where he pressed her for having private emails while she served in the Obama administration. CNN reporter Dan Merica tweeted on Friday, "Hillary Clinton last night in Philadelphia re: Lauer: 'You know, every day I believe more in karma, that's all I can tell you.'"
Merica was quote-tweeting a tweet about Clinton's opinion of Lauer. The original tweet, posted Thursday by Politico's Annie Karni, read: "Hillary Clinton on Matt Lauer's performance during the Commander-in-Chief forum in 2016: 'Trump should have reported his performance as an in-kind contribution.... I can't say I didn't fantasize about shaking some sense into Lauer while I was out there.'" The tweet is a quote from Clinton's book What's Happened, a memoir published this year about the 2016 presidential race, in which Clinton criticizes the way Lauer questioned her during the campaign.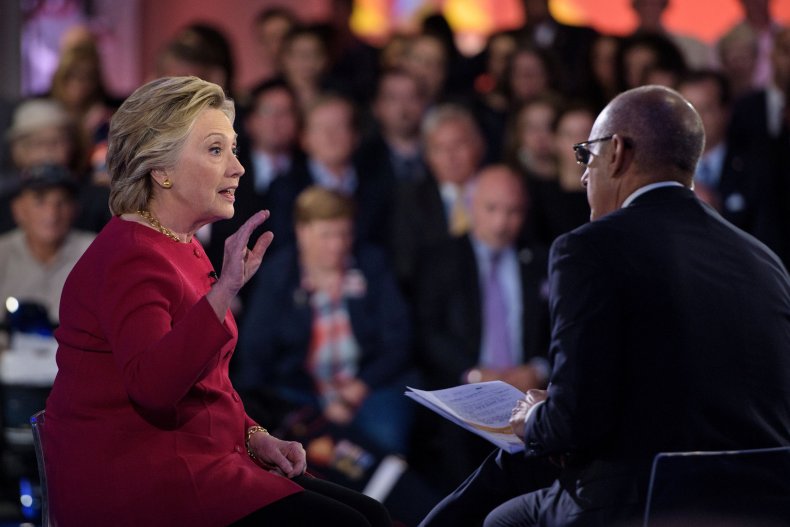 When Lauer moderated last year a "Commander in-chief Forum," he asked both President Donald Trump and Clinton questions about military issues and national security. But many felt that Lauer disregarded Trump's past scandals, while prodding Clinton about her private email scandal.
"It's unavoidable—and fair—to now look back at Lauer's work through a new lens," a Quartz article from Wednesday stated. "In particular, it's worth revisiting the spectacularly uneven presidential forum he moderated last year with then-candidates Donald Trump and Hillary Clinton." That includes allowing Trump to make an untrue comment about his Iraq War support without fact-checking him, and failing to probe him about his refusal to call John McCain a war hero or his negative comments about the gold star parents of a Muslim fallen U.S. soldier.
Lauer is the latest journalist to be associated with sexual harassment and being tough on Clinton in 2016. Glenn Thrush, formerly of the New York Times, and Mark Halperin, formerly of MSNBC, have both been accused of sexual misconduct. These men have also been criticized for their treatment of Clinton.
"Matt Lauer was fired today. One by one, we're finding out the true character of the male journalists who treated Hillary Clinton (and her voters) with seething disdain," Peter Daou, the creator of left-leaning site Verrit and the leader of Clinton's 2008 digital campaign operation said in a Facebook post.
Soraya Nadia McDonald, a culture critic for The Undefeated, wrote on Twitter: "Glenn Thrush and Mark Halperin bore huge responsibility for the way we saw/discussed Hillary Clinton. I don't think it's unreasonable to consider how their attitudes toward women affected that."
Lauer was terminated Wednesday morning after he was accused of sexually assaulting a number of women since 2001. NBC News Chairman Andrew Lack said Lauer's firing this week was sad but necessary. "Our highest priority is to create a workplace environment where everyone feels safe and protected, and to ensure that any actions that run counter to our core values are met with consequences, no matter who the offender," Lack said in the statement. "We are deeply saddened by this turn of events. But we will face it together as a news organization — and do it in as transparent a manner as we can."