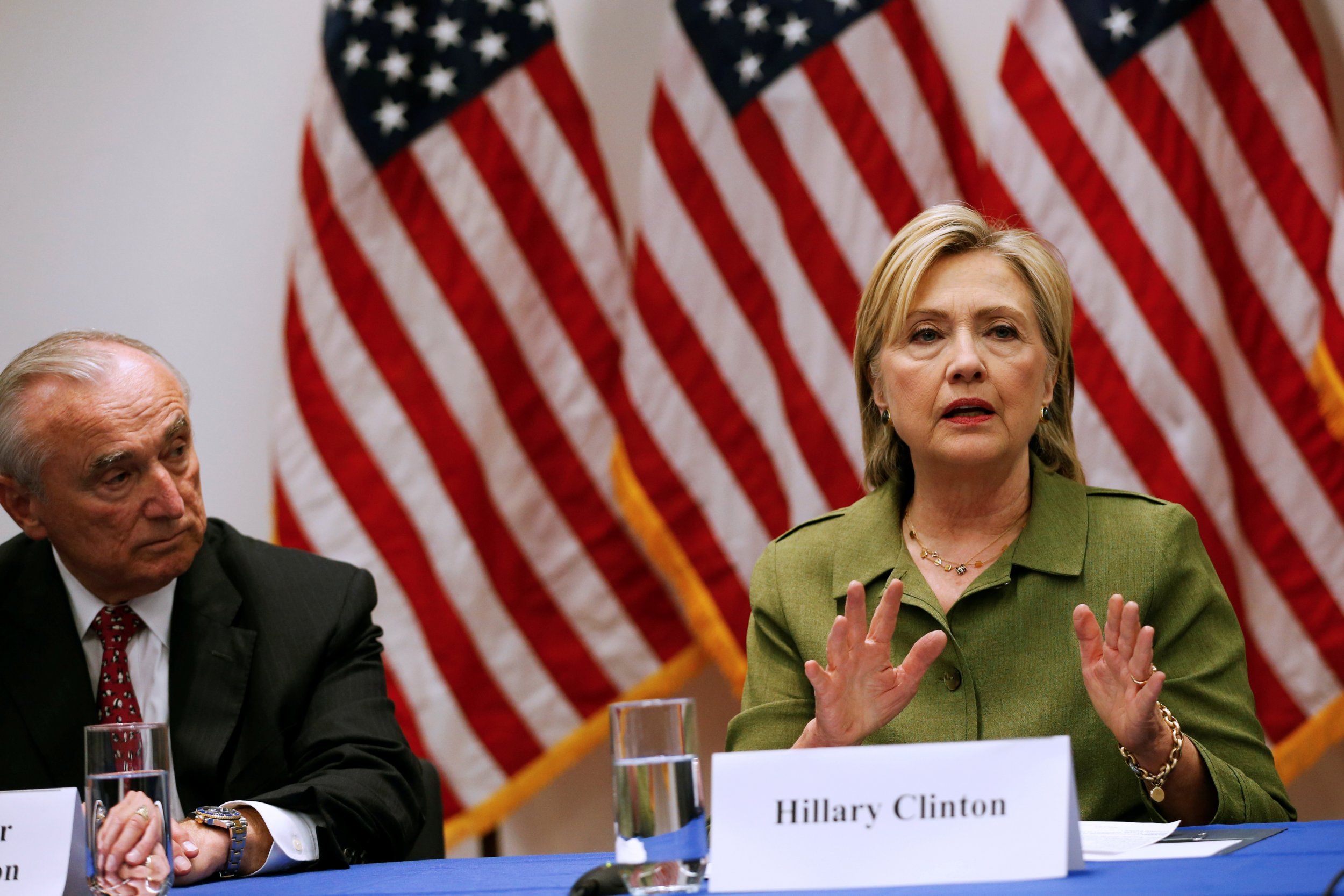 Hillary Clinton is meeting with law enforcement leaders to "discuss the challenges and opportunities that exist on policing issues in cities across the country," a campaign official said in a statement.
The Thursday meeting in New York comes as Donald Trump tries to position himself as the "law and order" candidate, though the official said the meeting has been planned for several weeks and Clinton's campaign points out that the candidate has long spoken about the importance of supporting police officers.
Yet the get-together comes not long after the Democratic National Convention, whose organizers gave airtime to Mothers of the Movement, a group of women whose children were killed in officer-involved or vigilante-involved shootings, and the Clinton campaign could be aiming to clarify her stance with the law enforcement community. It is a tense time for law enforcement due to a recent flare-up in tensions between police and communities across the country following several high profile officer-involved fatal shootings of black people, and the ambush killings of officers in Dallas and Baton Rouge, Louisiana.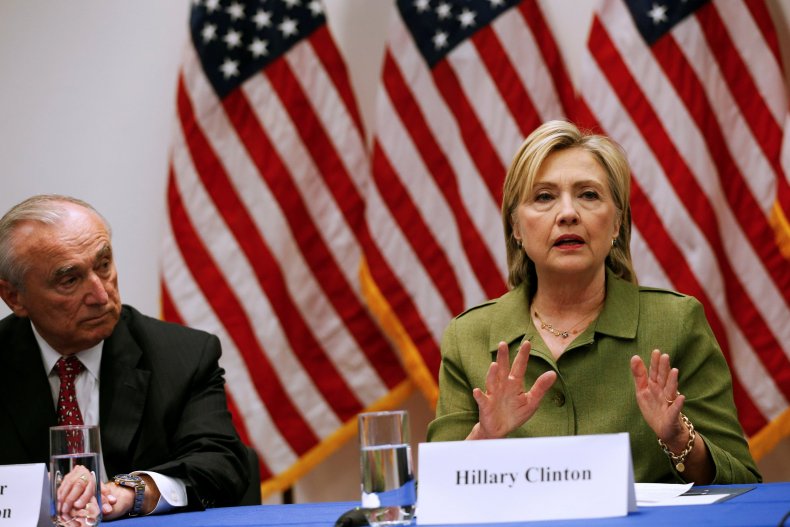 Here is who is attending on Thursday:
Charlie Beck
The Los Angeles Police Department chief leads the country's third largest police force, with 10,000 sworn officers. He joined the department in 1977 and rose through the ranks, becoming chief in 2009. (His father had served as deputy chief there.) There have long been tensions between the LAPD and city residents, especially during the rioting in 1992 that followed the Rodney King beating by police and subsequent trial. A police union filed a lawsuit in May accusing Beck of pressuring the panel that reviews officer misconduct cases to decide certain outcomes. "To say that I would unfairly influence people that work for me in this process is just not right. I don't think even they believe that," he told the Los Angeles Times.
William Bratton
The New York City Police Department commissioner oversees the largest police force in the United States, with 34,500 uniformed officers. It is his second time leading the NYPD; he first served as commissioner from 1994 to 1996. He has also led the police departments in Los Angeles and Boston. He recently announced he is resigning from the post in September and moving to the private sector—to Teneo Holdings, a consulting firm with ties to the Clintons.
Bratton's supporters credit his "broken windows" style of policing—going after "quality of life" crimes before they snowball into more serious crimes—for dramatically reducing the crime rate. Critics say the strategy unfairly targets minorities. Speaking with Newsweek in July, Bratton said broken windows policing "is very important and I still believe an essential component of what we do." He also defended the use of force by officers. "While the vast majority are lawful, they all look awful, particularly to those who are not used to seeing them," he said of use-of-force incidents. He also said policing has entered "an era that I've never seen, the assassination of police because they are police."
James O'Neill
The NYPD chief of department is succeeding Bratton in September. He first joined New York City law enforcement in the early 1980s. Speaking at a press conference in August, he said as chief he had worked to shift the department "away from a style of policing the city that sometimes lost focus [on] the most important aspect of safeguarding the public—lowering crime but not at the expense of losing the vital support of the people that we're sworn to protect and serve."
Some police reform advocates have expressed concern over the appointment of O'Neill. "There's a change in face, but I think we also want to see some change in policy," Jose Lopez of Make the Road New York, a Latino and working-class community action group and a member of President Barack Obama's Task Force on 21st Century Policing, told Newsweek. Donna Lieberman, executive director of the New York Civil Liberties Union, told Newsweek, "We hope he will abandon the 'broken windows' approach."
Chris Magnus
He became the police chief in Tucson, Arizona, in January after earlier leading the police departments in Richmond, California, and Fargo, North Dakota. He began his career as a dispatcher in 1979 with the Lansing, Michigan, police and later became an officer there. He testified before the President's Task Force on 21st Century Policing and is an advocate for community policing, where police and residents work together to prevent crime.
Kathleen O'Toole
The Seattle Police Department chief is one of the few women in the country to lead a major police department. Previously, when she became Boston Police Department commissioner in 2004, Newsweek wrote that she was part of "a growing sorority" of women police officials, though the number seems to have stalled or even declined since then, according to the National Center for Women and Policing. O'Toole is navigating the Seattle department through a monitoring process after the U.S. Department of Justice found evidence of a pattern of excessive force by officers. O'Toole told Newsweek she sees the monitor as an opportunity to improve: "Were mistakes made? Yes. Was reform in order? Certainly."
Charles Ramsey
The former Philadelphia Police Department commissioner (he retired in January) and former Metropolitan Police Department of the District of Columbia chief spoke at July's Democratic National Convention, where he called for "common sense measures to reduce gun violence" in order to improve officer safety. He served as co-chair of the President's Task Force on 21st Century Policing. Ramsey, who is African American, has said that the Black Lives Matter movement focuses too much on officer-involved shootings and not enough on the social issues and crime facing black communities. "That's what brings police to the area to begin with," he recently told Newsweek. "The reality is, if there was not a single police shooting, we'd still have about 13,000 murders" in the U.S. each year.
J. Scott Thomson
Since 2013, he has served as chief of New Jersey's Camden County Police Department, in an area with a high (but dropping) crime rate. He was previously the chief of the Camden Police Department, which disbanded in 2013. He testified for the President's Task Force on 21st Century Policing and is an advocate for community policing.
Lupe Valdez
The Dallas County, Texas, sheriff spoke at the Democratic National Convention in July. At a time when the law enforcement community is trying to make it known that not all police officers and officials are white men (who are so often in the news in officer-involved shootings), Valdez stands out: She's Hispanic and a lesbian. She also comes from an area still reeling from the recent murder of five officers, though they were not in her jurisdiction. At the convention, she said that police "don't know whether the next 911 call will be their last. But they keep answering the call." After she asked for a moment of silence for fallen officers, several audience members shouted, "Black lives matter." When Fox News later questioned Valdez about the incident, she said, "I guess I didn't hear it."