Hillary Clinton on Trump Impeachment: Mueller Report Is Just the Beginning but Congress Shouldn't Rush
Hillary Clinton doesn't take calls to impeach President Donald Trump lightly. "I have a weird, personal history with impeachment," the 2016 presidential candidate said to laughter at the TIME 100 Summit in New York on Tuesday afternoon.
Clinton said she read the full report written by special counsel Robert Mueller into Russian meddling in the last presidential election and believes that it proves, without a doubt, that Russians did influence her loss to President Donald Trump. But she's not sure if impeachment is on the table just yet.
"I'm of the mind that the Mueller report is part of the beginning, it's not the end. There's still so much more that we should know and that we should act upon, and that's what Congress is trying to figure out right now," she said. Clinton added that she believes Congress should continue their investigation into the Trump campaign and administration.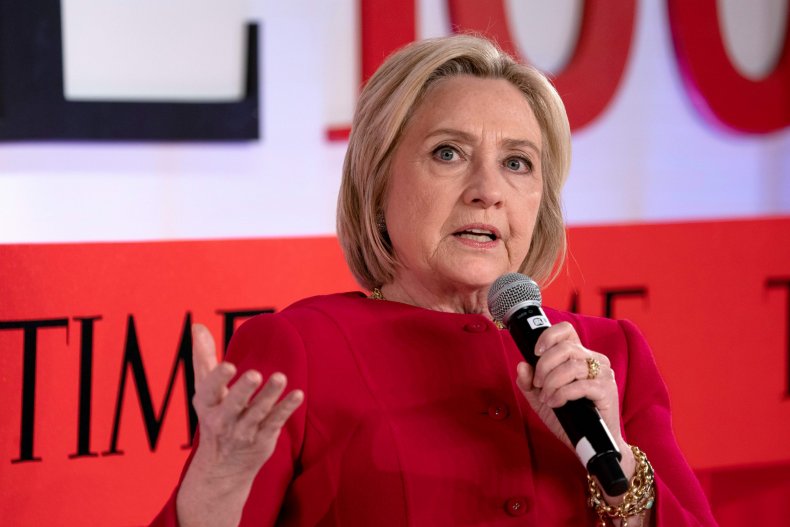 "We were attacked, we have significant evidence that this administration did everything they could to undermine and interfere with the investigation into that attack," she said. "I think there's enough evidence that if any other person who engaged in those acts would have certainly been indicted, but because of the rule in the Justice Department [where the DOJ cannot indict a sitting president] the whole matter of obstruction was very directly sent to the Congress. If you read that part of the report it could not be clearer. You could not be more explicit than 'Please look at this.... I'm giving this to you.'"
Clinton, who worked on the 1974 impeachment process against Richard Nixon, said she saw similarities between his plight and the current president's.
"I was a very young staff attorney on the Nixon impeachment inquiry, and it took several years of slow acquisition and publication of information to show the extent of the corruption in that White House," she said. "I think what [House Speaker Nancy Pelosi] needs, is that impeachment shouldn't be a pre-ordained conclusion. It shouldn't be what you do for partisan political purposes outside of the framework of the Constitution. It should be done in a diligent way based on evidence. There will be many more public hearings where people who had a role, like they did in 1974, came forward."
It's important, said Clinton, to avoid the route Republicans used to impeach her husband, President Bill Clinton, in late 1998 and early 1999. "We want to show American people that we take constitutional duties seriously, you don't put impeachment on the table as the only option and say we're going to get there no matter, which is what happened in 1999," she explained.
But if substantial evidence is found?
Then "it is the job of Congress to put forward articles of impeachment," said Clinton.