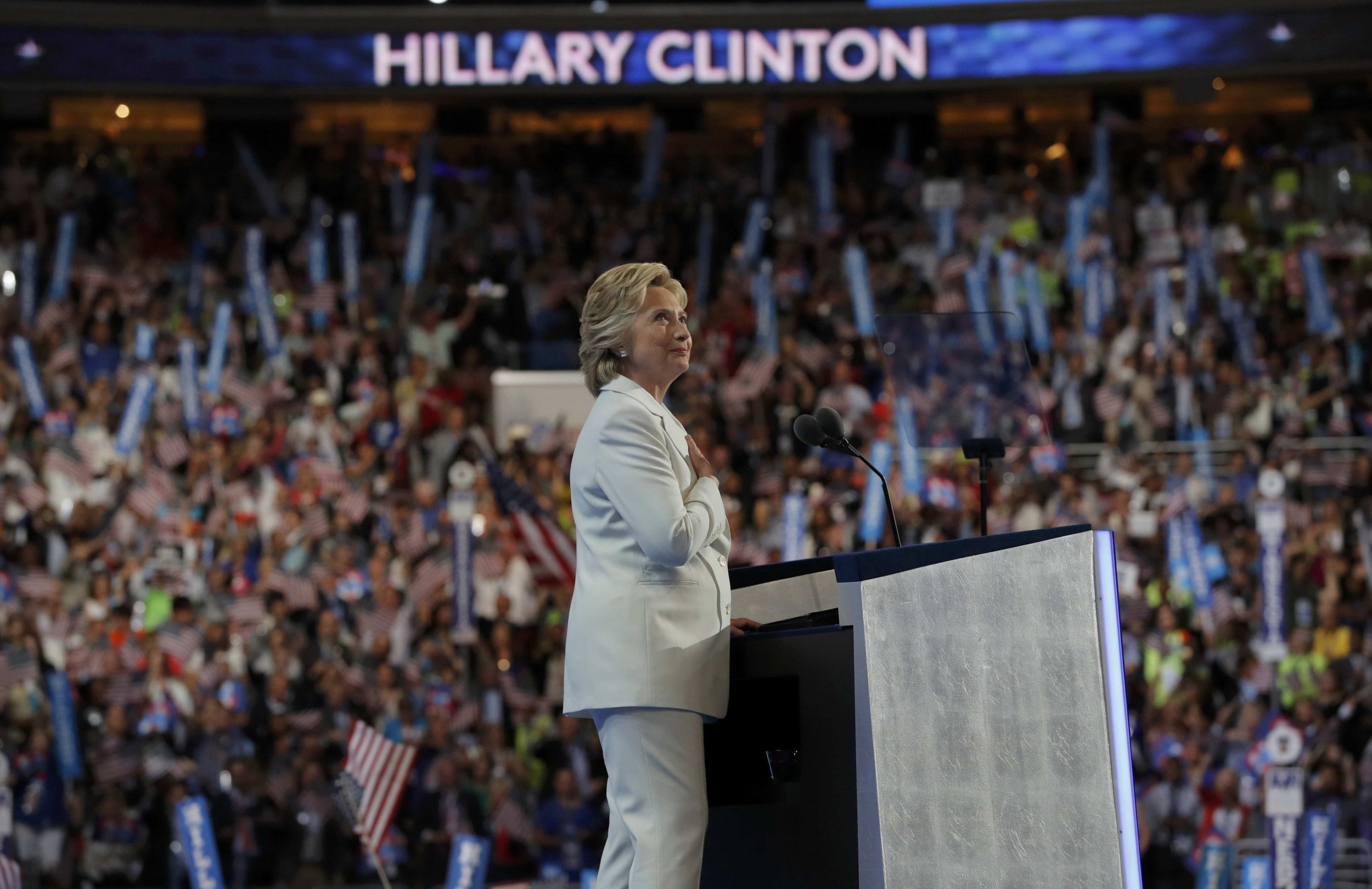 It was the love convention. That four letter word was emblazoned on official merchandise, mentioned nightly in speeches and sung by artists from Carole King to Katy Perry throughout the 2016 Democratic National Convention in Philadelphia. The love motif was supposed to present a contrast to last week's dark festival of rage in Cleveland, and to rebrand Hillary Clinton. No longer would she be the mendacious witch created by almost 30 years of GOP vilification. Now she would transform into the warm and caring person her close friends say exists behind the guarded public persona.
It worked, but perhaps not in the historic way some women had long imagined. Hillary Clinton officially became the first major-party female presidential nominee, and yet the moment passed with little more fanfare than if she had been another white male.
"Love trumps hate," she said in her rousing and well-received acceptance speech on Thursday. The zinger was implied, but later she was much more direct. "Donald Trump spoke for 70-odd minutes," she said, referring to his acceptance speech last week. "And I do mean odd."
While she spoke, Trump was uncharacteristically quiet on Twitter, though his campaign was firing off short emails in real time challenging many of her statements. "A man you can bait with a tweet is not a man we can trust with nuclear weapons," Clinton said as the crowd stood and applauded.
In contrast to Trump's self-centered promise that "I alone can fix it," Clinton leaned on the communitarian instincts she's espoused since she first went to work on children's rights in the 1970s. "No one gets through life alone," she said, before reciting the Methodist motto: "Do all the good you can for all the people you can for as long as ever you can."
In an era of fear and anger, in an election drenched with misogyny from both parties, Clinton's focus on love and community was subtly subversive and classically feminist. Women, the theory goes, are more likely to work together, compromise and act with kindness toward others. She balanced this message with strong assurances that as commander in chief she would remain steadfast on foreign policy, standing with NATO allies against Russian aggression and eradicating the Islamic State militant group (ISIS) with targeted air attacks and an intelligence "surge" to prevent more attacks.
In her white pantsuit, Clinton seemed to be channeling Geraldine Ferraro, the first female vice presidential candidate for a major party, whom the Democrats nominated in 1984. Which was fitting. On Wednesday, Democratic officials and donors packed a "Geraldine Ferraro Women in Politics Luncheon" sponsored by the National Democratic Institute, and later that afternoon, at a huge party sponsored by EMILY's List, the feminist fundraising organization started by shoulder-pad wearing activists in the 1980s, women of Clinton's generation reminisced about various firsts that younger women may take for granted—from female Supreme Court justices to legal abortion.
"There is an axiom in politics that a candidacy for any office is not simply the expression of individual ambition—any great candidacy is the gathering place of many men's ambitions." So wrote Theodore White in his 1960 classic, The Making of the President. The historic nomination of Hillary Clinton has been a triumph for her personally, but it is also a long-awaited victory for women who have seen in her their best chance at seeing a female in the Oval Office in their lifetime. Hard-core Hillary supporters were wiping away tears of elation in Philadelphia this week. "I have yearned for this for so long, the reality is stunning," said Sally Minard, a New York businesswoman and longtime Hillary supporter, who worked on both her 2000 Senate and 2008 presidential campaigns.
Yet aside from these stalwarts, the sense of euphoria was relatively subdued on Thursday. Delegates roared approval at the phrase "women's rights are human rights" (from Clinton's seminal speech at the Fourth World Conference on Women in Beijing in 1995) whenever it came up. But otherwise her first seemed overshadowed by the party's efforts to promote her competence and rebuke Trump.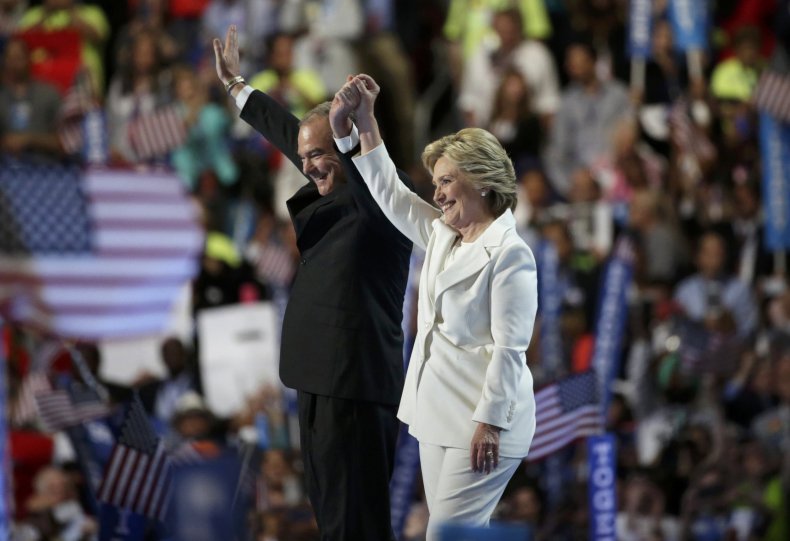 The brightness of Hillary's moment was also dimmed by Bill Clinton's speech on Tuesday, which was meant to humanize his wife but came off as a 40-minute recitation of her résumé. It highlighted her doggedness and perseverance, but made her sound like a drudge. In their relationship, the Clintons represent every boomer woman's worst nightmare. He admires her accomplishments and brains, but actually gets off on the starlet or waitress. So much of her baggage still bears his name and accounts for some of the reluctance of women to fully embrace her candidacy.
President Barack Obama did his best to lend his support, making up for his famous 2008 diss—"You're likable enough"—by delivering one of the best speeches heard at a political convention since Bill Clinton in 1992. His endorsement couldn't have been stronger—no one, he said, not he nor Bill nor Biden, was more prepared for the presidency than she was. At the end, Hillary walked onstage and they hugged, an embrace that seemed genuine, warm and full of emotion. But in the seats in the Wells Fargo Center, there was an inescapably tragic sense that many would have preferred Obama to remain onstage—and on the job—alone, for yet another term.
Women in the convention hall did not present a unified wave of joy at Clinton's milestone. At least a third of the delegates backed Bernie Sanders, and many cheered for Hillary begrudgingly. Abigail Field, a Bernie delegate from New York state, said her vote for Clinton would be a vote against Trump, not an endorsement of the woman whose first didn't erase her establishment transgressions. "It's transformational for women and girls," Field said of the nomination. "But issues are more important to me than gender. I have a daughter, and I wish I could talk to her about how excited I am about Hillary Clinton."
What's perhaps lessened this milestone is that Hillary—and American women—have gotten their big first in an election year marred by unprecedented vitriol and new nadirs of political discourse. In Cleveland last week, not only was it easy to find people who were not going to vote for her, it was easy to find people who hated her. People who felt she belongs in prison, or even, as Al Baldasaro, an adviser to the Trump campaign, suggested, in front of a firing squad. For three decades, hating Hillary has been inchoate, an emotion seeking a reason in everything, not the other way around. Trump, the man who says he "speaks for" his followers, puts that inchoate rage into words and will continue to do so in the 102 days ahead.
Misogyny is the last acceptable taboo, and Republicans—and even some Bernie backers—have illustrated it on numerous occasions, including Thursday, when they booed Clinton as she spoke of equal pay for women. It is almost impossible to imagine, for instance, how progressives and black Americans would have responded if the crowd in Cleveland had chanted "Lock him up" in reference to Obama, America's first black presidential candidate.
To ponder that is also to ponder the ugly direction this campaign will take over the next three months, regardless of how many soccer moms Hillary may have won over tonight with her touching personal story about her mother's hard childhood and her father's work ethic—or her deft dings about Trump tweeting his way through a nuclear crisis. "I physically cringe when I think of the battles ahead for her," said New York delegate Judith Hope, a longtime Hillary supporter.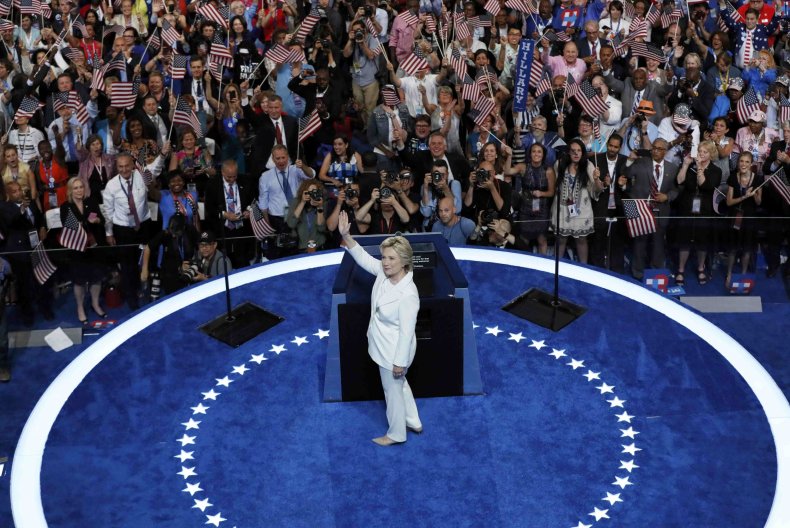 Others remained optimistic. "The goddess of light will overcome the prince of darkness," said Hillary donor and longtime supporter Susie Tompkins Buell, the founder of the Esprit clothing company.
If that optimism is misplaced, and Clinton loses, Hillary will forever reside among those female firsts in history. It will then fall to a younger generation of American women to push forward. They will come to the stage as Hillary did on Thursday, confident and inspiring, but with husbands who haven't been philandering in the White House, and with the good fortune to have come of age a decade or two after women like Clinton, for whom all the forgotten little firsts—from keeping one's name and wearing pants to making public jokes about baking cookies—are counted against them regardless of their accomplishments.