Philadelphia: Hillary Clinton's Unlikely Bellwether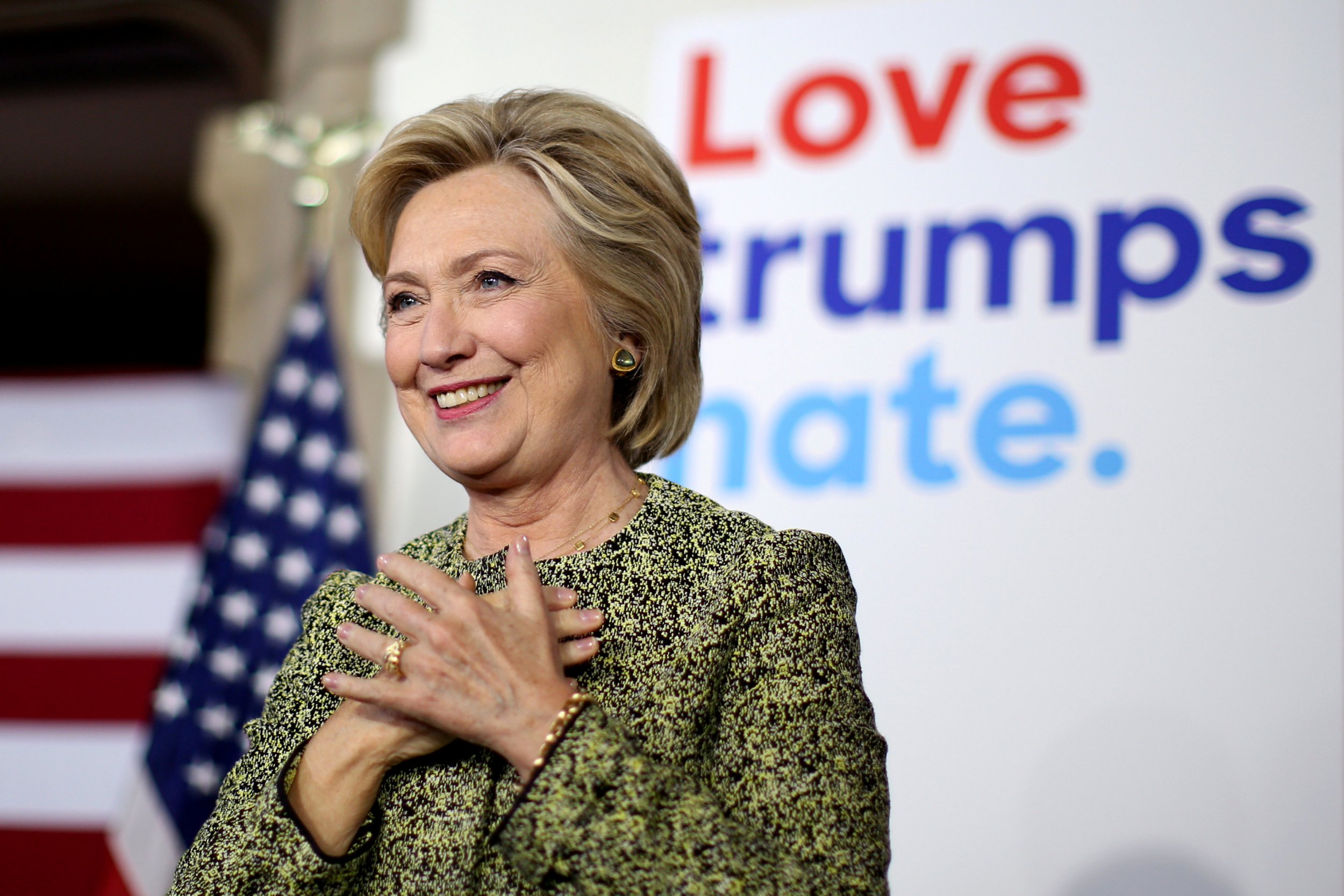 Philadelphia, where nearly 80 percent of the registered voters are Democrats, should be a bastion of support for that party's presidential nominee, Hillary Clinton. It is also a majority-minority city, with African Americans making up 44 percent of the population and Hispanics another 14 percent—and Clinton leads by a wide margin among both ethnic groups in national polls. And it has one of the fastest-growing millennial populations of any metro area in the country, another demographic group among which her Republican opponent, Donald Trump, struggles mightily.
Normally, candidates trying to win the swing state of Pennsylvania focus their energies on the competitive counties in the Philadelphia suburbs, as well as on Pittsburgh and northeastern Pennsylvania around Scranton and Wilkes-Barre. So why did Clinton on Monday make her third visit to the city in less than two months, close on the heels of last week's high-profile rally there featuring President Barack Obama? The answer says a lot about the state of this presidential election, and American elections going forward.
For Clinton, it is becoming clear that her path to the White House hinges less on winning over wavering independents than in turning out staunch, if unreliable, liberals. And Philadelphia is a hotbed for the young people and minorities who tend to be the most inconsistent members of the Democratic coalition, in a state that both Clinton and Trump believe they must win.
Part of this turnout focus is just a reflection of modern American politics. With the country increasingly divided along partisan and cultural lines, there are fewer and fewer swing voters for candidates to reach. And digital technology has made targeting and motivating likely supporters an increasingly crucial part of election strategy.
But Clinton is also underperforming among critical segments of the coalition that twice sent Obama to the White House. A September 14 Quinnipiac University national poll found that when third-party candidates Gary Johnson and Jill Stein are included in the race with Clinton and Trump, Clinton's narrow lead over Trump shrinks, particularly among young people. Democrats are also concerned that the black voters who came out to elect the first black president in 2008 and re-elected him in 2012 aren't as motivated to go to the polls this year.
The campaign has tacitly acknowledged the enthusiasm problem Clinton faces among these constituencies. It has begun marshaling its strongest surrogates—the president and the first lady, along with popular senators Bernie Sanders and Elizabeth Warren—to appeal to young people and people of color who may not be thrilled with Clinton's candidacy. Her vice presidential pick, Senator Tim Kaine, and her daughter, Chelsea, have also been conducting events targeted at young people. Ultimately, though, it's Clinton who will need to make the sale, and Philadelphia is the type of place she needs to do it.
Speaking at Temple University in North Philadelphia on Monday afternoon, Clinton alluded to her campaign's regular visits to Philadelphia in recent weeks, joking, "I saw how much fun President Obama had here last week [at a rally downtown], and I wanted to be here in Philadelphia."
And she was not shy in making her pitch to the largely young, ethnically diverse crowd. "Young people have more at stake in this election than any other age group," Clinton said, ticking off a bevy of policy proposals she says she wants to enact to give millennials a financial lift. They include student loan assistance, debt-free college, more entry-level jobs and apprenticeships, equal pay for women and paid family leave.
Crucially, the former first lady, senator and secretary of state also tried to offer more personal insight into her life and motivations, and to strip away the cold, robotic veneer that has dogged her for much of her political life. "When it comes to public service, the service part comes easier than the public part," Clinton said, acknowledging her challenges connecting with voters. She went on at length about her background, tracing her experiences in college and law school as well as her work for the Children's Defense Fund and her push for health care reform as an "activist first lady."
It may be seen as a tired history at this point by many baby boomers, who have watched Clinton on the national stage for most of their adult lives. But people in their 20s don't have the same familiarity with Clinton—they're just aware, generally, that she's had an extensive career in politics.
Despite the efforts to connect personally with the crowd, Clinton's biggest applause line of the day had nothing to do with her. "We are facing a candidate with a long history of racial discrimination...who retweets white supremacists, who led the birther movement to delegitimize the first black president," she warned. "We have to stand up to this hate! We cannot let it go on."
The call to action against Trump brought the crowd to its feet for a lengthy standing ovation. And that fear of the Republican alternative may well be the most powerful ammunition the Clinton campaign has to drive young people and minorities to the polls in November, and to win big in places like Philadelphia.