Twitter Erupts Over News That Hillary Clinton Used Black Prison Labor While First Lady of Arkansas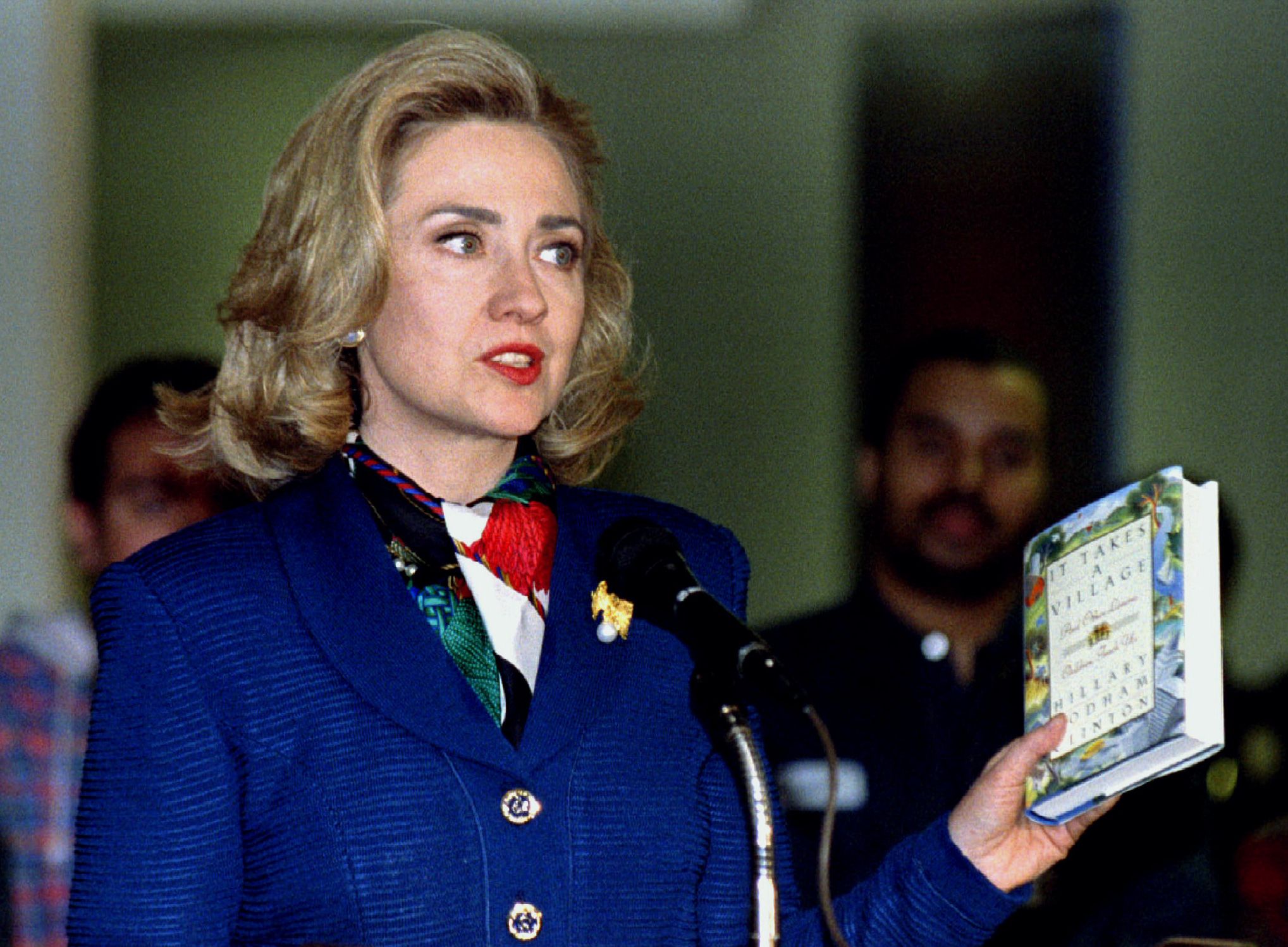 Twitter users have reacted with surprise and fury over excerpts from Hillary Clinton's 1996 book It Takes A Village. On June 6, Jeanette Jing, an activist with over 33,000 followers on Twitter who supports Clinton's Democratic opponent Sen. Bernie Sanders, shared two pages of the work in which Clinton reminisces about the black prisoners who worked in the Arkansas governor's mansion she shared with her husband, Bill Clinton, who led the state from 1979 to 1981 and 1983 to 1992.
"When we moved in, I was told that using prison labor at the governor's mansion was a longstanding tradition, which kept down costs," Clinton writes. She adds that most of the workers were convicted murderers and she became friendly with "a few of them, African-American men in their thirties who had already served 12 to 18 years of their sentences."
Despite her alleged friendships with these men, Clinton tells her readers: "We enforced rules strictly and sent back to prison any inmate who broke a rule." Despite having no psychological qualifications, she later asserts that these men did not have "inferior IQs or an inability to apply moral reasoning" but instead they may have been "emotional illiterates."
Clinton makes no mention of whether the men received any money for working for her and her husband. A 2016 article from Mother Jones notes that when it comes to prison labor, "some state states, including Texas, Arkansas, and Georgia, do not pay inmates at all." On Twitter, Jing wrote that "Hillary Clinton was a direct participant in what @samswey correctly described as modern slavery."
Jing, who also refers to a June 5 Twitter conversation about the Clintons' use of prison labor from Samuel Sinyangwe, an activist, data scientist and policy analyst. In a string of tweets, Sinyangwe talks about his experience of visiting the Louisiana state legislature and finding black prisoners serving white lawmakers for free. Sinyangwe adds that the state has the world's highest incarceration rate, with black people making up 66 percent of the prison population. By comparison, black people make up 32 percent of Louisiana's total population.
He goes on to note that prisoners working in the state legislature are serving people who support laws that "make Louisiana the hardest state to hold police accountable within." Like in Arkansas, Sinyangwe adds, some of Louisiana's prisoners work at the governor's mansion.
In her book, Clinton tried to soften the reality of unpaid black men serving a wealthy white woman. But, 1996, the year her book came out, was also the year she made a speech in New Hampshire in support of her husband's controversial 1994 Violent Crime Control and Law Enforcement Act.
Of the legislation, which critics say ramped up mass incarceration and disproportionately affected African-Americans, Clinton said: "We also have to have an organized effort against gangs. They are often the kinds of kids that are called superpredators—no conscience, no empathy. We can talk about why they ended up that way, but first, we have to bring them to heel." (Clinton has since apologized for using the term and admitted parts of the 1994 bill were a mistake.)
The resurfacing of her book's extract has dragged Clinton's record on racial equality into the spotlight. Despite her reaching out to the black community during her 2008 and 2016 bids for the presidency, she actively supported and lobbied for her husband while more and more black people were sent to prison. Though Toni Morrison named Bill Clinton the country's "first black president," under his watch there was an 100:1 gram-to-gram sentencing disparity between people imprisoned for powdered cocaine possession and those imprisoned for crack cocaine. (At the time, a crack epidemic was sweeping America's black community.)
In response to Jing's tweets, Clinton's supporters say she would still have been a better choice for president than Donald Trump. In 1973, the Justice Department sued Trump and his father for discriminating against potential tenants who were black. In 1989, ahead of the trial of the Central Park Five—a group of African-American men who were wrongfully accused of brutally assaulting a white woman— Trump took out an advert in the New York Times calling on the state to bring back the death penalty. "Muggers and murderers," he wrote, "should be forced to suffer and, when they kill, they should be executed for their crimes."
Trump has also distanced himself from his past. He promised to send more people to prison to protect minority communities without acknowledging the huge racial disparities in the prison system or the need for police reform.
On Twitter, Sinyangwe concludes : "2016 was a choice between a white woman benefitting from black prison labor and a white man campaigning on sending black people to prison."