Hillary Clinton Is Right. Tulsi Gabbard Is a Perfect Russian Asset—And Would Be a Perfect Republican Agent | Opinion
On Tuesday, The New York Times changed its reporting to reflect the fact that Hillary Clinton never suggested Tulsi Gabbard is being groomed to be a Russian agent. Rather, in an interview with former Barack Obama campaign manager David Plouffe, Clinton said Gabbard is being groomed by Republicans as a third-party candidate and used by the Russians as an asset.
This fundamentally changes what Clinton was saying from a head scratcher to a head nodder. Clinton is right: Russia is set to interfere in the 2020 elections, and just as we saw with their blind defense of Donald Trump, Republicans are happy to let it happen.
Agents are groomed and directed, while assets are used—often unwittingly. This slight distinction might seem like simple wordplay. However, in the world of espionage, these terms are significantly different. An agent, such as the Russians believed I was for them, is a person who is specifically recruited and then directed to carry out activities ordered by an intelligence service. An asset is a person or thing that an intelligence service can use to its advantage. For example, a candidate who criticizes the impeachment proceedings, supports U.S. withdrawal from Syria, warns of a nuclear arms race and happens to be a presidential candidate would undoubtedly be seen as an asset in Russia's efforts to cause chaos in our 2020 elections. In sum, what about Gabbard wouldn't appeal to Russia?
While there isn't any evidence that Gabbard has had any communications with Russian officials, clandestine or otherwise, she did have a meeting in November 2016 Trump at Trump Tower. The meeting, a short time after the election, came at a time when many Americans and a majority of Democrats were reeling from Trump's win, yet Gabbard defended her actions to meet with Trump. "While the rules of political expediency would say I should have refused to meet with President-elect Trump, I never have and never will play politics with American and Syrian lives," she said.
Since then, her cozy relationship with Trump and her support for him has not diminished. She appeared relieved that the Mueller report didn't lead to charges and urged Democrats to move on, and she was the last of the 2020 Democratic candidates to hold out against the impeachment inquiry, initially saying the reconstructed transcript of the call between Trump and Russian President Volodymyr Zelensky didn't show "an extremely compelling cause to throw out a president that won an election in 2016."
According to Neera Tanden, president of the Center for American Progress, Gabbard has fans among Republicans and even within the far-right "precisely because she attacks Democrats regularly—Hillary Clinton, Kamala Harris, the DNC, and last week she was getting ready to attack [Elizabeth] Warren in the debate before she was cut off. She seems to be a chaos agent in the primary." It begs the question: Why does a Democrat running for president take such a warm approach toward Trump and Republican talking points?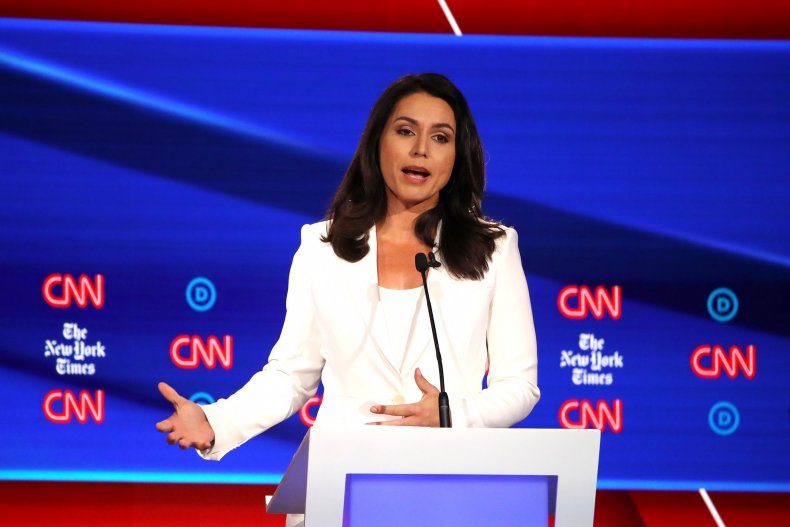 When Gabbard announced her candidacy, Russian state media quickly picked up the news, and the coverage by the likes of RT and Sputnik was on their English-language sites, indicating that it was not aimed at Russians. An NBC investigative piece found that there were at least 20 such pieces about Gabbard's candidacy, such as those on RT that proclaimed "Tulsi Gabbard is ready for America."
Unlike U.S. media, RT and Sputnik are state-controlled outlets that parrot carefully curated messages directed by the Kremlin. There is no criticism of Russia on these sites, and they are rampantly anti-American in an almost Soviet style. They often cover topics that paint the U.S. in an unflattering light. In this context, it is not uncommon to find Gabbard quoted and cited in support of what is Russian propaganda. For example, pieces backing Julian Assange use Gabbard's support of WikiLeaks founder, such as when she called his extradition "a blow to transparency and a blow to a free press." Her support of Assange and WikiLeaks comes in stark contrast to the U.S. intelligence community's assessment that both were used by Russia in 2016 as part of their election interference campaign.
We have entered a critical junction in the run-up to the 2020 presidential election, where both impeachment and the selection of a Democratic challenger loom on the horizon. All of this leads me to one conclusion: Tulsi Gabbard is a perfect Russian asset—and would be a perfect Republican agent.
Naveed Jamali is a columnist for Newsweek who spent three years working undercover for the FBI against Russian military intelligence. He tells the story in his book How to Catch a Russian Spy. He is a member of Left of Bang, a group of military veterans working to prevent gun violence.
The views expressed in this article are the author's own.​​​​​