Former presidential candidate Hillary Clinton compared President Donald Trump's presidency to his career as a reality television host during a pre-debate interview on MSNBC Tuesday night.
Clinton ran against incumbent President Donald Trump during the 2016 U.S. election cycle. Although Clinton received 48 percent of the popular vote to Trump's 45.9 percent, Trump won 306 delegates in the Electoral College. Clinton only received 232 delegates. Candidates need to acquire 270 delegates to win the presidency.
"I think that his big advantage of having been a so-called reality TV star and been in people's living rooms on their TVs for a number of years before he ran has pretty much run its course," Clinton said. "I think his series is about to be canceled because it's just the same story over and over again—lying with impunity, attacking when you have nothing to say, unable to give an answer that is frankly coherent."
Clinton added that Americans know how Trump "behaves on a stage."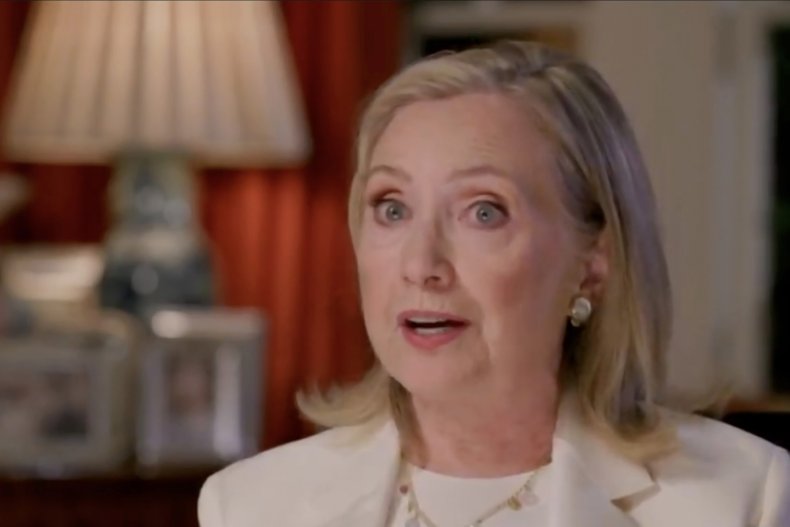 "You know, you can only lie so many times, you can only try to avoid responsibilities so many times when, finally, people are going to be looking at each other and saying, 'You know we've seen this before," Clinton added. "And we're not buying it this time."
Newsweek reached out to the Trump re-election campaign for comment.
During their debate in October 2016, candidates were allowed to take full command of the stage. Trump, at one point, chose to stand behind Clinton in a way that drew attention away from Clinton's remarks. In her 2017 book What Happened, Clinton said she wasn't sure how to handle the situation.
"Do you stay calm, keep smiling and carry on as if he weren't repeatedly invading your space?" Clinton wrote. "Or do you turn, look him in the eye, and say loudly and clearly, 'Back up, you creep. Get away from me. I know you love to intimidate women, but you can't intimidate me so back up.'"
Clinton warned against voter apathy becoming a factor in a potential Trump re-election during her remarks during the 2020 Democratic National Convention.
"For four years, people have said to me, 'I didn't realize how dangerous [Trump] was!' 'I wish I could go back and do it over!' Or worst—'I should have voted!'" Clinton said in August. "Well, this can't be another 'woulda, coulda, shoulda' election."