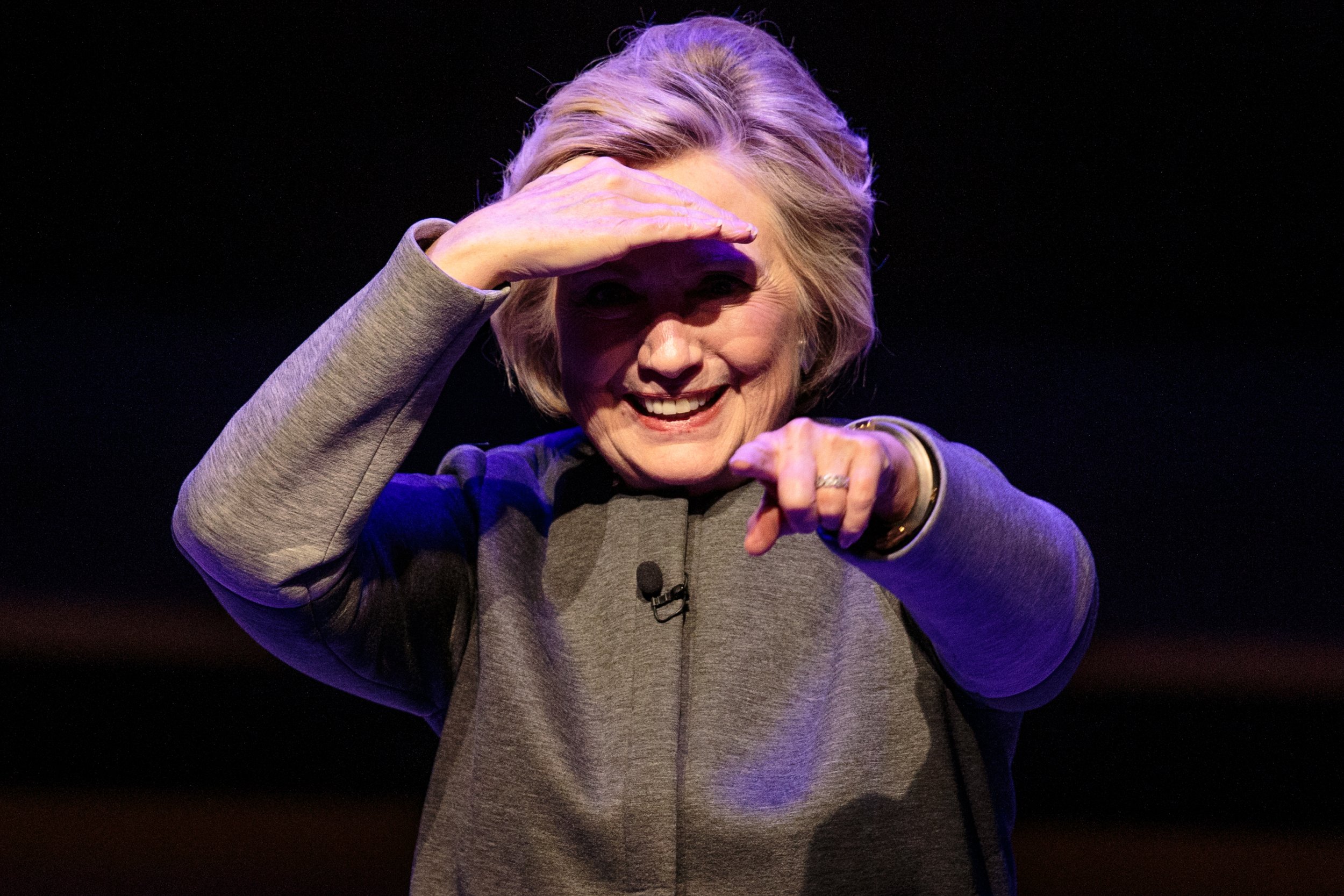 I don't think he was supposed to give it away, but John Roberts of Fox News earlier this week inadvertently revealed what many on the right believe: that Hillary Clinton is the "shadow president" of the United States.
The revelation came as Roberts (a respected journalist, I should say) argued on Twitter with Tommy Vietor, a former spokesman for President Barack Obama, about the National Anthem protests in the NFL. Roberts subsequently explained that he was "merely using a British parliamentary term used to designate the opposition critic as a metaphor."
Yeah, OK. Fact is, many on the right—including all of Roberts's prime time colleagues at Fox News—treat Clinton as if she were a Shadow President. She haunts their waking hours, the way the dead king's ghost haunts his son in Hamlet. He stalked the ramparts of Elsinore; she traipses through the woods of Westchester County, then goes back home and writes about what happened.
If it is Clinton's goal to troll the Trump administration and its abettors into a state of eternal anxiety, the plan is working magnificently. A year after the election, President Donald J. Trump talks about his electoral victory so much, you'd think he singlehandedly expelled the Wehrmacht from suburban Wisconsin.
Trump has tweeted about "Crooked Hillary" 16 times since last year's presidential election. He has tweeted once about the fires that devastated Northern California last week.
Of all the memorable slogans associated with the Trump campaign, none was more telling than one that appeared on T-shirts sold at his campaign rallies: "Trump that Bitch." Well, "the bitch" was Trumped. Now what? Well, see, that's a little tricky.
Republicans have always known that Clinton was a capable manager who naturally gravitated toward the middle. She was a liberal, but she was no revolutionary. If anything, she was a little boring, especially when compared to her one-time boss, with all his hope-and-change business. They had to run against her, but they could always work with her.
Trump has definitely not been boring. He has been so decidedly not-boring that the Republicans, who control the executive and legislative branches of the federal government, are fighting with each other like the Jenner-Kardashians (with roughly as much substance). One wonders if Senate Majority Leader Mitch McConnell ever sits with a late-night bourbon, fantasizing about what it would be like to work with President Hillary on health care or immigration. Instead, he goes to sleep dreading what tweets may come.
The one Republican who understood the Trump conundrum was Representative Jason Chaffetz of Utah, who had planned to spend eight years "investigating" Clinton over the death of four Americans in Benghazi, Libya. The unwelcome reality of Trump's victory made that rather difficult. So, earlier this year, Chaffetz decamped for Fox News, where he gets to keep talking about Clinton. This week, he lamented her ties to Miramax founder Harvey Weinstein, who was found to have been a serial sexual assailant. "She's just demonstrating every single day why she is not the President of the United States," he said.
That's right, she is only the Shadow President. Get your talking points in order, Jason!
I hate to drag in a certain bearded Austrian, but nobody except for Sigmund Freud could explain the right's obsession with Clinton. "The anxiety dream is ofttimes an undisguised wish-fulfillment," Freud wrote in his famous General Introduction to Psychoanalysis, "the obvious fulfillment of a suppressed wish." In their fixation on Clinton, the Republicans fulfill what is both their greatest fear and their innermost desire. The monster is under the GOP's bed, and she's bringing socialized medicine.
That explains why, as Washington Post media reporter Paul Farhi noted in an acerbic tweet, covering Clinton is the "busiest beat" at Fox News.
She is, after all, the Shadow President, and deserves all the scrutiny befitting an occupant of the Shadow Oval Office. For example, did Clinton really fall while promoting her book in Britain, or is there a Deep State cover-up about her health in the works? If you don't know the answer to that question, you haven't been watching your Sean Hannity or listening to your Alex Jones.
And since Clinton is the president, Clinton must be subjected to a Shadow Watergate. Thus the inordinate obsession with the revelation that FBI director James B. Comey had written a letter declining to prosecute Clinton for her use of a private email server two months before he publicly announced having reached that same conclusion. And with a report in The Hill describing the corruption of Russian officials involved in the Uranium One deal approved by Secretary of State Clinton. The deal also involved, the allegations go, a donation to the Clinton Foundation. This was unseemly business, the very reason many Americans (including this one) think the Clintons should have shuffled off the political stage around the time the Backstreet Boys were hot. But the Uranium One business, in all its inglorious detail, was on the front page of The New York Times in 2015. I want to hear more about Uranium One the way I want to hear more Backstreet Boys.
Given all the evidence arrayed against her, from the suspiciously broken toe to the sale of nuclear matériel, it is entirely possible that Shadow President Clinton could face Shadow Impeachment. But Trump would never allow it. In the absence of his favorite nemesis and foil, he might have to play the role of president—without any shadows.