Hillary Clinton Slams Trump for Claiming Google Manipulated 2016 Election Votes in Her Favor: 'Debunked Study'
Hillary Clinton on Monday ridiculed President Donald Trump on Monday for peddling a false theory that Google manipulated 2016 election votes in the former Democratic presidential nominee's favor.
"Wow, Report Just Out! Google manipulated from 2.6 million to 16 million votes for Hillary Clinton in 2016 Election! This was put out by a Clinton supporter, not a Trump Supporter! Google should be sued," Trump tweeted on Monday. "My victory was even bigger than thought! @JudicialWatch."
In response, Clinton fired back at the president by asserting that the study had been "debunked." "The debunked study you're referring to was based on 21 undecided voters," the former first lady tweeted. "For context that's about half the number of people associated with your campaign who have been indicted."
Trump appears to have been citing a study conducted by San Diego-based psychologist Robert Epstein who believes that Google's alleged algorithm bias towards the left could have lost Republicans three congressional districts in California in the 2018 midterm elections.
Epstein, formerly the editor-in-chief of Psychology Today, calls the alleged phenomenon the "Search Engine Manipulation Effect."
However, Google has denied the study and deemed its methodology flawed. Last December, Google CEO Sundar Pichai said the company had investigated Epstein's research and concluded that it was inaccurate while testifying before the House Judiciary Committee.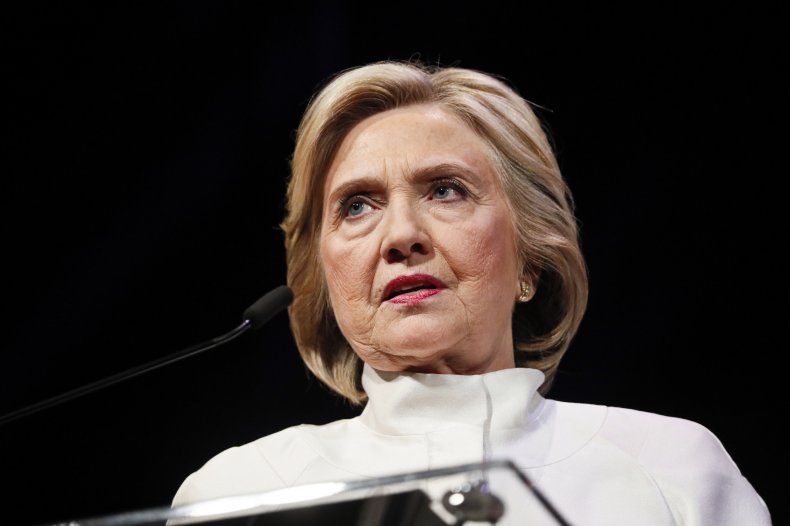 In a statement on Monday, a Google spokesperson condemned the study and asserted that it had been debunked for three years. "This researcher's inaccurate claim has been debunked since it was made in 2016," the spokesperson said, according to The Hill. "As we stated then, we have never re-ranked or altered search results to manipulate political sentiment."
"Our goal is to always provide people with access to high quality, relevant information for their queries, without regard to political viewpoint," the spokesperson added.
Clinton's mention of indicted Trump associates in her tweet was in reference to former special counsel Robert Mueller's investigation into Russia interference in the 2016 presidential election, which resulted in the indictment of 34 people, including six former or current Trump associates.
The president's tweet today came shortly after Fox Business aired a segment discussing Epstein's testimony to the Senate last month. On July 17, Epstein told senators that his study supported the notion that Google "gave at least 2.6 million votes" to Clinton in 2016.
In reaching the conclusion in his study, Epstein appeared to have "combined two bits of research he's conducted: a 2015 look at how search engine results can influence political opinion and a collection of search results from users before the 2016 contest," according to the Washington Post.