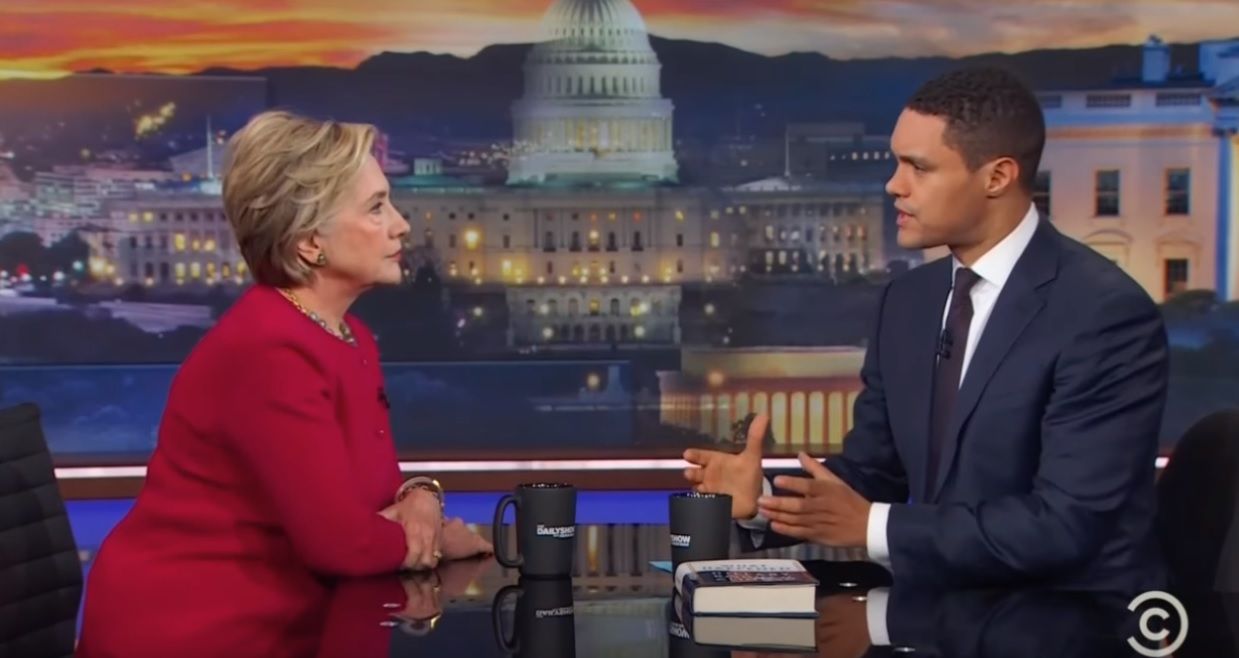 Hillary Clinton is speaking out against President Donald Trump's divisive reaction to the New York attack Tuesday night, accusing the commander in chief of not having "any empathy" and calling him "spiteful."
In the immediate aftermath of Tuesday's deadly attack in Manhattan that left eight people dead, Trump leveled blame at his political rivals on Twitter, notably Democratic Senator Chuck Schumer. Trump claimed the suspect, Uzbek immigrant Sayfullo Saipov, came into the U.S. through the diversity visa lottery program, which was approved in 1990 with support from Schumer.
Clinton, appearing on Comedy Central's The Daily Show With Trevor Noah Wednesday night, said she was disappointed by Trump's politicized response to the tragedy, which she says is a stark contrast to the way former presidents have handled national atrocities.
"It's so disappointing," Clinton said. "I was a senator for New York on 9/11. I was with President Obama through a lot of difficult decisions as his Secretary of State. I obviously saw my husband [President Bill Clinton] responding to tragedies, attacks—the Oklahoma City bombing.
"What you want in a president is what the three men I just mentioned delivered. And that is trying to bring the country together, talk about what happened with the event that they are concerned about...but not to point fingers, not to scapegoat, not to set Americans against each other."
Clinton determined: "Unfortunately, that just is not part of the job that our current president accepts or is willing to perform.
"Of course, he can have his own point of view...but not continue to divide Americans against each other. He just doesn't have any empathy. You want a president who can put himself into the shoes, the feelings, of somebody else. And he has not been able to do that."
Later in the interview, Clinton and Noah spoke about Trump's attempts to repeal and replace policies put in place by former presidents, particularly Barack Obama, including the Affordable Care Act.
"There is a lot of spite involved," said Clinton. "He's going to try to undo much of the 20th century at the rate we're going here...and we can't let that happen."
Clinton appeared on the show to plug her memoir about the 2016 presidential election, What Happened, and had some bad news for people hoping she'd disappear from the public eye after her defeat.
"I'm not going anywhere. I walked in the woods, that was enough. I'm done with that. I'm back," Clinton said of standing up for democracy and the American people.
Could another election run be on the cards too?