Hillary Clinton, Snoop Dogg and Cher Trump Gibe Provokes Fire and Fury From President's Allies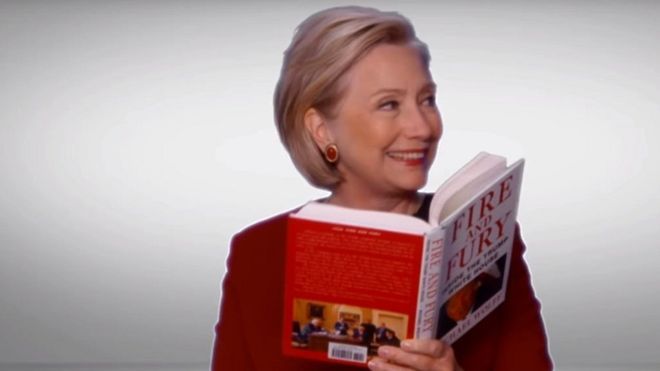 Hillary Clinton took aim at her former presidential opponent, President Donald Trump, in a surprise appearance at Sunday night's Grammy Awards.
The former Democratic presidential candidate joined celebrities Cher and Snoop Dogg in reading excerpts from Michael Wolff's bombshell book Fire and Fury, which outlines the discord in the White House since Trump took office.
The clip was presented by Grammys host James Corden, who quipped that they were hoping to win the award for best spoken word album.
The passage read by Clinton described Trump's love of fast food.
"He had a longtime fear of being poisoned," she said.
"One reason why he liked to eat at McDonald's. No one knew he was coming and the food was safely pre-made."
While the Madison Square Garden audience cheered the section, the reaction from Trump administration officials and allies of the president was less enthusiastic.
"I have always loved the Grammys but to have artists read the Fire and Fury book killed it. Don't ruin great music with trash. Some of us love music without the politics thrown in it," tweeted United Nations Ambassador Nikki Haley.
The president's eldest son, Donald Trump Jr., used the opportunity to taunt Clinton for her election loss.
"Getting to read a #fakenews book excerpt at the Grammys seems like a great consolation prize for losing the presidency. #GrammyAwards," he tweeted.
The video was not the only part of the ceremony in which Trump's policies loomed.
Pop star Camila Cabello made an impassioned defense of the so-called Dreamers, immigrants brought into the country as children by their parents whose status is threatened under Trump's immigration crackdown.
"I'm here on this stage tonight because, just like the Dreamers, my parents brought me to this country with nothing in their pockets but hope. They showed me what it means to work twice as hard and never give up, and honestly, no part of my journey is any different than theirs," she said, introducing a performance by U2.
The band performed their politically charged song "Get Out of Your Own Way," which is about racism and the KKK, on a barge in front of the Statue of Liberty.
"Blessed are the shithole countries, for they gave us the American Dream," shouted singer Bono, referencing Trump's recent slur about African nations.
Rapper Logic's speech at the end of his performance of "1-800-273-8255" also criticized Trump, in remarks that were bleeped out by CBS.
"To all the beautiful countries filled with culture, diversity and thousands of years of history, you are not a shithole, you are beautiful," he said.