Hillary Clinton Asks Governments to 'Rein In' Disinformation on Social Media
Hillary Clinton called for government intervention to hinder the spread of disinformation on social media during an online talk on Tuesday. According to her, "tech companies have created an algorithm-driven conspiracy rabbit hole" that undermines truth and democracy.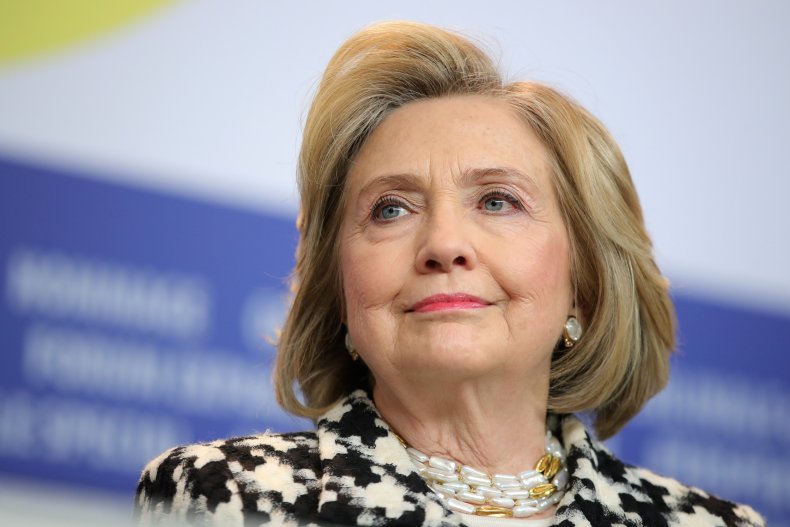 The comments came from an online conversation between her and Lord William Hague entitled, "The Future of Liberal Democracies," which was hosted by Chatham House, an independent policy institute headquartered in London. Hague is a former U.K. foreign secretary, a former leader of the House of Commons, and a Member of Parliament from 1989 to 2015.
Hague asked the former senator and secretary of state if governments need to do more to prevent Russia, Iran and other countries from using the internet to meddle in elections.
"Well, I do. Russia is the primary adversary when it comes to interfering in elections—and democracy more broadly—but you're right to bring up Iran," Clinton said. "I would add China, North Korea, [and] anyone with cyber capacity who has seen how successful Russia has been not only in the interference that has now been proven beyond a doubt in our election in 2016, but the continuing efforts to interfere even in the 2020 election."
"So what can we do? Number one, we must demand leaders—I don't care whether you are conservative liberal, right, left—leaders must be willing to stand up to and speak out against Russian interference or frankly interference from any foreign power," Clinton continued.
Clinton also spoke at length with Hague about social media in particular and the role it plays in spreading misinformation.
"Secondly, there must be a reckoning by the tech companies for the role that they play in undermining the information ecosystem that is absolutely essential for the functioning of any democracy. If you get to a point—and we are if not there, very close to it—where you cannot have agreement on facts, on evidence, on truth, how does it democracy make decisions?" Clinton said.
"What we've got in the tech world on social media platforms is an algorithm-driven conspiracy rabbit hole that people are enticed to go down and then [become] addicted, because it is like watching constant car crashes—you cannot turn away," Clinton said.
Clinton shared an excerpt from the talk on her official Twitter account today.
She also theorized the reason tech companies behind social media don't interfere with meddling from foreign agents is because the allure of profiting from advertising proves too great. Thus, a hands-off approach has been adopted, according to the former First Lady, rather than Facebook or Twitter risk losing money. Because of this, Clinton said government intervention is necessary.
"It's going to be up to governments—and I would even hope some global rules, but let's start with governments—to try to rein in the disinformation on these social media platforms," she said.
Clinton said she approves of the way President Joe Biden has handled relations with Russia so far, noting the importance of still working with the country despite having huge differences. Nevertheless, she said Russia needs to be held accountable when it is found to be meddling in elections or trying to sow disharmony within the country by spreading lies and conspiracies online. Clinton said such actions are "either done wittingly or with approval from the Kremlin."
She said that's because "to disrupt democracy to undermine the West's faith in itself" is "a dream for [Russian President Vladimir] Putin and the old Communist apparatchiks who are still dreaming of the Soviet Union and days of glory past."
Newsweek contacted Hillary Clinton for further comment but has not heard back as of press time.