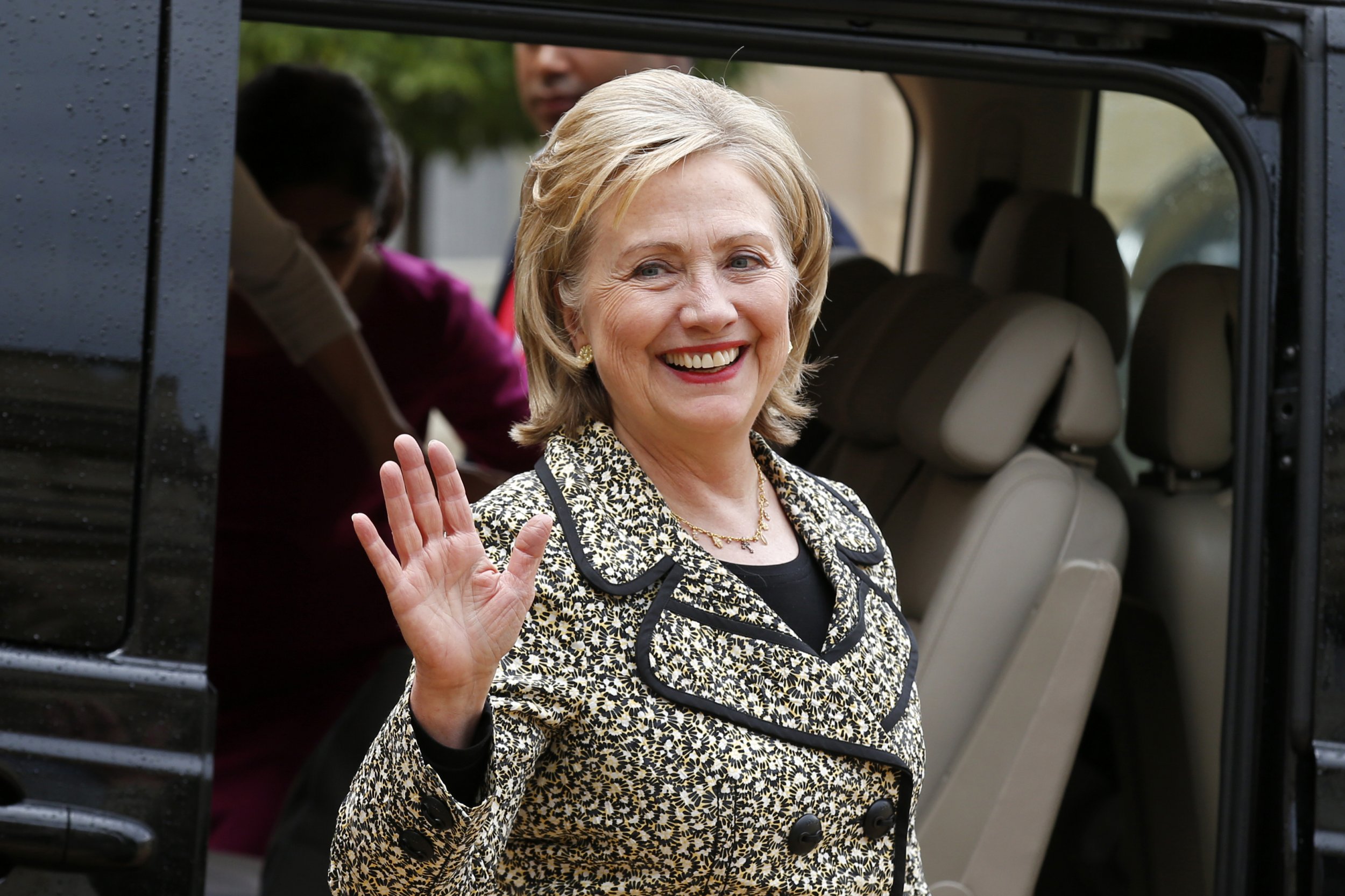 "[Hillary Clinton] is here to declare her candidacy for president," boasted Jon Stewart about the former senator, secretary of state and first lady's appearance on The Daily Show Tuesday night. "I think. If not, my career is over."
Clinton didn't formally announce her candidacy on the show, yet the Comedy Central host lives to satirize another night. But she did allude to a possible presidential bid during her interview with Stewart. "I was going to make an announcement, but you spoiled it for me! So I have to reconsider where I go do it," she said.
"It sounds to me like—if I may—you've declared you're running for president," joked Stewart.
The Daily Show host briefly discussed Clinton's new memoir, Hard Choices, then grilled her with a career aptitude test to determine if she'd be a "good fit" for the presidency.
"Do you have a favorite shape for that home office? Would you like it to have corners?" Stewart asked.
"The world is so complicated. We need fewer corners," replied Clinton, unable to hide a smile.
Clinton pivoted the conversation from a potential campaign and spoke instead about income inequality, outdated government bureaucracy and immigration reform. The interview then addressed her tenure as secretary of state, including a cease-fire between Israel and Hamas in November 2012.
In the Daily Show's extended interview online, Clinton and Stewart agreed that the current humanitarian crisis in Gaza is "overwhelming." She mentioned several times that the Gaza crisis is fundamentally rooted in problems of leadership. "It's a two-pronged trapping. They have leadership that is committed to resistance and violence, therefore their actions are mostly about how do we get new and better missiles to launch them at Israel, instead of saying how we're going to make your lives better," she said.
Egypt offered a cease-fire on Tuesday, which Israel accepted. However, Hamas rejected the offer.
Clinton wrapped up the interview with a reference to hard choices—both in relation to the Gaza crisis and to her new memoir, which is currently at No. 2 on the New York Times' nonfiction best-seller list.
Stewart asked Clinton if she was aware of the "talking heads" overanalyzing her every word and attacking decisions she made as secretary of state. He also mentioned two books about the Clinton family, Weekly Standard editor Daniel Halper's forthcoming Clinton, Inc. and Edward Klein's Blood Feud, about the alleged hostility between the Clinton and Obama families.
"If you were not running for president, all of this criticism—there are two books out now that are exposés of the family, there are constant calls for testimony, there are constant parsing of words. If you stopped that tomorrow—if you said, 'I am not running for president'—it all stops. Do you agree or disagree?" he asked.
"I've been amazed at what a cottage industry it is, and so I kind of expect it would continue, so I'm not really paying a lot of attention," Clinton said. "If it all stopped, a lot of people would lose their jobs."