Hillary Clinton Jabs Trump, Says Nancy Pelosi Has 'Proved Yet Again It Often Takes a Woman to Get the Job Done'
Hillary Clinton took an indirect swipe at former opponent Donald Trump by applauding House Speaker Nancy Pelosi for her leadership.
"As Speaker Nancy Pelosi—doesn't that sound great—has proved yet again, it often takes a woman to get the job done," the former secretary of state said in a video message at the MAKERS conference in California on Thursday. The media brand aims to "accelerate the women's movement through stories of real life experiences" and includes influential figures such as Oprah Winfrey, Ruth Bader Ginsburg and Billie Jean King.
Clinton's comments came days after Pelosi became an internet sensation for her reaction to Trump's State of the Union address on Tuesday night. Throughout much of the president's 82-minute speech, Pelosi limited her reactions to subtlety pursing her lips and shaking her head, but videos and photographs caught her clapping sarcastically in Trump's direction at one point, and the move went viral.
"Oh yes that clap took me back to the teen years," Pelosi's daughter, Christine, posted on Twitter on Wednesday morning. "She knows. And she knows that you know. And frankly she's disappointed that you thought this would work. But here's a clap."
Pelosi later criticized Trump for making false statements during the address, stating that it would take "days to fact-check all the misrepresentations that the president made tonight."
During her pre-taped message, Clinton also praised the women who ran for office in 2018 and those currently serving in Congress.
"The tidal wave of women and young people running for office is helping to build an America that's not only kinder, fairer, bigger-hearted—but safer, stronger, and more secure," Clinton said.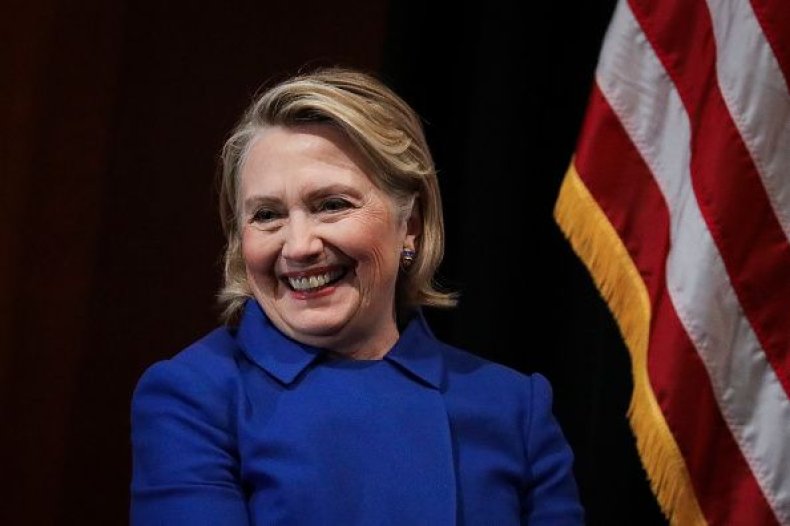 Clinton's remarks were made as more women than ever are serving in the 116th Congress. A record 102 women are in the House of Representatives, with more than a third of them winning their seats for the first time in the 2018 midterm elections. The election cycle also sent five new women to the Senate, inreasing the number of women to 25 percent.
Trump noted the milestones in his State of the Union address, stating that "All Americans can be proud that we have more women in the work force than ever before. And exactly one century after the Congress passed the constitutional amendment that gave women the right to vote, we also have more women serving in the Congress than ever before."
The women in Congress, many of whom wore suffragist white to the State of the Union, stood up and cheered at the president's statement.
In her message, Clinton observed that more than any other time in her life "women are coming together to tackle big problems and rewrite old rules. And I'm energized and encouraged by the diverse group of women everywhere who are speaking out—speaking out against inequality, and bigotry, and racism, and homophobia."