Being Hillary: Hero Abroad, Punching Bag at Home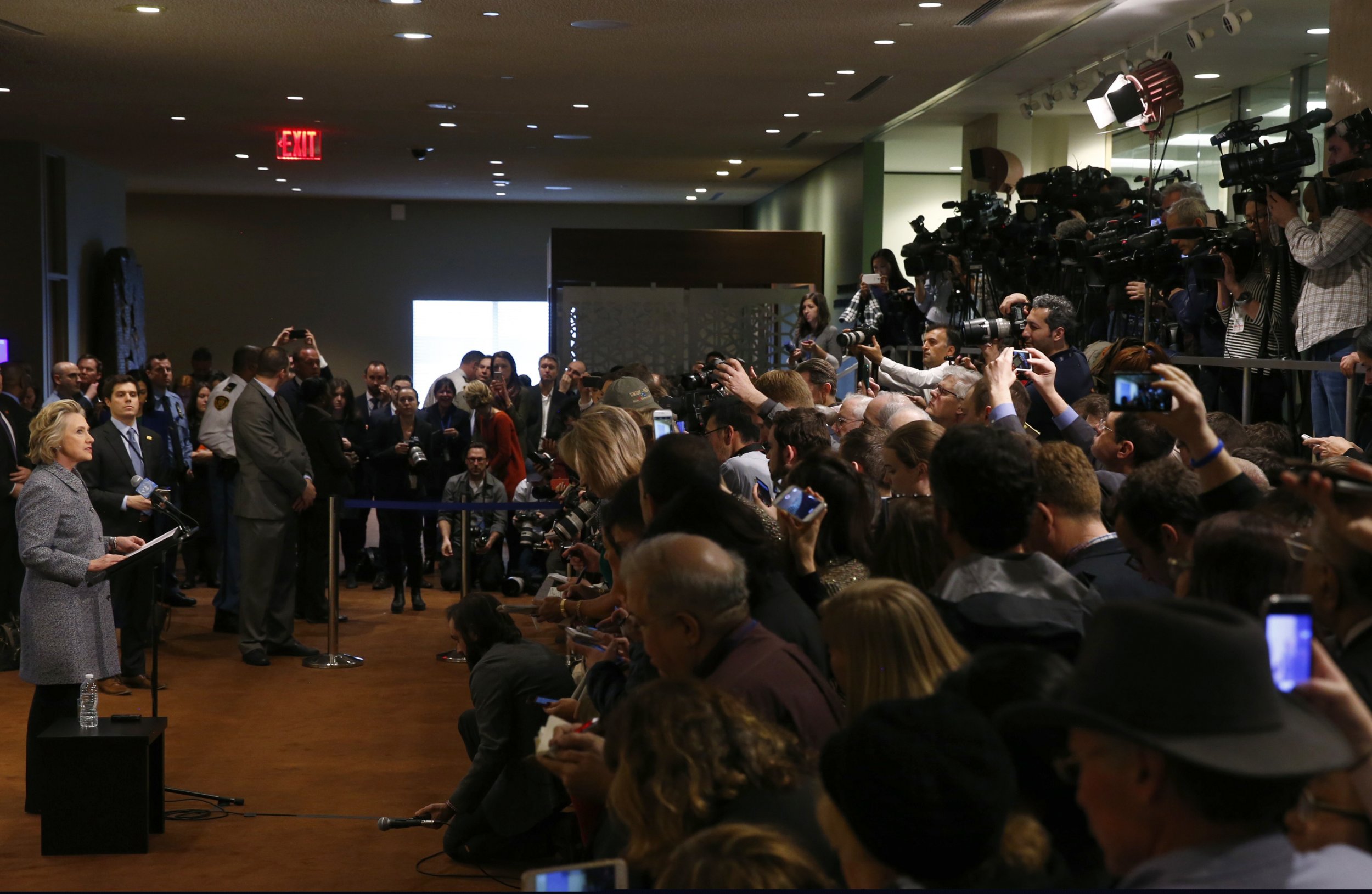 It's been 20 years since first lady Hillary Rodham Clinton took the podium in Beijing and gave a historic speech defining women's rights as human rights. She said rape, female genital mutilation, domestic violence and infant gender-selection practices were human rights violations that could no longer be considered local customs or crimes but deserved the attention of the world.
In the two decades since, her reputation as a global leader of women has grown. It's not hyperbole to say that it would be difficult to find a woman on the planet—no matter how remote, illiterate or abused, whether living in urban or village squalor, peeking warily from a veil or burqa—who hasn't both heard of Clinton and likely regards her as a champion and symbol of hope. And it would be equally hard to find one beyond our borders who cares whether she used personal email and one phone "for convenience" at the State Department.
None of the great female leaders in recent history—Indira Gandhi, Margaret Thatcher, Golda Meir—has ever resonated globally like Hillary Clinton.
But at home, it's a different story. She can't escape those who know her too well, who have scrutinized and will always judge not just her hair, pantsuit, cookies and marriage but also Benghazi and now her emails.
No man, it is said, is a hero to his valet.
Tuesday saw Hillary traverse both worlds, the heroic and vulgar. At the U.N., where she addressed the 59th session of the Commission on the Status of Women, she addressed how far the world has not come since 1995 and the Beijing Declaration and Platform for Action.
She flicked at those factoids in her keynote at the U.N. today, where she was greeted with thunderous applause and introduced as "future president." But while she recited the harrowing problems women and girls still face—domestic violence still not illegal in half the nations, one in three women a victim—200 journalists were scurrying away from her speech and packing into a smaller room, where she was scheduled to take questions on what's become known as #emailgate—her use of a private server while secretary of state.
The issues of women and girls, she said, are "the great unfinished business of the 21st century," and indeed they would remain unfinished as she strolled to meet 200 fulminating journalists (the U.N. venue infuriated the media because of its Kafkaesque accreditation requirements, impossible to meet on short notice) and answer questions about her private emails. They looked as anguished as the figures in Picasso's Guernica, which stood a few feet from where Clinton discussed servers, email accounts and the minutiae of government regulations governing the two.
The world's greatest female leaders can be classified by type. There's the Eurocrat organizer, Angela Merkel and Christine Lagarde—effective without aiming for inspiring. And there are the Nobel awardees, who triumphed over hideous violence: Malala Yousafzai and Ellen Sirleaf Johnson.
And then there's Hillary, sui generis. Abroad, she is the embodiment of American generosity, feminism and good intentions. She aims to be effective and inspirational. And often, among the world's women, she succeeds.
"I've traveled in 60 countries, and she is really seen as the hope for women worldwide," says philanthropist, former ambassador to Austria and longtime Hillary supporter Swanee Hunt. "It's not just certainly that she's a woman. It's that as a woman she brings a certain perspective, and they have never seen that perspective, that compassion and that rigor for policy. They have never seen that in a potential leader of a superpower."
There have been woes—among others, support for the Iraq War and a casual reset of U.S.-Russian relations. But Clinton is more often than not an angel of hope and superpower compassion abroad. In Washington and New York, her email troubles are spun as more evidence of her tendency toward secrecy. No communications expert, no high-paid strategist has yet figured out how to help her bring some of her international popularity home, or trained her in how to maintain a pose of affable transparency when under attack. Many have grown rich trying. Maybe no one ever could.
There was no one like her in the beginning. She arrived on the national scene in 1991, a year that in retrospect was just emerging from the primordial ooze of the late-'80s anti-feminist backlash. In her ambitious working-mom lifestyle, she wasn't much different from every other baby boom woman in her class—the original have-it-all generation—but that just proved fodder for the hysterics.
She kept her own name! She wore pants! She didn't bake cookies! And she wasn't just some little Tammy Wynette, standing by her man (which, for all intents and purposes, she would turn out to be).
It was not fair, to come of age among a generation of women who had to act like men to get in the door and stay in, and she did it well. Under extreme attack, the padded shoulders wouldn't do. She grabbed for stronger protection: the stonewall. And the paranoid, perhaps Nixonian crouch became a reflexive go-to position. She was easily duped by her husband's personal transgressions.
Today, Clinton had the ironic honor of presenting both sides of herself within an hour inside the U.N., where she should have been taking a victory lap. The 59th annual session of the Commission on the Status of Women was instructed in Beijing to "take a leading role in monitoring and reviewing progress and problems in the implementation of the , and in mainstreaming a gender perspective in U.N. activities."
In fact, the doings at the U.N. during these two weeks are historically festivals of warm gas and shoulder-busting toting of pulverized dead tree, endless preaching to the choir and a chance for NGO women to shop Fifth Avenue and see a Broadway show.
Clinton knows that, and yesterday, accompanied by a bevy of international women including Melinda Gates and Yousafzai, she released data showing just how little has been accomplished since the Beijing Platform for Action. The Clinton Global Foundation's No Ceilings project (slogan: Not There Yet) laid out the disappointing numbers: Women's participation in the global workforce stalled at 55 percent, compared with 82 percent of men. In the superpower, it's not much better: American females at 5 percent in CEO offices, 20 percent in Congress and not a single one in the White House.
"We cannot mistake progress for success," Chelsea Clinton, on hand for the release, told The Washington Post.
Those are just the polite problems that haven't been solved since 1995. There's still rape as a male prerogative and rampant violence against women in developed and undeveloped nations.
Looking at Clinton's Beijing speech on YouTube is to time-travel back to a shockingly younger, almost girlish woman, in the trademark pantsuit, this one pink. She was not yet 50, still a few years before Monica and impeachment, six years before 9/11 and the War on Terror, before her time in the Senate, her presidential campaign and heading the State Department. She was only the first lady, a great power without portfolio, but representing the world's superpower and saying that rape, female genital mutilation, sex trafficking, gender selection and domestic violence were violations of human rights—words no one at that level had ever said before.
The speech was very well received. The New York Times, noting she had actually pleased both Democrats and Republicans at the event, led its story on the event this way: "Speaking more forcefully on human rights than any American dignitary has on Chinese soil, Hillary Rodham Clinton catalogued a devastating litany of abuse that has afflicted women around the world today."
David Gergen, then a Clinton adviser, recalls Beijing as "a moment" for Clinton that catapulted her into a global role as a champion for women and girls. "She really stepped into the international stage in Beijing '95 and gave voice to women across the world," Gergen said. "Now that struggle for equal rights is really gaining momentum around the world."
It's not unusual, Gergen said, for national leaders to be more popular outside their home countries than inside. He singled out Margaret Thatcher, Tony Blair and, at times, Bill Clinton, as examples. Gergen expressed surprise that she would hold a press conference on the emails on the same day as the U.N. speech. "Why would she do it on the same day?" he said. "She must be under enormous pressure. I don't think she'd step on her own story otherwise."
Of course she's under enormous pressure, and there she shall remain. The 55,000 pages of emails she sent over to the State Department now provide ambitious reporters, Capitol Hill investigators, and friends and enemies alike hours of work seeking "gaps." Everyone from President Barack Obama to Senator Dianne Feinstein has urged transparency, and at the press conference she insisted that what she had done was legal under State Department rules at the time. She said that the server she used was secure (vetted by the Secret Service, since Bill Clinton had used it) and that whatever she judged as "personal" in the batch of emails was material the American public would agree is personal: Chelsea's wedding, her mother's funeral and "yoga schedules."
But before the cameras were even wheeled out of the room, producers and politicos were asking why anyone, let alone the secretary of state, would delete all her personal emails. And hadn't she just said she used two phones in Silicon Valley a few weeks ago? Whatever she may proclaim for the world's voiceless women from a dais or as a regular person protecting her privacy, offstage she has always had her carapace to bear. A global women's rock star, pushing 70 and with a long and solid career in public service behind her, Clinton remains a woman always brought low, before she takes off, by the weight of the armor she donned a long time ago.