Who Will be Hillary Clinton's Running Mate?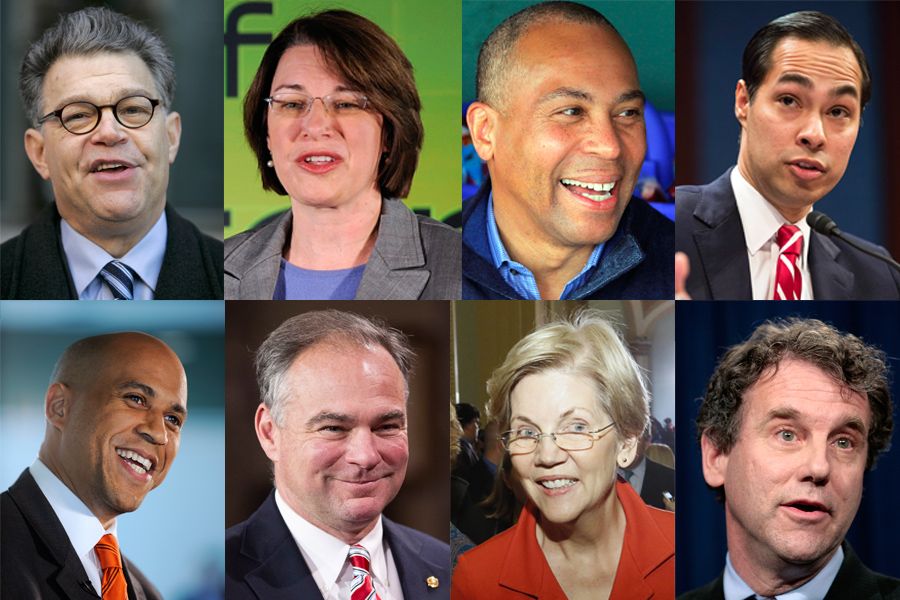 All but the most diehard Bernie Sanders supporters have accepted that Hillary Clinton is going to be the Democratic nominee for president. Saying nothing of her lead among pledged delegates, which, admittedly, isn't insurmountable, her cache of superdelegates—party leaders and elected officials who would torpedo their careers in politics if they crossed her—makes Clinton's nomination all but inevitable. So now begins the speculation about her running mate, the vetting for which her aides no doubt began months, or even years ago. Here are the eight likeliest contenders.
Tim Kaine, 58, senator from Virginia and former governor of Virginia
Kaine is the conventional wisdom pick, and for good reason. Virginia is a battleground state that sits at the center of a clutch of other possible swing states — including Ohio, Pennsylvania and, this year, North Carolina, which usually votes Republican but could swing blue. It was Mitt Romney's closest win in 2012, and presumptive GOP nominee Donald Trump's widespread unpopularity could swing the state for Clinton, especially if she chooses a popular senator (and former governor) from the region as her running mate.
And Kaine has enough foreign policy experience to ease voters' fears: In the Senate, he sits on the important armed services and foreign relations committees, which should reassure voters that, should he need to, he could step into the president's shoes. He also speaks Spanish, which, if you're not going to pick a Latino, is the next best thing to appeal to that voting block.
He is, however, a moderate who will not contrast well with Clinton or energize the party's progressive wing. Kaine also voted to fast-track President Obama's Trans-Pacific Partnership, a move that angered most of the left. And his views on abortion are to the right of many Democrats: he's a practicing Catholic who supported parental consent and informed consent laws in his state. And, Sanders aside, old white guys just don't excite voters like they used to.
Odds: 3:1
Julián Castro, 41, secretary of Housing and Urban Development (HUD) and former mayor of San Antonio
Certainly the most exciting contender of the lot, Castro is young, handsome and, best of all, he's Latino. Florida's 29 electoral votes could well be swung by Latino voters, who make up 18 percent of the electorate there. A Latino running mate could also help out in Nevada and Colorado, where Latinos are 14 and 17 percent of the electorate, respectively. And his youth could be enticing to millennials, who largely voted for Sanders in the primary. And, unlike some of the older options, Castro doesn't come with much baggage.
On the downside, he doesn't have much experience. Even his tenure as secretary of HUD hasn't earned him many plaudits. He was mayor of San Antonio, the seventh largest city in the U.S., but that's actually a part-time job—most of the running of the city is handled by an unelected city manager. Some worry Castro might not be able to handle the gig if he had to become president. And he doesn't speak Spanish, his parents having spoken only English to him growing up, though he's reportedly boning up on it .
Odds: 3:1
Sherrod Brown, 63, senator from Ohio, former U.S. Representative from Ohio
A bit of a sleeper pick, Brown hasn't received as much media hype as Kaine or Castro, but he's at least as qualified as either. He's from Ohio, a key swing state, and, like Kaine, might be able to swing other battleground states in the region. Add to that the fact that he's a pretty liberal guy—he voted against fast-tracking the TPP, for instance—which could help Clinton invigorate the party's progressive wing, who feel pretty burned about Sanders's looming defeat. He's also known as something of a scrapper who would likely do well in the attack dog role. And his scruffy, off-the-cuff demeanor could help humanize Clinton, who often comes as too focus-grouped.
But he's another old white guy. And his replacement in the senate would be picked by GOP dropout John Kasich, Ohio's Republican governor. In a year when Democrats have a shot to retake the Senate, they might be skittish about giving up a seat. Plus, he doesn't seem to want the job, and his wife has said she doesn't want him to take it. And finally, Bill O'Reilly thinks Clinton should pick him.
Odds: 4:1
Corey Booker, 47, senator from New Jersey and former mayor of Newark
If Clinton wants a black running mate, Booker's the guy. At 47, he's a rising star in the party and, being a senator, can claim at least some foreign policy experience, unlike, say, Deval Patrick or Kamala Harris, two other African-American politicians floated for the role. But, other than his youth and skin color, Booker doesn't bring much to the ticket. He's from New Jersey, which is too close to New York, where Clinton was a senator, to be of use to the ticket. And New Jersey is reliably blue, anyway. Also, Booker's foreign policy experience is pretty much nil, so voters may be wary with him taking over the top job.
Odds: 9:1
Deval Patrick, 59, former governor of Massachusetts
Like Booker, Patrick is black, but otherwise brings none of the advantages that Booker does. He isn't particularly young, and has no more foreign policy experience than Sarah Palin did when she was John McCain's running mate in 2008. Furthermore, Massachusetts isn't a state Clinton really needs to worry about winning, and, when he was done as governor, he took a job at Bain Capital, Mitt Romney's firm, which is kind of a sticking point with the anti-Wall Street crowd.
Odds: 19:1
Al Franken, 64, senator from Minnesota and former cast member of Saturday Night Live
Before becoming a senator, Franken was best known for his classic Saturday Night Live character Stuart Smalley. He's a sensible pick, if not the best. For starters, he's safe from a Senate perspective: if he has to resign, Minnesota Governor Mark Dayton is a Democrat, so Clinton doesn't need to worry about losing a seat to the GOP. Franken voted against fast-tracking TPP, which would play well with the party's liberal base, who aren't overly fond of Clinton. And his personality—friendly, approachable, jokey—would compliment Clinton's extremely well. He's also outspoken, and he wouldn't be afraid to get into it with Trump on Clinton's behalf. And if anyone can out-bully Trump, it's Franken.
The flip side of that is that picking Franken gives the GOP a lot of ammo: many of his remarks from before his career in politics, including his old SNL footage, will be resurfaced if Clinton picks him. And some may worry he doesn't have the temperament for the Oval Office. Plus, Minnesota's not a swing state. And he's an old white guy.
Odds: 19:1
Amy Klobuchar, 55, senator from Minnesota
If Clinton wants another woman on the ticket—and campaign advisor John Podesta has said one will be included in the short list—then Klobuchar is probably the smartest choice. She's a rising star from Minnesota, where the governor will replace her with another Democrat if she steps down to become veep. She doesn't have any known baggage to speak of. The flip side of that coin is that she has no foreign policy experience and doesn't tick many of the boxes Clinton needs in a running mate. If Clinton needs a woman, Klobuchar makes sense, but otherwise there are better options.
Odds: 24:1
Elizabeth Warren, 66, senator from Massachusetts
Warren, a former Harvard Law professor specializing in bankruptcy law, is the progressive wing's darling. Picking her would do much to placate that end of the party. And she's a woman. Other than that, she doesn't make much sense at all. For one, she's more useful in the Senate, where's she's the leading liberal voice, than as vice president. And her replacement would be picked by Massachusetts's Republican governor, giving Republicans nearly half a year of wiggle room before a special election is held. This would not be a smart move when you're trying to win back the senate. And she doesn't like or get along with Clinton—in a 2003 book, Warren essentially accused Clinton of flip-flopping on a bankruptcy bill after special interests in favor of the bill contributed money to her senate election campaign. The remarks were resurfaced by the Sanders campaign this year, and did much to paint Clinton as a political mercenary.
Odds: 99:1