Hillary Clinton on Virginia Shooting: 'We Cannot Wait Any Longer' to End Gun Violence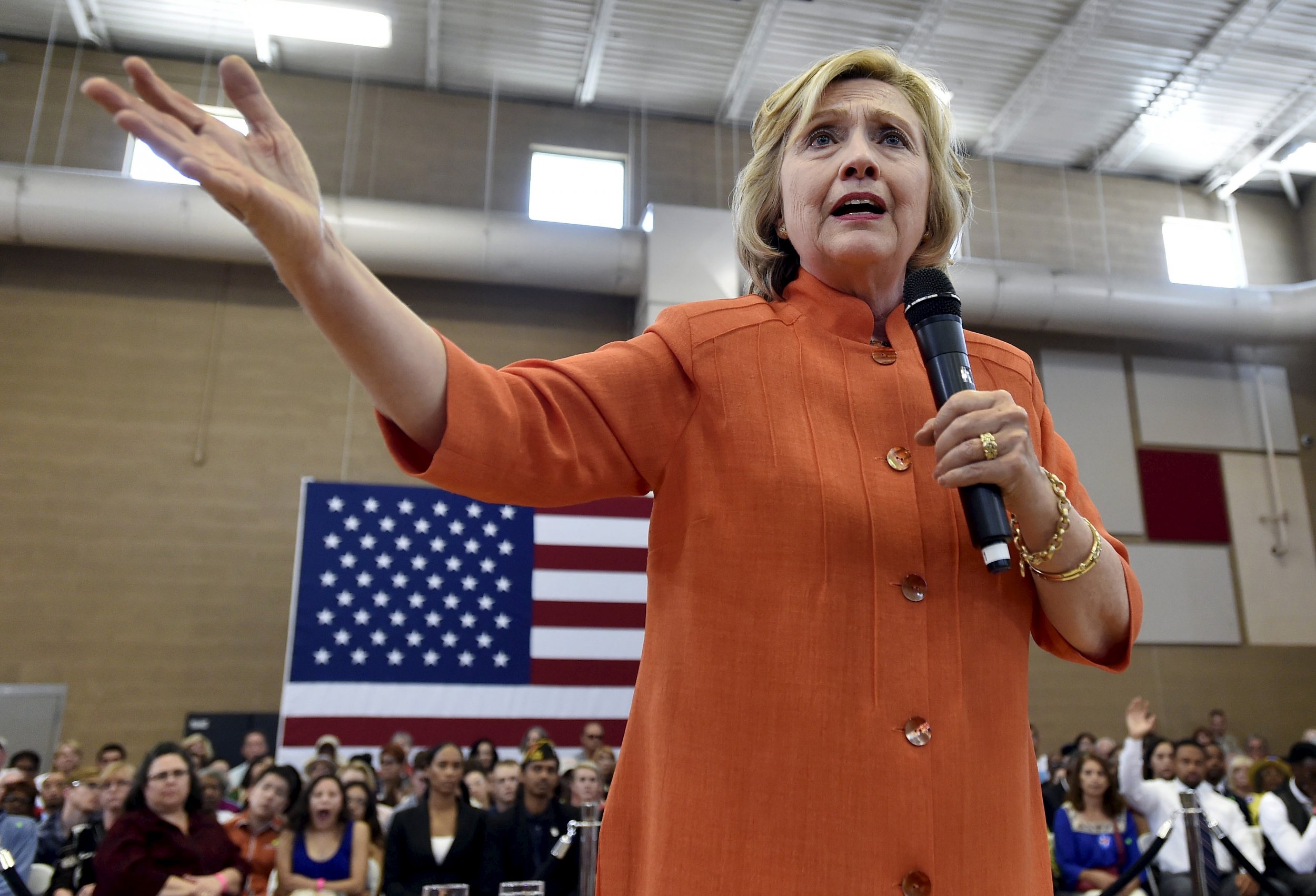 Updated | Democratic presidential front-runner Hillary Clinton has called for an end to gun violence, in the wake of the fatal shooting of two journalists during a live broadcast in Moneta, Virginia, early Wednesday morning.
Alison Parker, 24, a reporter for WDBJ7, and Adam Ward, 27, a photographer, allegedly were shot by a former employee of their news station while they were conducting an interview at Bridgewater Plaza near Smith Mountain Lake. The alleged shooter, Vester Lee Flanagan II, 41, shot himself just before 11:30 a.m., and died two hours later at a hospital, Franklin County Sheriff Bill Overton told reporters at an afternoon press conference.
The incident followed other shootings this summer, including inside a church in Charleston, South Carolina; at Naval Reserve facilities in Chattanooga, Tennessee; and inside a movie theater in Lafayette, Louisiana.
White House Press Secretary Josh Earnest also addressed the incident, saying it was another example of gun violence "that is becoming all too common in communities, large and small, all across the United States."
"While there is no piece of legislation that will end all violence in this country, there are some commonsense things that only Congress can do that we know would have a tangible impact in reducing gun violence in this country," he said while addressing reporters Wednesday during his daily briefing.
Virginia Governor Terry McAuliffe, who is a Democrat, renewed his call for tighter gun restrictions, saying it's time to address gun violence.
"There are too many guns in the hands of people who should not have guns," McAuliffe told The Washington Post. "That is why I've long advocated for background checks."
"There's too much gun violence in the United States of America," he added.
Virginia earned a "D" rating on the most recent annual scorecard published by the Law Center to Prevent Gun Violence. Among the measures not included in Virginia law are not requiring a background check before the transfer of a firearm between unlicensed individuals, not requiring firearms dealers to obtain a state license and not requiring gun owners to report lost or stolen firearms.
The Old Dominion State was the location of the Virginia Tech massacre in 2007, the worst school shooting in U.S. history, which claimed the lives of 32 people.
Former Arizona Representative Gabrielle Giffords, who was shot by a gunman in 2011 outside of a Tucson supermarket, on Wednesday said shootings are "far too common in our country."
"Our country has a gun violence problem," she said in a joint statement with her husband, NASA astronaut Captain Mark Kelly. "Many times, they happen behind close doors, in homes and schools and movie theaters. But this time, the horror unfolded live and on air, for all to see."
Eighty-nine people die from gun violence each day, said Dan Gross, president of the Brady Campaign to Prevent Gun Violence. As is the case following other shootings, Gross on Wednesday said the group is committed to continuing to push for universal background checks on all firearms sales, including on the Internet and at gun shows.
Forty percent of guns sold in the U.S. are done so without a background check, according to a 2014 report by the Brady Campaign. Federal law requires only gun shops to conduct background checks.
This story has been updated to include the status of the suspected shooter and Earnest's comments.