Hillary Clinton Will Try to Help Democrats in Midterm Elections—and Republicans Are Delighted
Hillary Clinton is reportedly gearing up to help the Democratic National Committee fundraise ahead of the November midterm elections, and it's good news as far as Republicans are concerned.
Clinton, the 2016 Democratic presidential nominee whose campaign strategy was widely criticized after she lost to Donald Trump, will headline three fundraisers in San Francisco, Chicago and New York, NBC News reported on Monday. The events were described as "intimate dinners with discussion," and invitations for the San Francisco installment in September were reportedly ready to be mailed out Monday.
The former secretary of state also planned to help raise money for some women running for competitive seats in Congress, a Democrat close to her told NBC News.
For Republicans, Clinton's involvement is an opportunity to link her loss to Trump to Democrats running in states and districts that lean Republican—and keep the House.
Newsweek subscription offers >
"The longer a scandal-plagued Hillary Clinton lingers in American politics, the worse off House Democrats will be," Jesse Hunt, a spokesman for the National Republican Congressional Committee, told NBC News.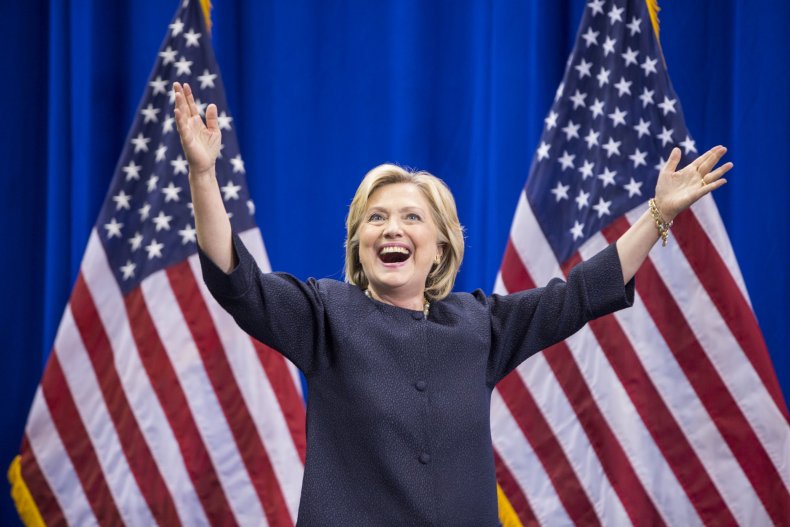 The National Republican Senatorial Committee has released digital ads showing Clinton referring to Trump supporters as "deplorable" and "backwards" during her campaign, as a way of keeping voters in states that Trump won.
Trump also sees Clinton's continued presence in politics as beneficial to himself and his party.
Newsweek subscription offers >
"I was recently asked if Crooked Hillary Clinton is going to run in 2020?" Trump tweeted last October. "My answer was, 'I hope so!'"
Clinton's spokesman Nick Merrill told NBC News she is aware of the GOP's reaction to her involvement but that "there has never been a more important midterm election, and Secretary Clinton is going to do her part to lift up the next generation of leaders."
He added: "You pay attention to those you're threatened by. If they didn't think she was still a force in the party, then they wouldn't continue to treat her like the president."
Which candidates Clinton will campaign for has yet to be revealed.
The Republican National Committee so far in the 2018 cycle has outraised the Democratic National Committee $213 million to $110 million.
Clinton has been an effective fundraiser for Democrats. Last month, she raised $1.5 million in one week for those in the party pushing for immigrant family reunification. In June, her political organization, Onward Together, donated $5,000 to 19 Democratic House candidates as well as four secretary of state candidates.
Hillary Clinton Will Try to Help Democrats in Midterm Elections—and Republicans Are Delighted | U.S.