Lifted by Black Vote, Clinton Easily Wins South Carolina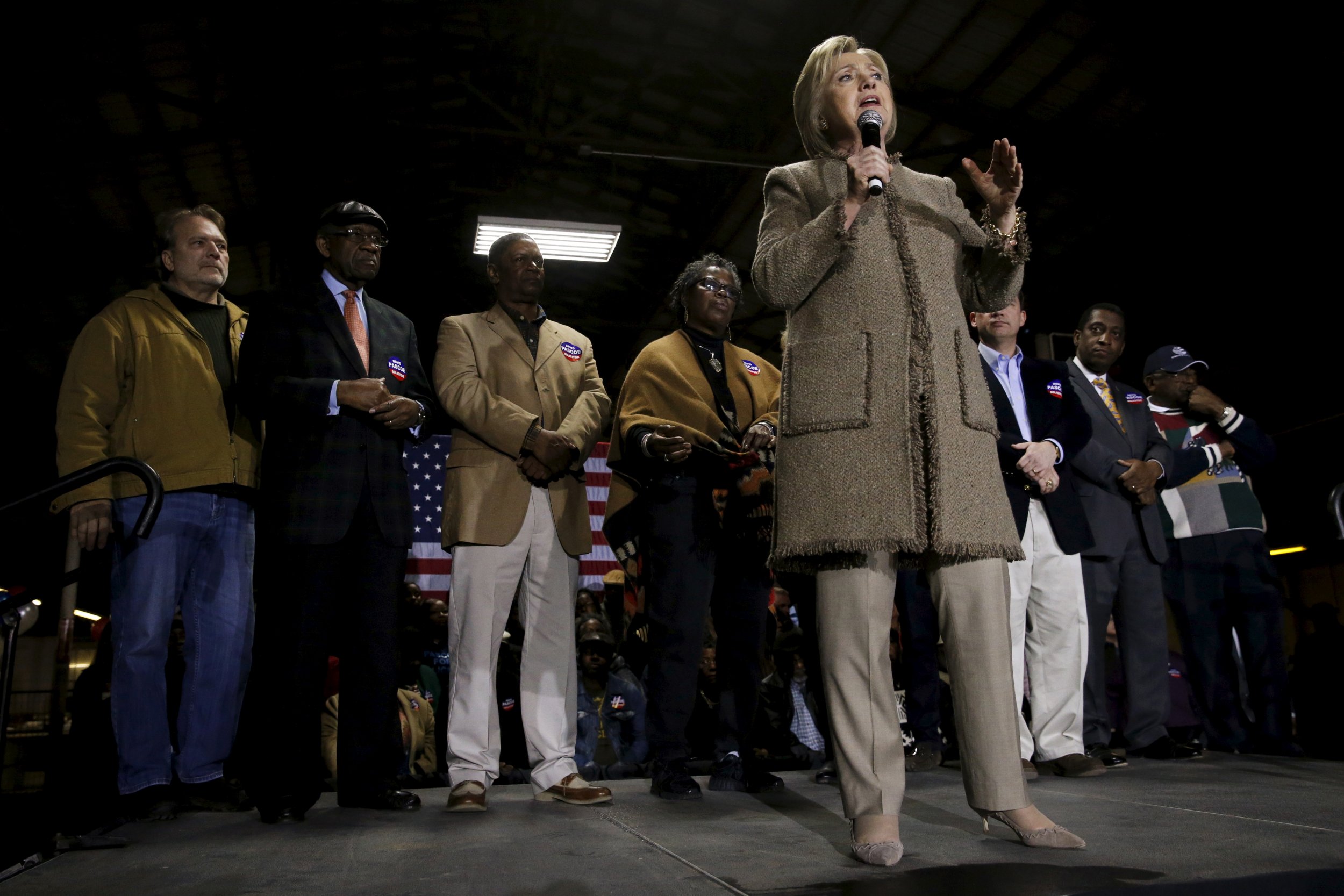 Hillary Clinton easily won South Carolina's Democratic primary on Saturday, strengthening her hand against rival Bernie Sanders in the race for the nomination.
With an electorate that is more than half African-American, Clinton was expected to win this southern state. Polls going into Saturday consistently showed the former secretary of state with a double-digit lead, thanks largely to black voters, who are some of her most dedicated supporters. Sanders, the senator from Vermont, has tried to make inroads with the black community, but coming from a state that is more than 90 percent white, he started at a distinct disadvantage. Endorsements for Sanders from black luminaries like former NAACP president Benjamin Jealous and iconic director Spike Lee failed to close the gap this month, and the senator spent most of the past week campaigning elsewhere.
Still, the primary win is redemptive for Clinton, who lost the state to Barack Obama in 2008 in bitter fashion. While campaigning in the Palmetto state eight years ago, her husband, former president Bill Clinton, alienated many black voters by seeming to dub Obama's campaign for the presidency a fantasy. African Americans deserted the Clintons in droves for the chance to elect the first black president, giving Obama a nearly 30 point win and a significant bounce going into the pivotal March contests.
For Clinton, winning a majority of South Carolina's 53 available delegates is as important as turning out black voters. In the past several presidential cycles, the Democratic candidate has relied on strong support among black and other minority voters to overcome a loss of white voters to the GOP. When those voters stay home—as they did in the 2010 and 2014 mid-terms, Republicans win big nationally.
With her victory in the Palmetto State and a comfortable win in Nevada last weekend, Clinton has given herself a little breathing room after disappointing results in the first two contest—a virtual tie in the Iowa caucuses at the beginning of February followed by a decisive defeat from Sanders in New Hampshire. South Carolina, however, offered the most delegates of the four states that held elections in February, followed by Nevada, giving Clinton an edge entering the critical month of March.
The Democratic frontrunner doesn't have much time to celebrate her victory, though. Just three days from now, 11 states and one territory will hold Democratic primary elections, with more than 1,000 delegates up for grabs. Clinton has solid leads in all but a few of these Super Tuesday states, and big wins in places like Texas, Georgia, Virginia and Tennessee could all but guarantee her the nomination. Sanders is gunning for wins in Massachusetts, Colorado, Oklahoma and Vermont, but his pathway to victory is rapidly dwindling.
Sanders insisted a statement Saturday night, that "this … is just the beginning" of the Democratic contest. But Clinton sounded like she was already looking ahead to the general election. In a nod to Republican frontrunner Donald Trump and his campaign motto, Clinton told a fired-up crowd in the state capital of Columbia Saturday night that, "Despite what you hear, we don't need to make America great again, America has never stopped being great! But we do need to make America whole again."
"Instead of building walls, we need to be tearing down barriers," Clinton continued. "Today, you sent a message: in America when we stand together, there is no barrier too big to break. Tomorrow, this campaign goes national!"