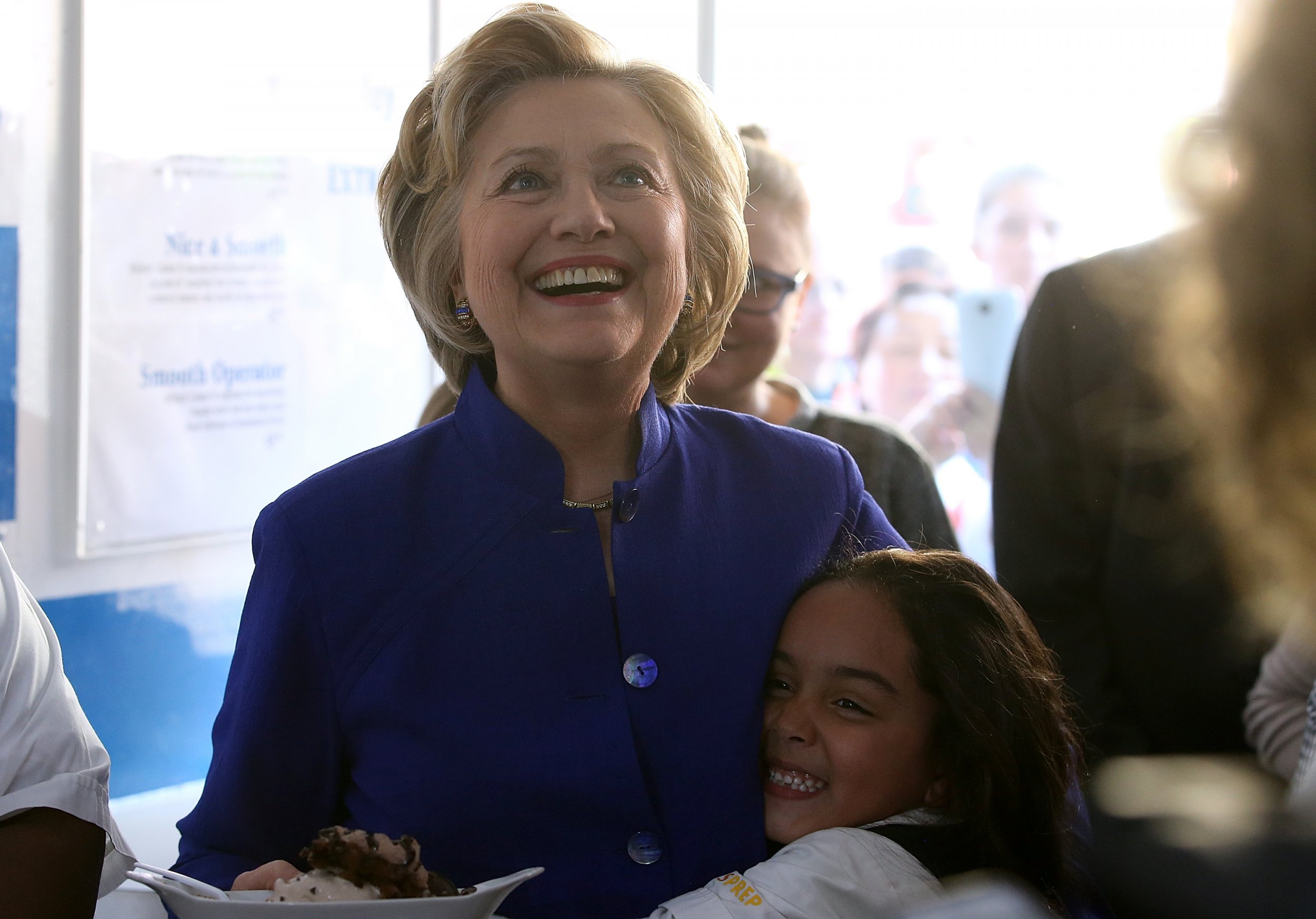 The Fearless Girl statue, which stares down the Charging Bull of Wall Street in lower Manhattan, was transformed into Wonder Woman on Wednesday—much to former Secretary of State Hillary Clinton's approval.
Clinton, who conceded to Donald Trump in the 2016 presidential election with a final message aimed at young women across the country, retweeted a photo of the newly decorated statue to more than 16 million followers. The image shows the Fearless Girl adorned with a Wonder Woman headpiece, her bronze hair appearing to sway with the wind behind her.
The statue, representing a young Latina girl standing strong in the heart of Wall Street, has provoked national commentary and debates on feminism, workplace equality and public art.
The former Democratic candidate has kept active throughout Trump's presidency, authoring a new book and continuing to support causes she's backed throughout her decades in elected office. She has been speaking on women's issues and defending equal rights and opportunities for all genders.
"In big ways and small, the unfinished business of the 21st century is the full equality of women. There are still too few women in the upper reaches of the private sector, academia, science, technology, not to mention politics and government," Clinton said during a girls' empowerment luncheon for the nonprofit Girls Inc. in March. "And we've all heard the saying, 'You can't be what you can't see.' So each of us should take it upon ourselves to do what we can to help more girls and young women see themselves at the highest reaches of every field."
Related: What is Hillary Clinton doing now? Writing a new book, reading mysteries and resisting Donald Trump
Meanwhile, one of Clinton's most viral tweets, posted on November 9, 2016, remains pinned to her Twitter profile. It is a quote from her concession speech made that same day: "To all the little girls watching...never doubt that you are valuable and powerful & deserving of every chance & opportunity in the world."