Hillary Clinton is making it clear she has no plans to run for the White House again, ruling out a possible rematch with former President Donald Trump in the 2024 presidential election.
Asked whether she would be open to running for president again, Clinton laughed it off, telling MSNBC's Morning Joe on Tuesday, "No, no, but I am certainly going to be active in supporting women running for office and other candidates who I think should be re-elected or elected—both women and men."
There had been speculation that Clinton could potentially cast a presidential bid in 2024, after skipping the 2020 primary, and some were hopeful to see a return given President Joe Biden's age as the oldest president to be inaugurated and Vice President Kamala Harris' fairly low approval ratings.
Trump, on the other hand, has not ruled out a presidential comeback and has continued to hint that he may run again in the next election.
Just last month, Trump told the crowd at the Conservative Political Action Conference, "We did it twice, and we'll do it again. We're going to be doing it again a third time."
Despite losing the popular vote in 2016, Trump clinched the White House after securing 304 electoral votes over Clinton's 227.
Last week, Biden's approval rating saw a slight uptick following his State of the Union address, which is often expected in the days after a president speaks to the nation.
His approval rating is currently 1.5 percentage points higher than Trump's was at a year into his presidency, but the uncertainty surrounding Ukraine, and how Biden's actions will affect American voters, is still to be determined.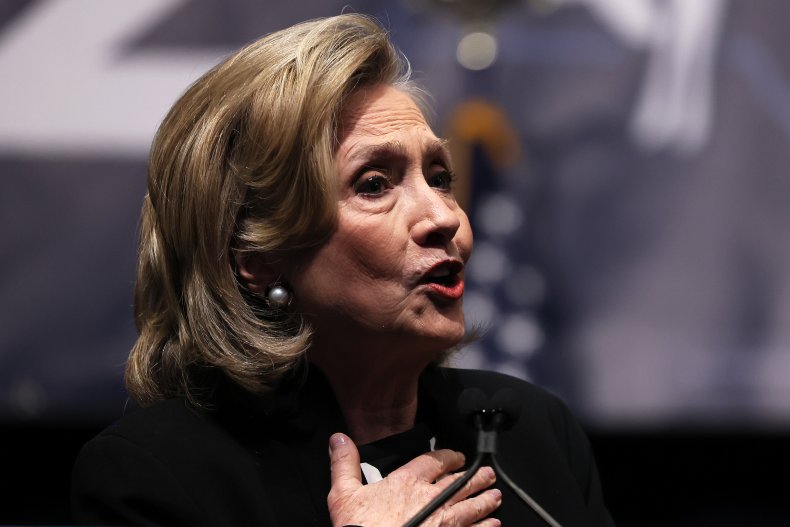 Clinton said that while she wouldn't be on the presidential ticket, she plans to continue remaining active in politics and policy as she has over the last six years.
"There's a big debate going on…about the future of democracy, of economic opportunity, of climate change, of health and other important issues, so I will stay active in all of those debates," she said.
In recent weeks, the former secretary of state has been outspoken on the ongoing war in Ukraine and called on the Biden administration to move quickly against Russian President Vladimir Putin.
On Tuesday, Clinton called it "heartbreaking" that Putin was waging the war due to "his own insecurities, his own resentments and grievances against the people of Ukraine."
"It really tells us everything we need to know about Putin," she said.
Clinton is currently in Abu Dhabi, where she is the headline speaker at the Forbes 30/50 Summit. She is receiving a lifetime achievement award.
During an interview at the event, Clinton commended Ukrainian President Volodymyr Zelensky for his leadership over the recent months.
"The level of defense and determination that the Ukrainian people are showing, starting with their president, President Zelensky, going all the way down to the grandmothers and young women taking up arms.… It's tragic, but inspiring. I hope the world will stay with Ukraine while they try to protect their homeland," she said.