Hillary Clinton's New Political Group: What Is Onward Together?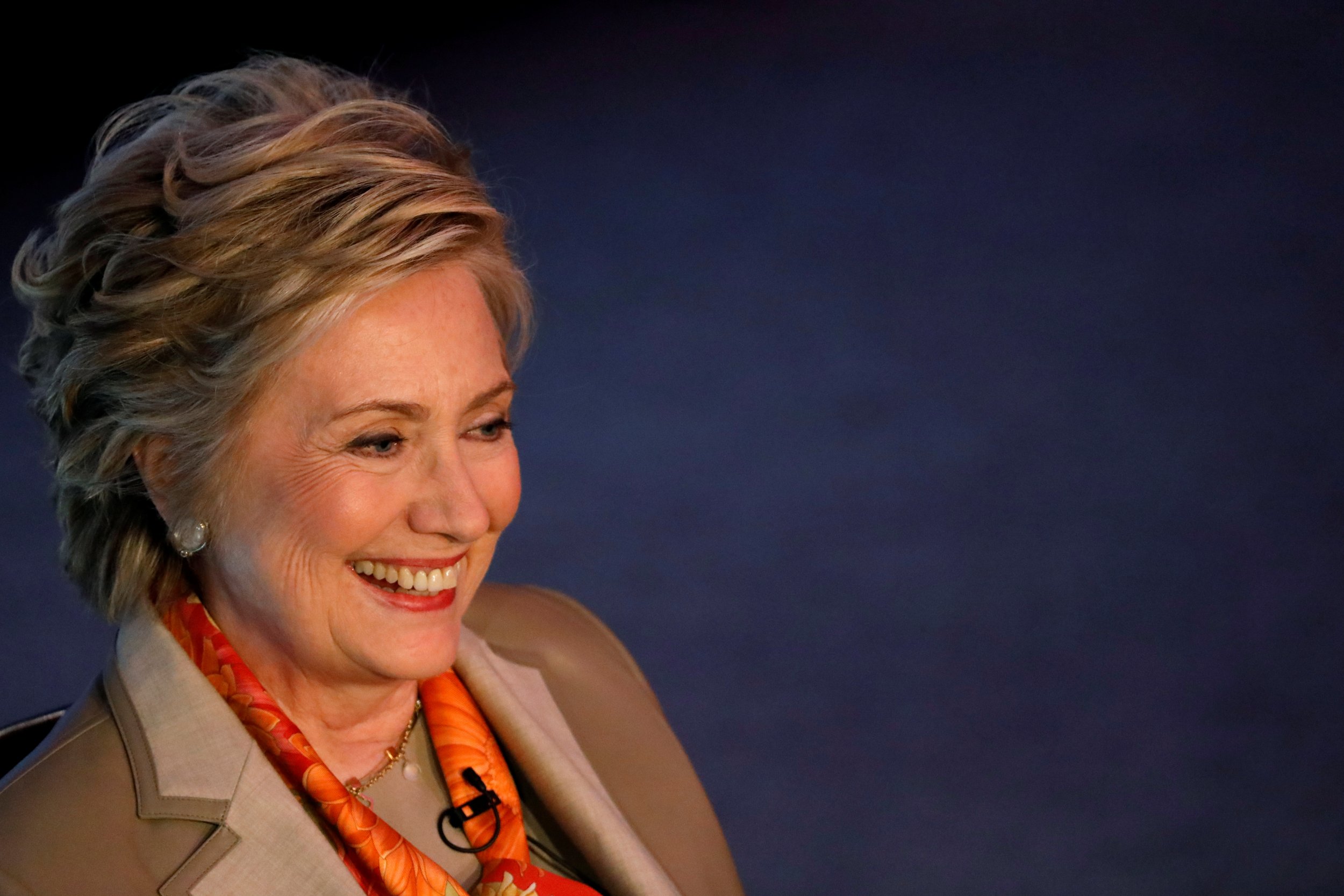 Hillary Clinton is back. This week, the former presidential candidate officially launched her new political action organization, Onward Together, which seeks to advance progressive values by encouraging Americans to organize, get involved and run for office, seemingly to counter President Donald Trump's policies and take over Republican seats in Congress.
Related: Hillary Clinton attends dinner at Haim Saban'​s in Los Angeles
The group name plays on the 2016 Democratic presidential nominee's slogan, "Stronger Together," with the same blue arrow logo (tagline: "resist, insist, persist, enlist"). The former Democratic nominee revealed the news in a blast email to supporters and through a series of tweets on Monday. "We're launching Onward Together to encourage people to get involved, organize, and even run for office," Clinton tweeted.
What Is It?
Clinton, 69, said Onward Together will support several groups, such as Color of Change, formed in the aftermath of Hurricane Katrina to strengthen African-Americans' political voice, and Swing Left, which is working to elect Democrats to the House of Representatives. She said Howard Dean, former Vermont senator and chairman of the Democratic National Committee, will play a role in the organization. But it's not yet clear what that position will be.
"There's no telling what we can achieve if we approach the fights ahead with the passion and determination we feel today, and bring that energy into 2017, 2018, 2020 and beyond," the mission statement says.
The creation of the group is arguably Clinton's most public return since her loss to Trump in the November election. She admitted that this year hasn't been what she envisioned for herself, but will continue in her fight for "a kinder, big-hearted, inclusive America." Besides occasional sightings, hiking in the woods near her home in Chappaqua, New York, Clinton mainly has kept a low profile since her defeat. She's not alone in moving to the nonprofit world: Her rival, Vermont Senator Bernie Sanders, launched his own nonprofit, Our Revolution, to focus on transforming the political landscape and helping progressive candidates win elections across the country, in the wake of his primary defeat last year.
Some argue it might be a way for Clinton to distance herself from the Clinton Foundation, which has raised more than $2 million for causes that focus on the environment and health and wellness in developing countries around the world. She stepped down from its board after she launched her presidential campaign in April 2015, but her husband and their daughter, Chelsea, remained on the board. Still, the foundation has long been viewed by some as a conflict of interest for Clinton, especially as a Democratic presidential candidate. The family's critics specifically targeted the donations the foundation has taken from foreign entities, saying those contributions might have influenced Clinton's decisions during her tenure as secretary of state in the Obama administration.
What Are Critics Saying?
Republicans criticized Clinton's return to politics, with some arguing that Onward Together breaks her promise to end unaccountable money in politics. Visitors to the website have the option to either read the mission statement or donate money. It's registered as a 501(c)(4) group, which the Internal Revenue Service designates for so-called social welfare organizations. These groups often are cited as a cause of a rise in dark money in politics.
Some have speculated it's Clinton attempt to rebuild her political brand for a third shot at the White House. Rumors circulated after "Hillary for Mayor" posters popped up around New York City. She was a U.S. senator from New York from 2001 until 2009. Quinnipiac University even conducted a poll in which Clinton, hypothetically running as an independent, would defeat incumbent New York City Mayor Bill de Blasio, running as a Democrat, 49 to 30 percent.