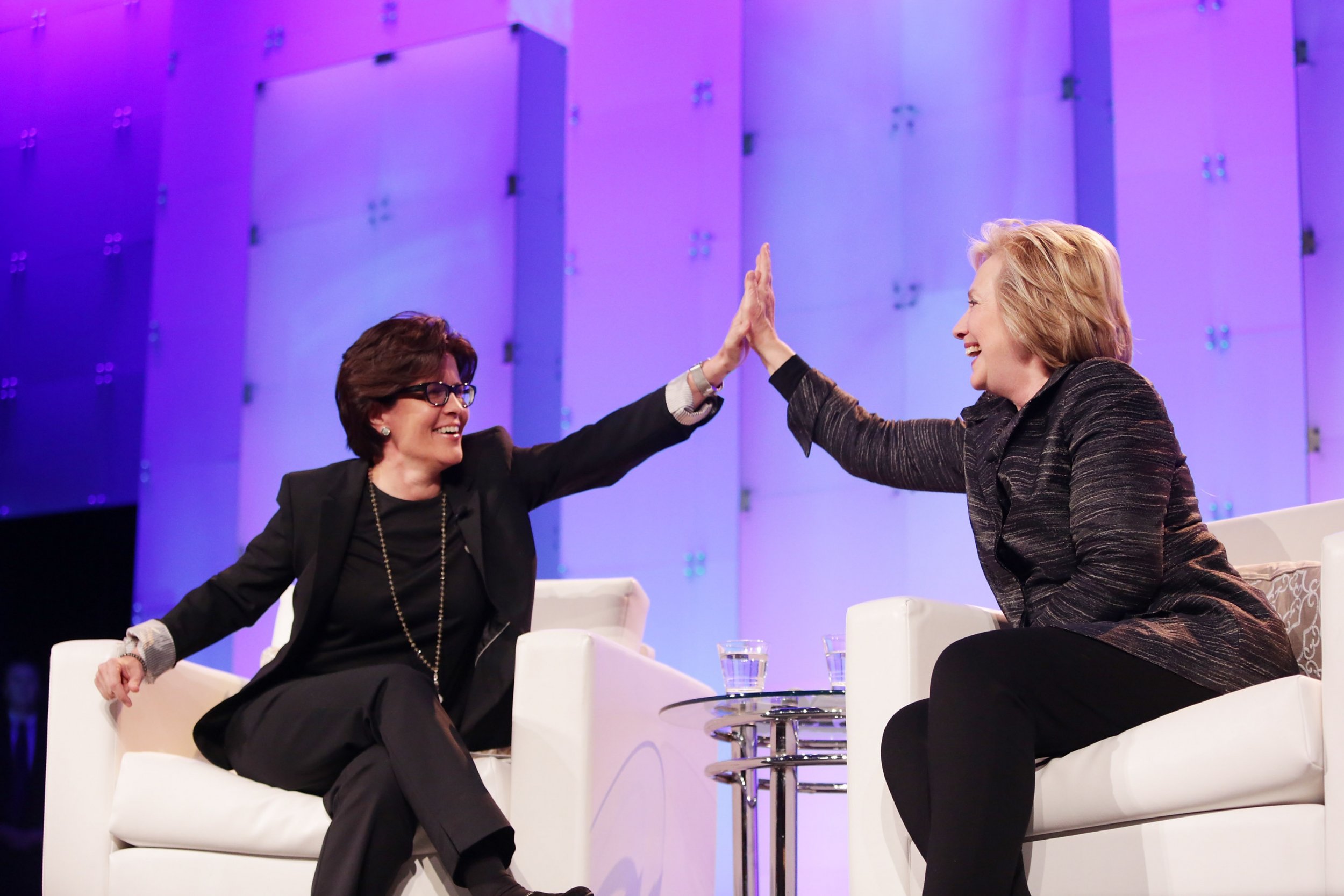 Gender equality is "not just a nice thing to do," former Secretary of State Hillary Clinton said Tuesday at the first Watermark Silicon Valley Conference for Women in Santa Clara.
Clinton went on to say that equality for women is necessary to ensure a country's economic and political stability. "Where women are included you are more likely to have democracy," she said, according to live tweeted accounts of her speech.
Clinton is widely considered to be a frontrunner for the 2016 Democratic presidential nomination despite having yet to declare a bid in the race. Delivering a keynote address at Tuesday's event, which focused on the professional development and leadership of women, Clinton said she could "literally count on one hand the number of women who have come [to Sillicon Valley] and turned their dreams into billion dollar businesses," but that "we cannot afford to leave all that talent on the sidelines."
"We're going backwards in a field that is supposed to be all about moving forward," Clinton said, citing the fact that women now receive only 18 percent of computer science degrees, whereas in the 1980s women took home 38 percent of those degrees. "Our economy seems to be operating like it's 1955."
Several of the audience members tweeted snippets of Clinton's speech:
Following the speech, Kara Swisher, co-executive editor of the tech website Re/code, sat down with Clinton for an interview. Swisher began by saying, "I interviewed the President last week and I'm eager to interview another." After a couple of light opening questions (iPhone or Android? President or next Oscars host?), Swisher got to the one on minds all around the world: Will Clinton run for president?
"I am talking to a lot of people," Clinton said. "There are a lot of things I would love to see our country do." But as for why she has yet to declare, Clinton said she hasn't finished checking things off her list. "All in good time," she said.
During the interview, Clinton talked about the progress she would like to see on issues like equal pay and family leave and revisited the topic of women in tech, likening the industry to "a Wild West environment." Asked whether having a female president would make a difference, she said women taking seats in the Senate over the last several decades has already had an impact. The sit-down touched briefly on tech policy issues before summing up with last questions:
"If you could wave a wand, what one thing would you change in this country?" Swisher asked.
"Our mindsets. Our political bunkers. We've come so far on race, sexism and homophobia. Nobody wants to associate with someone who doesn't agree with them politically. They listen to different media. You cannot run a great country like that."
Former Watermark CEO Marilyn Nagel was quoted as saying in the announcement of Clinton's speech, "Hillary Rodham Clinton and our other speakers are role models for millions of women and girls across the globe… Secretary Clinton and our other speakers embody Watermark's mission of advancing women in the workforce, increasing diversity and the presence of women in leadership."
Women in the tech industry face a slew of challenges in the male-dominated field. They are surrounded by men in an environment that's far from hospitable to women. Stories of investors who prefer to back men solely on the basis of their gender abound, as do reports of sexual harassment. The conference coincides with the trial of Ellen Pao, who filed a gender discrimination lawsuit against her former employer, venture capital firm Kleiner Perkins Caufield and Byers.
Clinton's appearance may also be a political overture towards San Francisco and Silicon Valley area investors, where the Washington Post reports Barack Obama raised $38 million.
But the tech industry has been less than pleased with the Obama administration's stance on national security and surveillance. In order to gain support from the tech industry, Clinton will have to convince its players that she would take a different path.
During her speech, Clinton mentioned working with tech companies in foreign countries during her tenure as secretary of state. She said, however, that the federal government has a long way to go with technology. Ina Fried, live-blogging the event for Re/code, summed up Clinton's speech as focusing on women in tech rather than addressing policy topics like security or net neutrality.
Tickets to the conference went for $245 and quickly sold out. "I've never seen tickets fly out the door like this," Marlene Williamson, Watermark's current CEO, told the Washington Post. "People are begging me, 'Can I get the Hillary tickets?' "
Clinton will reportedly be paid around $300,000 for the speech. Critics have latched onto the her speaking fees and related expenses as exorbitant. The website poorhillaryclinton.com (paid for by the Republican National Convention) has released videos and infographics that bash Clinton for her high speaker's fees and list of speaking engagement demands.
Others, though, say this is par for the course. In an opinion piece published in the Washington Post, Sally Kohn called Republicans hypocrites for attacking Clinton's speaking fees. "The Republican Party, which wants to keep women and minimum wage workers (the majority of whom, incidentally, are also women) severely underpaid while trust fund families and Wall Street execs pocket more," she wrote, "this crowd is attacking Hillary Clinton for being paid well."
Gender equality in pay, education and leadership figured prominently in Clinton's speech Tuesday. She said that women need to take the lead and help other women, but that doesn't necessarily mean doing something big and dramatic. "You don't have to run for office… but if you do, more power to you."