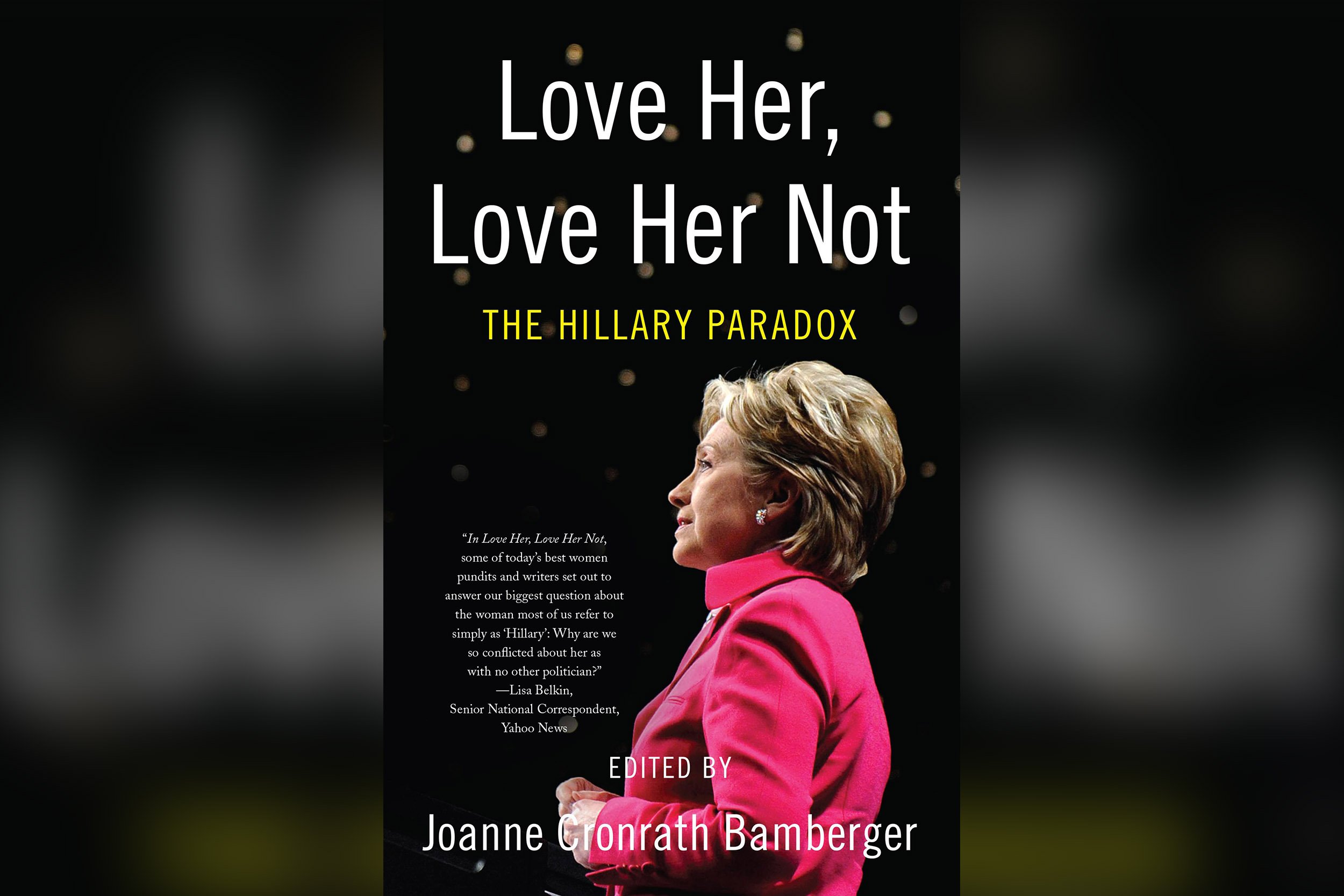 Excerpted from Love Her, Love Her Not: The Hillary Paradox, edited by Joanne C. Bamberger (SheWrites Press, November 2015). The following chapter was written by Estelle Erasmus (@EstelleSErasmus).
For the majority of her professional and political career, Hillary Rodham Clinton has rejected the purely feminine role, and she's paid a steep political price for it.
When asked during Bill Clinton's 1992 presidential campaign about her life, she famously replied, to much derision, "I suppose I could have stayed home and baked cookies and had teas, but what I decided to do was fulfill my profession which I entered before my husband was in public life."
Women, particularly women who had never worked outside the home, were appalled at what they felt was her dismissive insult, and it hurt her on a grand scale, even though she later won the Family Circle magazine bake-off against Barbara Bush, her Oatmeal Chocolate Chip recipe defeating the traditional Chocolate Chip cookie recipe Barbara produced. Hillary's 1996 bestselling book It Takes a Village: And Other Lessons Children Teach Us seemed to many to be a response to the world's judgment about how she wasn't motherly, as well as to her health care reform debacle.
Amidst the detritus of Hillary's spectacular failure to win the Democratic nomination for president in 2008 was her absolute resolve to not use her gender as a political scythe and her desire not to be viewed through any sort of gender lens at all.
But Hillary's gender, pundits say, is exactly what must be used as a key element of her strategy for a 2016 White House run.
In a 2014 New York Times article, Chris Lehane, a Democratic strategist, told the group Ready for Hillary that, "being a woman translates into great politics." If that's true, what can Hillary do to capitalize on that perceived "woman" advantage in 2016 that wasn't there in 2008?
The answer is this: her dedication to advocating for women and children at home and abroad, a topic that has yet to be as boldly embraced by any prior presidential candidate, but that could resonate with women voters who decided the outcome of the 2012 presidential race, and have voted in larger numbers than men since 1980. The good news for Hillary is that she has always had an interest in early education, so focusing on these issues will be natural for her.
While Hillary was First Lady, she led a bipartisan effort to establish Early Head Start, and oversaw educational reforms when her husband was governor in Arkansas.
In 2013, Hillary started "Too Small to Fail," a privately funded venture that is a joint initiative of Next Generation and The Bill, Hillary & Chelsea Clinton Foundation (a nonprofit which was formerly the Clinton Foundation).
The Foundation focuses on three areas that Hillary should highlight in a campaign: early childhood development, expanding opportunities for women and girls and improving economic development around the world. The mission of Too Small to Fail is to improve the health and wellbeing of America's children, ages zero to five, by promoting scientific research about early childhood development with the goal of reaching as many parents and business leaders as possible and motivating them to act.
"It's economically irresponsible to think we can continue to thrive as a nation with a generation of kids who aren't prepared to enter an increasingly competitive global economy," said Jim Steyer, co-founder of Next Generation.
If, as most political pundits believe, Hillary is making her early education initiative a pinnacle part of her plan to win the Democratic nomination, then it's a brilliant strategy. Whether a person is for or against Hillary on this issue, she has her finger on the collective zeitgeist.
In essence, education has become the new economic issue, and the economy has long been the number one issue among women voters.
A platform of education appeals to many women, who made up 53percent of the vote in the last presidential election, and who feel in a time where there are laws being passed on a statewide level to reduce the rights to their bodies that their voices need to be heard on both women's and mother's rights.
As past president of the board of directors for Mothers & More, a national nonprofit founded to support the work of mothers both in and out of the home, I strongly feel that the time is now for the work of motherhood to be taken seriously, especially in a presidential campaign.
Hillary has her party's support for her interest in early education, as well. In December 2014, President Barack Obama announced over $750 million in federal funding for early learning programs through the Preschool Development Grants and Early Head Start-Child Care Partnerships, as well as calling for the expansion of early childhood opportunities for children across the country through public and private commitments.
Although it's hard to argue with the idea of education as a pinnacle issue, Hillary has her detractors when it comes to making early education a focus. Claire McCarthy, M.D., a pediatrician at Boston Children's Hospital, and a spokesperson for the American Academy of Pediatrics, has wondered if government is just too big to make a difference, and has said, "…there's so much [that] a book and a pep talk from me can't do. They can't teach a parent to read. They can't make it so that a parent is home at bedtime, instead of working the evening cleaning shift while an older sibling or neighbor watches the child. They can't get rid of the toxic stress that pervades every family interaction."
Critics are missing the point that Hillary understands–there are so many communities and constituencies invested in a better education for their children that a presidential candidate with an education-meets-economy agenda will be very appealing. And that's something that has been shown to be very important to Hispanic voters–and if you win women voters and Latino voters you win the election.
Barack Obama won 70 percent of the Hispanic vote in 2012, and Hillary appears poised, with Too Small to Fail's latest partnership with Univision, the highest rated Spanish network, to get that vote, as well. The owner of Univision, Haim Saban, a billionaire Democrat, has recently said that he personally supports Hillary for President. That's a powerful "in" with that voting block.
If Hillary is elected president in 2016, becoming a "first" in the way that Barack Obama was a "first" for African Americans, she will have historic claims for her gender, so she should embrace that in a run for the White House. Not only will she be the first female president, but she will also be the first president who is also a loving mother and a doting grandmother.
Hillary appears ready, willing and able to finally accept both sides of her, the nurturing, female and the consummate policy professional, in a way she (and the rest of the country) never did before. This acknowledgement just may be the ticket she needs to come full circle again—baking cookies and having tea—and of course nurturing our country's children—in the celebrated citadel of power itself—the White House.
Excerpted from Love Her, Love Her Not: The Hillary Paradox, edited by Joanne C. Bamberger (SheWrites Press, November 2015).