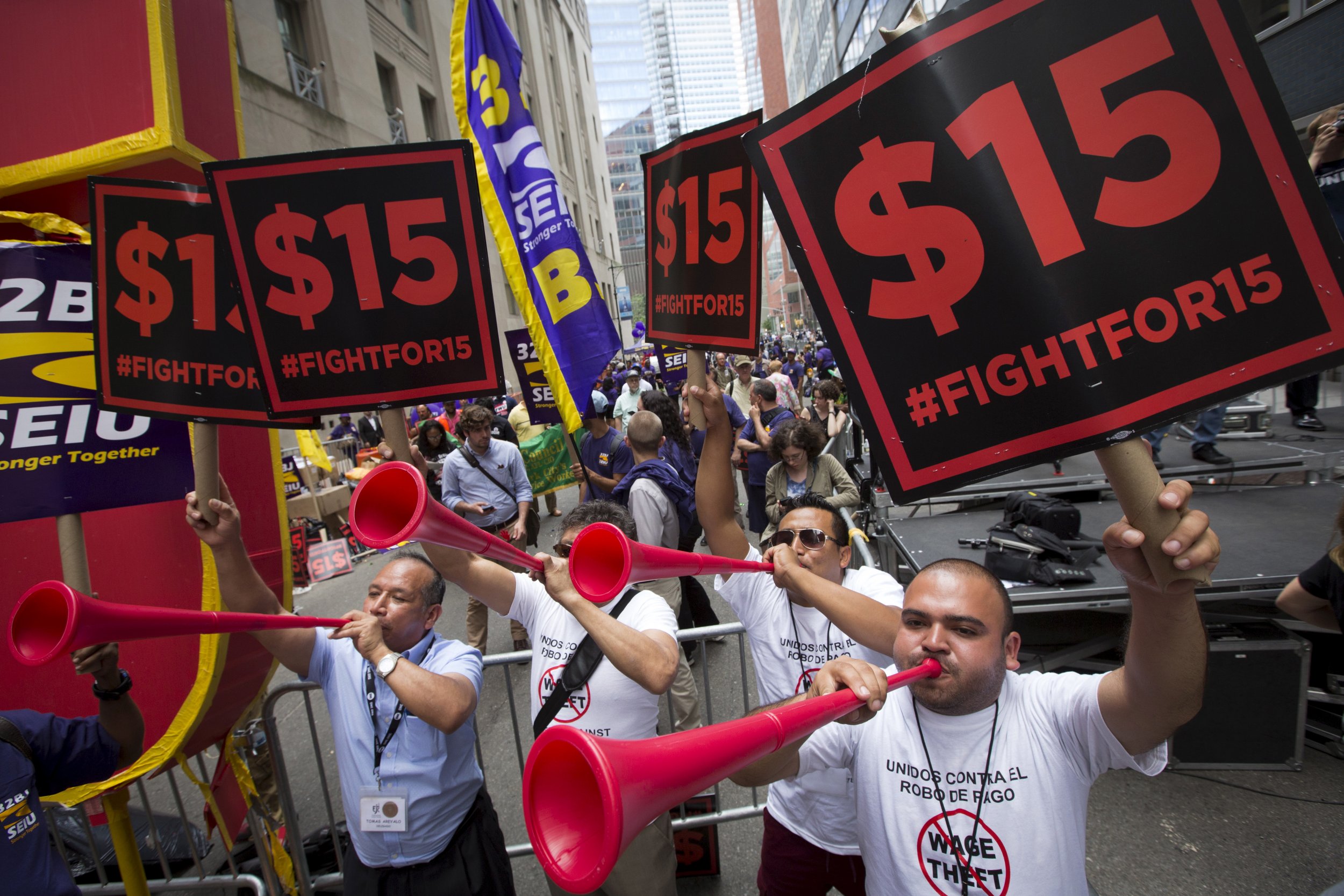 Every day, Hillary Clinton is looking more formidable as the front-runner for the Democratic presidential nomination—and today her momentum continued as the executive board of the Services Employees International Union (SEIU) voted to endorse her, Politico reports.
The SEIU is the driving force behind "Fight for $15," the national lobbying movement to raise the minimum wage for low-wage workers.
In October, the National Education Association, the country's largest teachers' union, voted to endorse Clinton. Between the NEA and the SEIU, she has the official backing of about two-thirds of the nation's union workers. Already equipped with a massive ground game in early primary states and swing states, Clinton benefits from the political mobilization and financial backing of labor organizations that know how to get candidates elected.
The endorsement is somewhat surprising in light of Clinton's recent comments on the federal minimum wage: at the second Democratic debate in Des Moines, Iowa, on Saturday, she took a more conservative stance than rival Bernie Sanders, arguing for an increase to $12 an hour, less than the $15 sought by the SEIU.
To win the support of organized labor, Clinton has had to toe the line between her policy interests and appealing to a liberal base, which has been flirting with Sanders. She eventually came out against the Trans-Pacific Partnership—her former boss President Barack Obama's signature achievement on trade—with protectionist rhetoric, but it took her a while to get there. She has served on the board of Walmart and has some ties to Wall Street, but still, she has campaigned on raising income for the middle class.
Clinton's electability was an issue for the NEA, whose national board endorsed her partially on the logic of competing against Republicans. Though Sanders has been more consistently liberal, since Vice President Joe Biden's announcement not to run, the Vermont senator's momentum has begun to sputter. Clinton has over 55 percent national support in recent primary polls, while Sanders has hovered around 25 percent. Her email scandal and Benghazi testimony didn't derail her to the extent that some anticipated—so far.
Since the leading Republican candidates have opposed a federal wage increase, it appears organized labor—historically a significant part of the Democratic base—is getting ready to coalesce around Clinton as a leader for the party heading into 2016.