Hillside Fire Map: New Flames Ignite Near Waterman Canyon In San Bernardino, California
Thursday morning marked yet another day that California residents awoke to mandatory evacuations because of a wildfire, this one dubbed the Hillside Fire.
By 6:00 a.m. EDT, San Bernardino County firefighters were on the scene of a vegetation fire near Lower Waterman Canyon on Highway 18. Quickly named the Hillside Fire, officials established structure defenses and ordered people to leave their homes.
"The fast-moving 200-acre Hillside Fire has entered neighborhoods in north San Bernardino," the San Bernardino National Forest posted on Twitter.
When the fire broke out, San Bernardino was under a red flag warning, signaling that weather conditions were ripe for flames igniting and spreading. For parts of Southern California (including San Bernardino), hot temperatures and low humidity, both ideal conditions for wildfires, were only made worse by the presence of the Santa Ana winds, which the National Weather Service (NWS) forecasted could reach up to 30 miles per hour.
Knowing the potential wind has to fan the flames of a wildfire, officials quickly ordered people to evacuate areas that either were or could be impacted by the Hillside Fire. As of 8:15 a.m. EDT, those mandatory evacuation areas included Highway 18 and all homes north of 50th Street, west of Highway 18 and east of Mayfield Avenue, according to the San Bernardino County Fire Department. The evacuation of Highway 18 also meant the roadway was closed to all through traffic.
Those who had to leave their homes in a hurry were able to go to the Pacific High School at 1020 Pacific Street in San Bernardino, where officials established an evacuation center.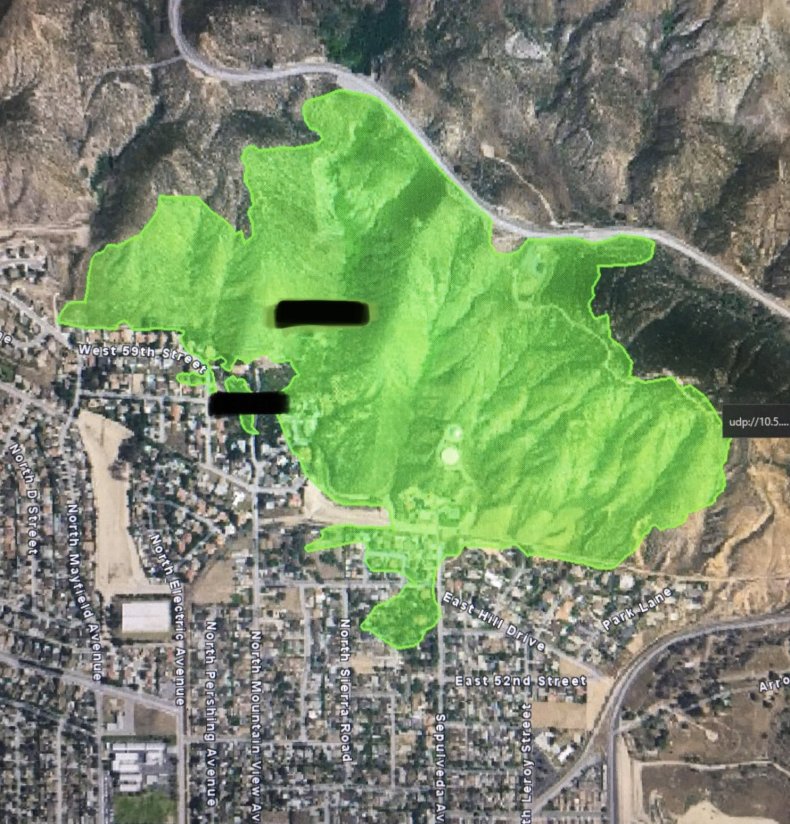 Earlier in the week, officials raised concerns that increased wind speeds would cause fires to rapidly spread. Now that the Santa Ana winds are blowing in full force, it seems their worries were completely founded. Since the winds started blowing in Southern California on Tuesday evening, at least three fires (including the Hillside Fire) started, and the adverse weather conditions posed a problem in fighting the Getty Fire.
However, the additional challenges didn't deter firefighting efforts. Many firefighters throughout the state were working practically non-stop to save people's homes and limit destruction as much as possible.
About 350 personnel were on the scene of the Hillside Fire by 8:15 a.m. EDT to conduct structure defense in neighborhoods and nearby wildland areas. Helicopters also dropped water on the incident from above and an air attack was conducted.
The San Bernardino County Fire Department wrote on Twitter that "multiple homes were involved" with the fire, but didn't elaborate on whether these were homes were damaged or completely destroyed.