Hillside Fire Update: Evacuated Residents Able to Return Home, Fire 50 Percent Contained
Despite threatening Santa Ana winds, firefighters were able to quickly get the Hillside Fire under control, allowing residents to return to their homes the same day they were ordered to evacuate.
The Hillside Fire broke out in the early-morning hours of Thursday near Waterman Canyon in San Bernardino, California. It was a relatively small blaze, but the Santa Ana winds, which were forecast to reach up to 60 miles per hour in the area, provided for rapid spreading, and officials immediately ordered more than 1,300 people to evacuate.
Hundreds of personnel were assigned to the blaze, and firefighters were able to gain enough control of the flames so that people could return home. Residents living within the area north of 50th Street, east of Mayfield Avenue, west of Highway 18 and south of open space areas were able to return home at 9 p.m. EDT on Thursday.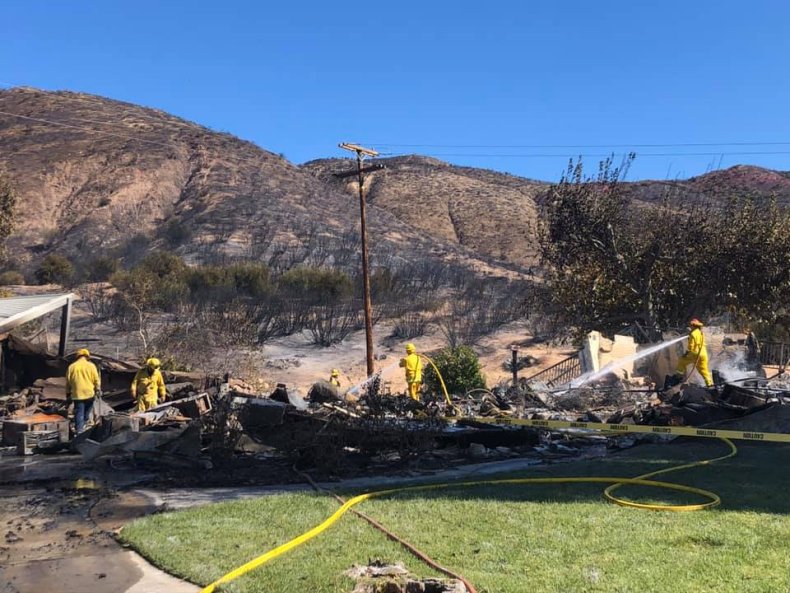 While the Hillside Fire burned in Southern California, firefighters battled at least nine other blazes across the Golden State. October is part of wildfire season in California, so multiple fires burning at one time isn't entirely surprising, but weather conditions made controlling the flames difficult.
On Thursday evening, the National Weather Service issued another Red Flag Warning for parts of Southern California, cautioning residents that low humidity combined with high winds increased the risk of wildfires sparking and spreading. Fortunately, the Santa Ana winds were expected to continue to dissipate and the Red Flag Warning was to expire at 9 p.m. EDT on Friday.
As of 6:45 p.m. EDT Thursday, the San Bernardino County Fire Department had the Hillside Fire, which had grown to 200 acres, 50 percent contained. Along with people being allowed to return to their homes, parts of Highway 18 in San Bernardino that were previously evacuated reopened to traffic.
While residents could go back home if they wanted, the San Bernardino County Fire Department warned that the area could be without power for an unknown amount of time. For some residents, returning home wasn't an option. The Hillside Fire destroyed at least six homes and damaged 18 others.
To further mitigate the threat of the flames, the San Bernardino County Fire Department said crews would remain on scene overnight to do mop-up work and containment. Mop-up work is considered one of a firefighter's most important jobs. It begins around the cooler sides of an active fire with the goal of ensuring that all hot spots are completely extinguished so they can't ignite.
"The San Bernardino County Fire Department would like to take a moment to acknowledge the tremendous efforts by the over 500 suppression personnel that continue to battle the Hillside Fire," the San Bernardino County Fire Department said on Facebook.