HIMARS Better for Ukraine Than Multiple Launch Rocket System: Ex-General
Retired U.S. Army General Mark Hertling says the long-range missile system provided to Ukraine's military is nimbler than other rocket launchers and gives the country an advantage against Russia.
Hertling made the remarks in a Twitter thread Monday explaining how the High Mobility Artillery Rocket System (HIMARS) is particularly well-suited for Ukraine's fight against Russia. Since the U.S. agreed to share the missile system, Ukrainian forces say they've used it to great effect against the larger and better-equipped Russian military.
A former commander of the U.S. Army Europe and the Seventh Army, Hertling was responding to Ukrainian Defense Minister Oleksiy Reznikov, who touted the precision of the missile system.
"Our gunners use HIMARS very delicately—like a surgeon with a scalpel, they work," Reznikov said on national television, according to Ukrainian Pravda.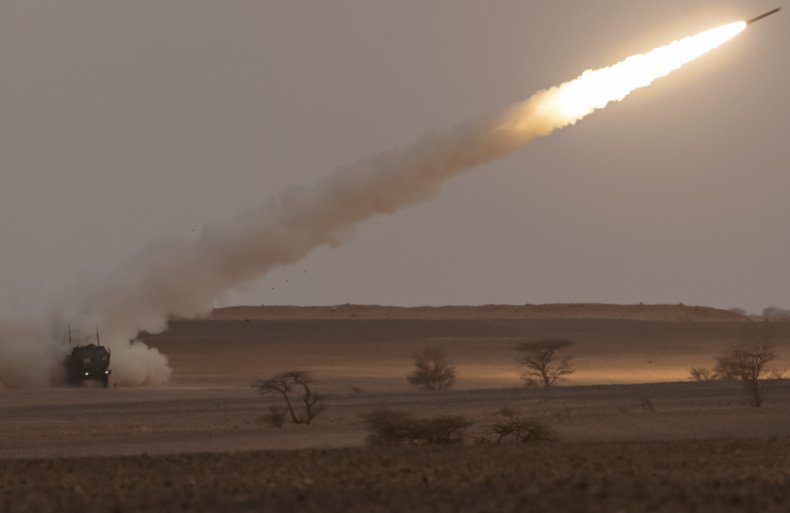 Reznikov said the accuracy of the missile system has allowed Ukraine's forces to destroy bridge crossings, as well as Russian ammunition depots and command posts. Those successful strikes, he said, deprive Russian forces of their ability to conduct combat operations.
Ukraine has relied heavily on military aid from the U.S. and other Western powers. In June, the U.S. agreed to give Ukraine HIMARS. Reznikov said this month that it has already made a "huge" difference, and Ukrainian forces have reported using them to kill several high-ranking Russian military officials.
The Pentagon has said that the missiles allow Ukraine to strike at logistical targets from behind the frontlines.
Hertling shared in the Twitter thread that Ukraine had initially requested Multiple Launch Rocket System (MLRS) units. But Hertling said the M270 MLRS is "a tracked vehicle" designed to keep up with tanks on rough terrain. The M142 HIMARS, he said, is a fast-moving wheeled vehicle that travels 60 mph and higher on roads and 30 mph on rough terrain.
"MLRS is harder to fix, has more parts," said Hertling. "HIMARS is basically a truck with rockets."
The MLRS has two rocket pods and 12 missiles compared to HIMARS' six-missile rocket pod, but Hertling said it's easier to train a smaller crew to operate the HIMARS, which he said can "shoot, scoot, (and) reload faster" with fewer troops.
The lower maintenance of the HIMARS and its ability to maneuver quickly in eastern Ukraine, where Russia has refocused its war efforts, also makes a difference, Hertling added.
With 16 HIMARS in the hands of Ukrainian forces, each firing two pods a day, means 5,800 missiles launched, he said. The GPS-guided, long-range missiles have an accuracy rate of 90 percent, penciling out to 5,200 targets successfully struck in a month, he said.
While Hertling added that the U.S. and its allies should consider the risk of giving Ukraine so many of the high-tech weapons, he said he feels confident they're making "prudent decisions."
Newsweek has reached out to the Pentagon for comment.