'Hindsight Being 20/20,' Manchin Says Democrats Should Have Taken Trump's Stimulus Offer
Congress may be preparing to pass a long-awaited economic relief bill, but Senator Joe Manchin, who helped draft the $908 billion bipartisan proposal, thinks House Democrats should have taken President Donald Trump's earlier offer.
Asked on Wednesday morning by CNN's Alisyn Camerota if he wished Democrats had worked with the White House on its $1.8 trillion offer in October, Manchin replied, "Hindsight being 20/20, absolutely."
"I'm always looking for that deal. I tell you that's what people expect us to do. You have to compromise to make a deal. If you want to hold your position, then basically you get nothing done," he said. "We've seen the stalemate."
On October 10, House Democrats and Senate Republicans dismissed Trump's offer, which would have included $1,200 stimulus checks for adults and an additional $1,000 per child.
Funding was also allocated for state and local governments, unemployment insurance, student loan forgiveness and food assistance, among other areas. The president's offer also renewed the Paycheck Protection Program for small businesses.
While the offer was nearly double the original proposal from Republicans, it remained $400 billion short of a package that House Democrats had passed in March.
At the time of the White House's offer, House Speaker Nancy Pelosi said, "This proposal amounted to one step forward, two steps back."
She went on, "When the president talks about wanting a bigger relief package, his proposal appears to mean that he wants more money at his discretion to grant or withhold, rather than agreeing on language prescribing how we honor our workers, crush the virus and put money in the pockets of workers."
The new bipartisan proposal, introduced by Manchin and 10 other lawmakers on Monday, falls $892 billion below Trump's offer.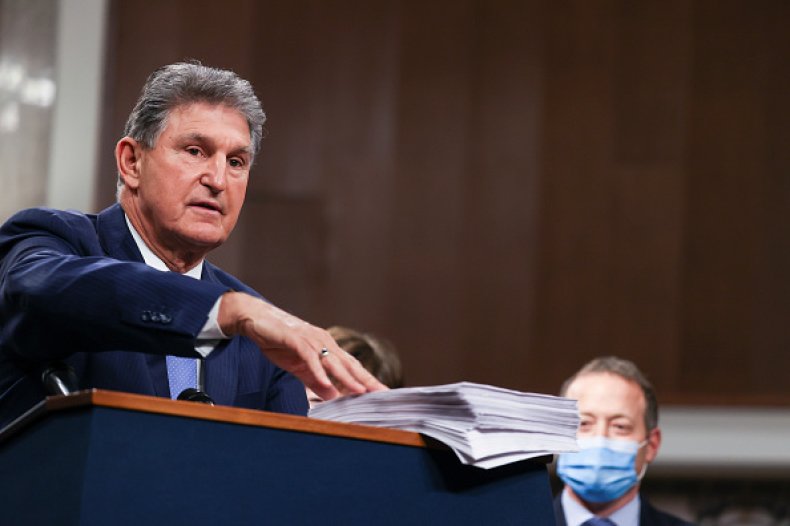 Congress has stalled on the negotiations since the end of July, leaving millions of Americans with little relief amid the worsening coronavirus pandemic.
Pressure to pass a second round of federal aid is mounting, as the government is set to break for the holidays on Friday. But Manchin said he thinks lawmakers will be able to strike a deal before then.
"I think it's going to be done. I think you're going to hit the deadline, and we'll do it and hopefully have it done by Friday," he said.
After pushback from Senators Bernie Sanders and Josh Hawley, the bipartisan package is now expected to include another round of stimulus checks, which had originally been left out. However, the payments may be smaller than the $1,200 provided in the CARES Act last spring.
"I'm understanding that it could be, maybe, some direct payments in lieu of state and local [government aid]," Manchin said on Wednesday.
"It wouldn't be more than $1,200 but I think it will be in the $500-$600 range, to try to help through this most difficult time," he added.
Newsweek reached out to Pelosi for comment but did not hear back in time for publication.