Woman Gets 500-Word Essay From Hinge Match Asking for a Date: 'Invested'
One hopeful dater was left with more than she bargained for when she requested potential matches to submit a 500-word essay, and one finally did.
Lauren Kempton described the moment as her "most favorite Hinge interaction ever" after becoming tired of time wasters on the dating app. Kempton set one of "prompts," a feature on the dating app that users place on their profiles as conversation starters, as "the way to win me over is" and wrote her answer as: "writing me a 500 word essay on how you will not waste my time."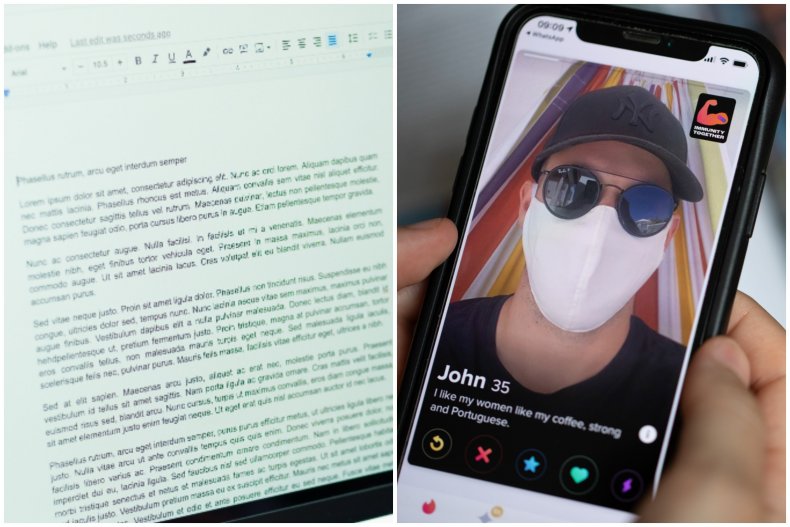 The dater admitted that she was "half joking" with the prompt but said that most replied refusing to write an essay. That was until she met her match, literally.
Fellow dater Lee reached out to Kempton through the app, requesting her email address to "send across my essay along with a Powerpoint presentation on why you should date me."
Kempton sent it over but assumed she wouldn't hear anything from him. Lee however pulled through, and sent a 500-word essay for her review titled "Time Wasting."
In a "statement that should not be taken lightly," Lee detailed exactly why he shares a dislike for dating time wasters before explaining just how he would conquer becoming one for Kempton.
"As we all know, the world of online dating is full of pitfalls, time wastes and more ghosts than a haunted mansion at Disneyland, so having your time wasted is something I can relate to in many ways. I have been catfished, stood up and ghosted more times than I ever thought possible, so the last thing I would wish to do is put that on anyone else."
Lee listed the traits of a typical online dating time waster, including "claiming their phone battery has died," "failing to remember basic facts about you" and that they "don't delete their dating apps."
Then, he detailed how he would not waste Kempton's time in contrast, by "ensuring that any plans we made are kept to, this would include indoor and outdoor date plans depending on the weather, time, cost, etc."
"I'm a big fan of knowing where I stand with people: if you like me, let me know. If you don't, let me know," he continued.
Lee added a lengthy paragraph on their shared love for music, noting: "I feel this is something that we have in common due to my previous experience of being a covers band myself, this is definitely something that we could bond over."
As is common with any good essay, he finished with a conclusion summarizing the most essential points and clarifying just how little time he would waste.
"So obviously I have to go out with him," said Kempton. The dater has stuck to her word, and the pair have a breakfast day planned followed by an arcade and golfing day.
Kempton described him as the "nicest" and "just a genuinely funny, nice person," providing hope for the whole of her 900,000 TikTok viewers who are promising to watch along for the dating journey.
Newsweek has contacted Lauren Kempton for comment.
"He's our date now," wrote one TikTok user.
"Does Lee know he has now set a standard for all the men on TikTok to live up to," added another.
"Omg I'm invested now," noted a viewer.
Quirky TikTok dating adventures seem to have become a popular genre on the platform, with users sharing the various out-there responses they've received online.
Earlier this month of May, one dater went viral after sending a fake resume to a Hinge match in a hilarious exchange.
According to the man's mission statement, he is a "highly motivated individual seeking the ultimate companion/dance partner/dinner date/weekend getaway partner."