Who Is Performing at the 2017 Hip Hop Honors? Mariah Carey, Missy Elliott and Other '90s Icons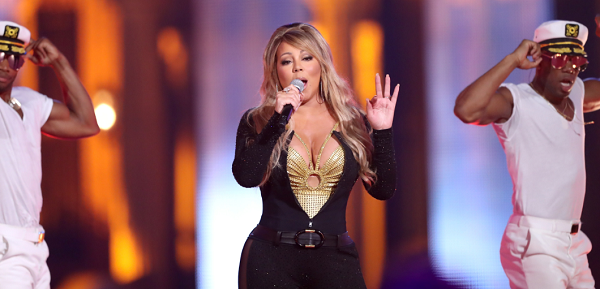 Nostalgia for the '90s is having a real moment in 2017.
Throwback shows that were the darlings of '90s television are suddenly finding themselves rebooted for modern tastes. For instance, Will & Grace is returning to NBC in September, and the iconic MTV music video countdown show Total Request Live premieres in October. Even the fashion industry is taking advantage of America's obsession with '90s pop culture, taking trends that were once all the rage and bringing them back to the forefront (or storefront) for today's fashionistas to enjoy.
Meanwhile, musicians who reached the height of their fame in the '90s also are seizing the moment, embracing the adoration of newfound fans by releasing new music—looking at you, LCD Soundsystem—or appreciating the loyalty of longtime fans at reunion tours—i.e., Hanson, Bad Boy Family, among others.
So it seems only right that VH1 would opt to use this year's Hip Hop Honors as a moment to recognize the hip-hop and R&B trailblazers of the music industry.
The 2017 Hip Hop Honors: The '90s Game Changers, which airs on Monday, will celebrate a number of influencers responsible for driving urban entertainment to the mainstream in the '90s, including comedian Martin Lawrence, Mariah Carey, rapper Master P, record label exec Jermaine Dupri and renowned hip-hop video director Hype Williams.
Honorees Carey and Dupri are set to take the stage during the event, but they aren't the only '90s icons slated to perform. Last year's honoree Missy Elliott, who was recognized for paving the way for women in hip-hop, is scheduled to open up the show with a musical performance featuring the leading lady of '90s rap, Lil' Kim. Artists including Da Brat, Fat Joe, Remy Ma, the Lox, Xscape—who are also on a reunion tour right now—Havoc and Ty Dolla $ign also will perform.
Presenters include Tichina Arnold, Faith Evans, Timbaland and DJ Khaled, while actress Regina Hall will host the event.
The star-studded ceremony, which was held at Los Angeles's Paramount Studios on Sunday, will air Monday on VH1 at 9 p.m. ET.