The World's Oldest Hippo in Captivity Dies After a Life of 'Boredom, Misery and Deprivation'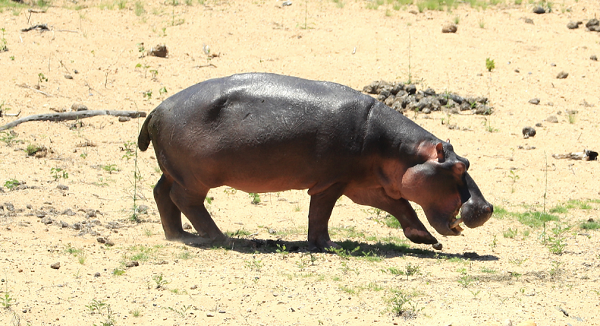 The world's oldest hippopotamus living in captivity, Bertha, has died at age 65. The hippo had been living at the Manila Zoo in the Philippines since 1959.
The zoo's director, James Dichaves, told Agence France-Presse on Monday Bertha was discovered dead in her enclosure on Friday. The 2.5-ton animal was 7 years old when she arrived at the zoo during its opening year.
After enjoying a longer life than most herbivorous mammals, Bertha died from multiple organ failures, Dichaves said.
"Bertha was among the pioneer animals here. Her mate died sometime in the 1980s and the couple failed to produce any offspring," Dichaves told AFP.
Bertha's caretakers noted that the hippo had been moving slower than usual for the past two months.
"We were actually anticipating it already because her health had been deteriorating in the past three weeks," Dichaves told Philipines Star news site.
In the wild, hippos typically live up to 40 years, according to National Geographic. The animals, which can reach up to 4 tons in size, generally reach 50 years of age when in captivity.
In a statement, animal rights group People for the Ethical Treatment of Animals criticized the Manila Zoo holding the hippo in captive for so many years. Bertha, who enjoyed a diet of grass, fruit and bread, lived in an enclosure measuring at more than 1,000 square feet.
"Bertha's life at the Manila Zoo was one full of boredom, misery and deprivation. It's a tragedy that she only realized freedom through death," PETA spokesman Jason Bakers said.
Zoo officials believed Bertha had been the oldest living hippopotamus in captivity following the death of a 62-year-old hippo named Donna, who died at the US Mesker Park Zoo and Botanic Garden in Evansville, Indiana in 2012. In 2014, a male hippo named Bertie had reached 58 years of age before he was euthanized at the Denver Zoo in Colorado.
Dichaves said the zoo had lost its records of where Bertha was obtained.
Despite being considered mammals, hippos also have amphibious traits that allow them to spend up to 16 hours per day in water, and they cannot survive in areas that do not have an abundant water supply.
Although not considered endangered, the World Wildlife Fund has listed hippos as a vulnerable species. Populations have been decreasing across the globe in recent years. The organization cited changes to hippopotamus habitats in sub-Saharan Africa as the main reason behind the animal's declining population.
Following Bertha's death, a 43-year-old Asian elephant named Mali is now the oldest resident living at the Manila Zoo. In early 2017, PETA launched a petition requesting Mali, who was taken from Sri Lanka, be transferred to a sanctuary in Thailand.