Baby Hippo Melts Hearts for Breaking Out of Enclosure to Be With Giraffes
An adorable baby hippo escaped from its enclosure in Copenhagen zoo and snuck in to see the giraffes, in a video that has been viewed 950,000 times.
With the text "Hippo baby broke out of his [enclosure] to mess with the giraffes," the baby hippo can be seen roaming around, swimming in the giraffes' pool, chewing on wires, having a little rest, and just generally being a nuisance.
In an update in the next video, the naughty little omnivore can be seen running away from its mother and squeezing through the fence to visit the zebras, having a nibble on their hay, before leaving to go and bother the giraffes again, with 2.2 million views. The hippo calf then walks toward a giraffe, before going in to the inside part of the giraffes' house to steal their hay.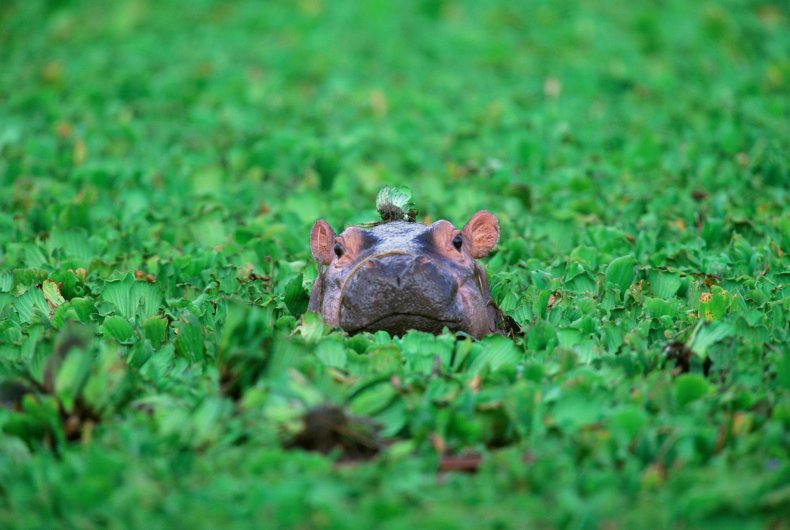 Sociable Creatures
Although this little guy seems to want to be friends with everyone, in the wild hippos are a little bit less sociable with other animals, spending large amounts of time in the water.
Often thought of as one of the most dangerous land animals due to their fierce territorialism and ability to run at up to 30 miles per hour, they can weigh up to 3,500 pounds.
Native to sub-Saharan Africa, according to the African Wildlife Foundation, hippos are sociable with each other, however, and are often found in mixed groups of anywhere from 20 to 100 individuals, dominated by a territorial bull. Typically they leave their waterholes in the cool of the night to graze for four to five hours, covering up to five miles of territory.
Happy Hippo
Users on TikTok were delighted by the mischievous mammal with one user writing: "It looks so happy," while another wrote: "Turns out i do need a baby hippo, who knew."
Many users loved the interspecies interaction, with one person saying: "Haha that giraffe was walking away like 'I don't want to be an accessory to your crimes my dude'" and another said: "I love how the hippo goes in to the giraffe stable and the giraffe follows him like what are you doing."
Endangered Species
According to organization Save Animals Facing Extinction, most hippos currently live in protected areas, but despite this, over the last decade their numbers have declined by between 7 percent and 20 percent.
The common hippo is officially listed as vulnerable, and the pygmy hippo is listed as endangered. They are attractive to poachers for their meat and ivory teeth, and their habitats have been destroyed by humans and global warming. They have already become extinct in three African countries.