Hiroshima, Nagasaki Survivors Fear Trump Policies Could Bring About New Nuclear Attacks
It's been three-quarters of a century since the United States first unleashed atomic assaults on the Japanese cities of Hiroshima and Nagasaki, marking a fiery close to World War II, the deadliest war in human history.It was well as the first (and only), uses of such weapons in combat. To mark the 75th anniversary of these bombings, Newsweek spoke to survivors who say they still fear they have not seen the last of nuclear conflict.
Setsuko Thurlow of Hiroshima and Tanaka Terumi of Nagasaki, both 88, are known as hibakusha, a Japanese term referring to those who lived through the U.S.-launched atom bomb attacks against their two cities on August 6 and 9 in 1945. For decades, both Thurlow, who now lives in Toronto, Canada, and Tanaka, of Niiza, Saitama province in Japan, have been vocal anti-nuclear activists, working with global groups such as the Nobel Prize-winning International Campaign to Abolish Nuclear Weapons. They spoke through the group to Newsweek ahead of the anniversary.
Amid the proliferation of advanced weapons and the failure of bilateral arms control treaties between the United States and Russia, Thurlow and Tenaka offer warnings of a new nuclear apocalypse and hope for a return to calls for total disarmament.
The interview has been edited lightly for style and length.
As someone who has experienced the horrors of atomic warfare first-hand, what is your reaction to the United States' withdrawal of arms treaties such as the Anti-Ballistic Missile Treaty (ABM) and the Intermediate-range Nuclear Forces Treaty (INF)?
Thurlow: As a 13-year-old girl, I witnessed my beloved city Hiroshima, blinded by a flash of light, flattened by the hurricane-like blast, burned in the heat of 4,000 degrees Celsius and contaminated by the radiation of one atomic bomb. I was rescued from a collapsed building, where most of my classmates were unable to escape. They were burned to death alive. I saw a procession of ghostly figures slowly shuffling away from ground zero—blackened, swollen, with skin and flesh hanging from their bones. Some carried their eyeballs in their hands.
I vividly remember that bright summer morning 75 years ago, when daylight turned to dark twilight with smoke and dust rising in the mushroom cloud, dead and injured people covering the ground, begging desperately for water and receiving no medical care at all. There were fires everywhere. A foul stench of burnt flesh filled the air. Of my hometown population—roughly 360,000 mostly non-combatant women, children and elderly—140,000 beloved human beings became victims of the indiscriminate massacre of the atomic bombing. As I use the numbers of the dead, it pains me deeply. Reducing individual lives to numbers seems to me to be trivializing their precious lives and negating their human dignity. Each one who died had a name. Each one was loved by someone. And still to this very day, people are suffering and dying from the delayed effects of radioactive poisoning.
Of course, I am horrified by the Trump administration's blatant disregard for treaties and international cooperation. Horrified but not surprised as the nuclear age has been marked by disinformation, manipulation, secrecy and lies. To think that even today there are people who believe that nuclear weapons protect them and "keep the peace" is astonishing to me. Every nuclear-armed nation, not just the United States, is modernizing their arsenals. And nuclear modernization unethically redirects the public purse and bright human minds—desperately needed to address the coronavirus pandemic, climate chaos and the destabilizing conditions of social and economic injustices made plain by COVID-19. How is money spent on nuclear weapons truly protecting anyone? There is an urgent need to re-think the concept of security in the 21st century and central to that is funding human needs and protecting the natural world for future generations.
Atomic bomb survivors reject the American myth that the use of radioactive violence was necessary to avoid a costly invasion of Japan and even "saved lives"... With an understanding of the historical perspective, we survivors saw ourselves as pawns in the opening moves of the Cold War rather than as sacrifices on the altar of peace. Nuclear weapons are not a necessary evil, they are the ultimate evil.
Tanaka: Nuclear weapons are weapons that must never be used. The demand of the hibakusha, the A-bomb survivors, is to eliminate them as soon as possible. Although they may be remnants of the Cold War-era nuclear arms race, the ABM and INF are bilateral treaties that stipulate that the two countries that maintain the largest number of nuclear weapons in the world should refrain from using them, and should reduce their nuclear arsenals. This should be implemented in good faith, and at least, they should promptly achieve a reduction to around 300, the number of warheads held by the other nuclear powers.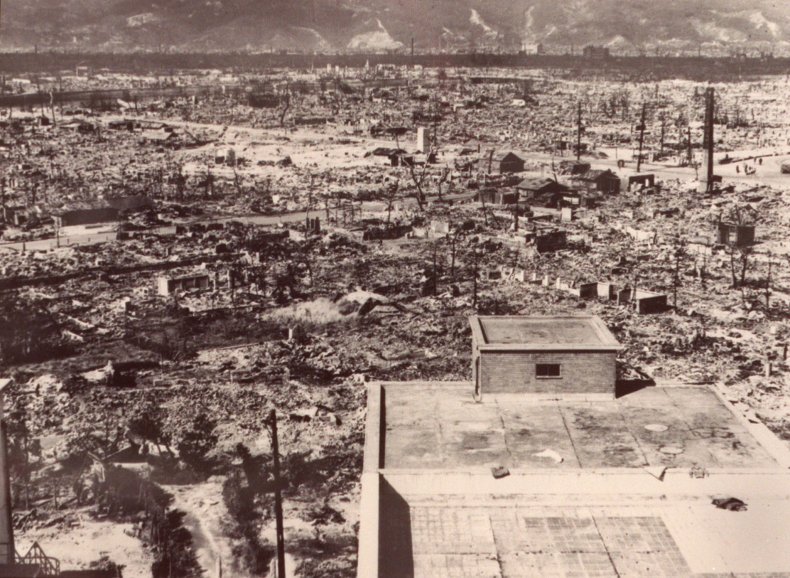 If the United States and Russia fail to renew New START then it will be the first time in about half a century that the two powers will not be bound by bilateral nuclear agreements, progress in doing so is slow as the U.S. insists on a deal that would include other countries like China and new, more advanced weapons of mass destruction. What do you say to the leaders of these two countries as the February 2021 deadline steadily approaches?
Thurlow: The Trump Administration seems to be taking some sort of pride in de-railing previously held, and in many ways minimum, arms control agreements, as well as threatening to use nuclear weapons as a kind of bravado. Early in Donald Trump's presidency he was reported to have asked, "If we have them, why can't we use them?" It is terrifying to think how few people in government understand what nuclear weapons mean, even on a most basic level. My nightmare now is that we might stumble into a nuclear war by accident or perhaps more likely due to the blustering egos of men in power who refuse to act on behalf of humanity. It is hard to not shudder at the thought that the likes of Donald Trump and Vladimir Putin have the power to annihilate the planet.
Tanaka: As long as the U.S. and Russia seek a trilateral nuclear disarmament framework that includes China, the two countries should extend the New START treaty and insist on a new trilateral framework on the condition of achieving the target of the reduction of their nuclear warheads on a par with China's. The Strategic Arms Reduction Treaty was a useful treaty between the two nuclear superpowers. The current situation, if we consider the targets of 1,550 nuclear warheads and fewer than 800 strategic missiles, is grossly inadequate, and Russia is asking for an extension, not a revocation, of the treaty by February 2021. It played a significant role in reducing the number of warheads from 70,000 in both countries to just over 13,000. The Trump administration has called for a new trilateral reduction framework to address the threat of China and to install checks and balances. Yet China has fewer than 300 warheads; even if it is likely to become a military superpower in the future, it would not join a trilateral nuclear weapons reduction treaty framework on an equal footing.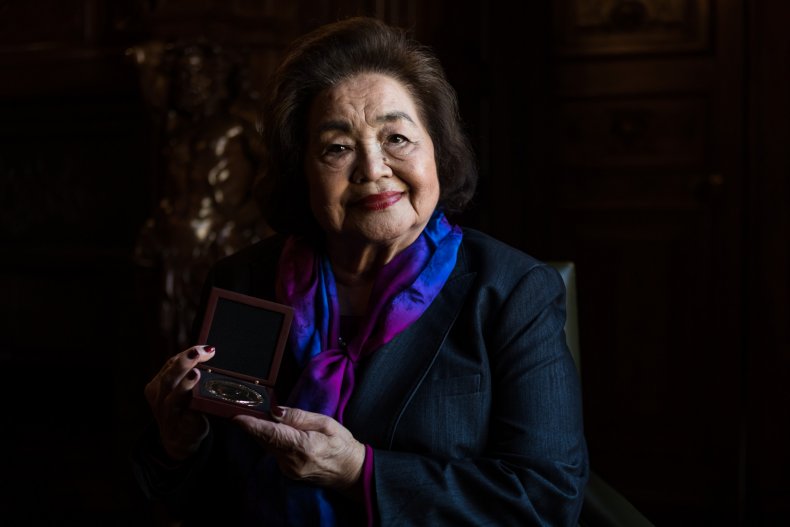 How does it feel to watch the U.S., Russia and China develop these new, faster and more difficult to block nuclear-capable weapons? Do you have any suggestions as to roll back this new arms race?
Thurlow: Not only the United States, Russia and China, but every nuclear-armed nation is modernizing their arsenals. Earlier this year, for example, Emmanuel Macron delivered a speech in Paris offering France's modern nuclear weapons in defense of Europe.
Many experts agree that the threat from nuclear weapons is greater now than at any time in history. The Bulletin of the Atomic Scientists announced on January 23, 2020, that their Doomsday Clock is now set at 100 seconds to midnight, the closest it has ever been to nuclear catastrophe in the 75 years of the nuclear age. Dr. Rachel Bronson, President of the Bulletin, recently said, "The current environment is profoundly unstable and urgent action and immediate engagement is required by all."
But not all is lost. In fact, in many ways, never before in my life-long work for nuclear disarmament have I felt such a sense of hopefulness and excitement as I do now. Why do I feel so hopeful? It's because of the birth of a rapidly growing global movement that I am part of—the International Campaign to Abolish Nuclear Weapons (ICAN). Our campaign has been reframing the problem of nuclear weapons from deterrence credibility and techno-military issues to concerns over their humanitarian and environmental consequences.
For adherents to nuclear deterrence, there is the disparaging idea that the TPNW [Treaty on the Prohibition of Nuclear Weapons] will never advance abolition, because nuclear-armed countries have not yet joined. However, it is clear that nuclear-armed states are nervous about the success of our work to stigmatize and delegitimize nuclear weapons. We are helping people understand the human and environmental cost.
Nuclear weapons not only represent the annihilation of all life on earth, but they also result in an extraordinary misuse of taxpayer resources and human ingenuity, especially in a world beset by problems that require our immediate attention—the global pandemic, climate chaos, extreme poverty, racial injustice and many other pressing issues.
Tanaka: The hibakusha have consistently argued that nuclear weapons must not be used, and that they should be abolished immediately. A policy that assumes the use of nuclear weapons and will develop more sophisticated means of delivery than currently available is outrageous for the A-bomb survivors, who are calling for the prohibition and elimination of nuclear weapons as soon as possible.
Are the proponents really planning a nuclear war, or do they not realize that humanity would be destroyed for the benefit of one nation? It is insanity.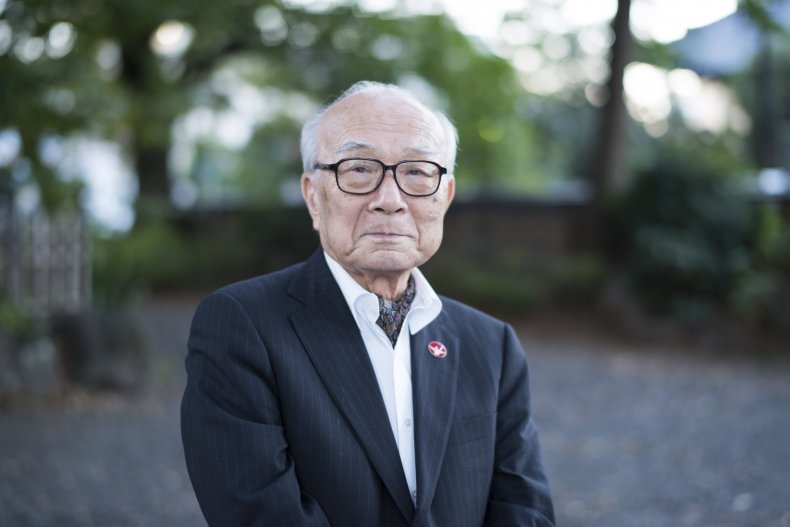 The Trump administration has reportedly considered a return to nuclear testing, what would this mean for efforts to abolish nuclear weapons? What would it mean for you?
Thurlow: Can you imagine, a return to nuclear testing!? It is almost impossible to believe, after decades of work to prohibit nuclear testing, that we may again face this avoidable danger. Yet it is true that the Trump Administration is considering detonating nuclear bombs, breaking a 28-year taboo when the US signed the Comprehensive Test Ban Treaty in 1992. We are in grave danger, as a new nuclear arms race is set to begin again. I recently learned that U.S. Senator Tom Cotton, a Republican from Arkansas, has introduced an amendment to the National Defense Authorization Act (NDAA), that was approved in a party-line 14-13 vote. This would make at least $10 million available to "reduce the time required" to explode a nuclear weapon "if necessary." How can nuclear testing, something condemned across the globe, ever be considered "necessary?"
Resumption of nuclear testing is against the spirit of the Comprehensive Test Ban Treaty, which the U.S. signed but has not yet ratified. Nuclear testing is also contrary to the Non-Proliferation Treaty (NPT) where nuclear-armed nations are meant to be working towards the goal of nuclear disarmament. In Article VI of the NPT, there is a legal obligation to abolish nuclear weapons "at an early date." Even if the current US administration does not support the Treaty on the Prohibition of Nuclear Weapons, it does imply its support for the NPT. The only reason for nuclear testing is to develop more wicked weapons. The money Senator Cotton wants to allocate for an accelerated nuclear testing program should be used to address the global pandemic. A return to the past, as if we do not know the dangers we now face as a world community, is unacceptable.
Tanaka: Trump's policies are creating a new nuclear arms race. This policy is completely contrary to the direction of nuclear abolition. It is an act that turns its back on the survivors of the 75 years of nuclear war. It would lead to the annihilation of humanity.