With His Accusation of 'Disloyalty,' Trump Reminded Jews Exactly Why They Vote Democratic | Opinion
President Donald Trump has powerful predatory political instincts. The president set a perfect trap for the Democrats, thanks to the views of Representatives Ilhan Omar and Rashida Tlaib on Israel. By frightening Prime Minister Benjamin Netanyahu into taking an action he did not want to take—barring the two congresswomen from visiting Israel—he forced the rest of the Democratic Party to come to their defense.
If Trump could have stopped at that, he might have reaped at least some marginal political gain among Jews.
Yet the president never knows when enough is enough. On Tuesday, at a press session with the Romanian president, Trump reminded most Jews why they keep voting Democratic. The president not only attacked the two congresswomen, but went on to say that any Jewish person who votes for a Democrat is guilty of ignorance or "great disloyalty."
Much has been written in the past day attempting to determine where Trump imagines this "great disloyalty" would manifest— toward the United States or toward Israel. In reality, either explanation is equally problematic and anti-Semitic at its root. Calling Jews disloyal to the United States is a purely anti-Semitic statement. Whatever he meant to say, this what some his supporters will hear.
Trump's inflammatory words come at time when violent attacks and plots against Jews and Jewish institutions are being committed by people who identify with his views. They constitute the most egregious allegation ever made by a president regarding Jews in all of American history.
However, if Trump meant to say that by voting Democratic, Jews would be disloyal to Israel, that level of anti-Semitism is nearly as bad. One of the major strands of anti-Semitism over the generations has consistently suggested that Jews maintain dual loyalties toward the nation in which they reside (in this case, the U.S.) and to other Jews (now, the state of Israel). American Jews have gone to great pains over the years to make it clear that their support of the state of Israel does not impact their loyalty to the U.S.
If the president had any hope of moving some Jewish voters from the Democratic camp to the Republican camp, he lost that likelihood with his outburst Tuesday afternoon. For what Trump does not seem to understand is that Jewish support for the Democratic Party has nothing to do with support for Israel. Rather, it has to do with the question of anti-Semitism and inclusiveness.
The Republican Party, in the era post-FDR, has been seen by many Jews as the exclusive party—i.e., the party whose members excluded Jews from country clubs—while the Democratic Party has been viewed as the inclusive party. Of the 138 Jewish members of Congress who have served since the FDR era, only 15 have been Republican, and the remaining 123 were Democrats. Most Jews deem inclusiveness and fear of anti-Semitism as belonging to the highest level of symbolic politics. These issues go beyond the normal cost-benefit analysis in political choice and reach the core of voter identity.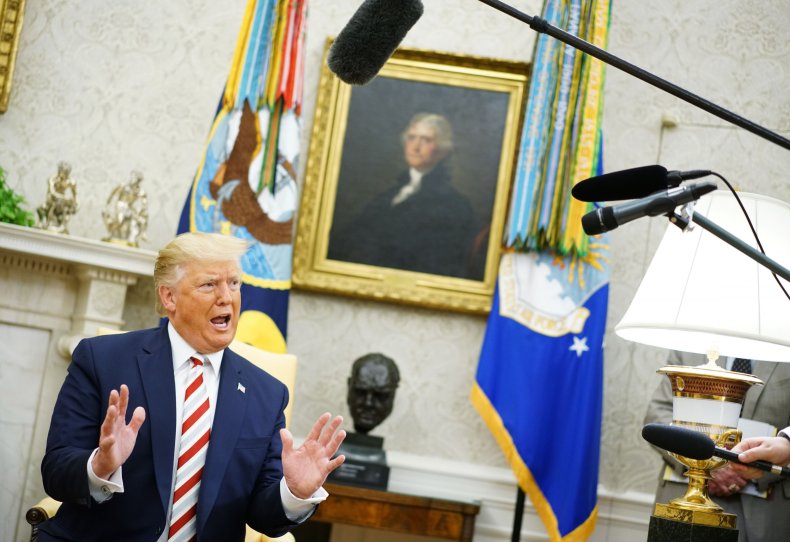 There is no question that since Trump took office there has been a steep rise in the mainstreaming of white nationalism—an upswing that has resulted in two deadly attacks on synagogues on the United States, as well as a number of additional plots against Jewish institutions that were thwarted. The number of anti-Semitic incidents in the U.S. has skyrocketed over the course of the past two years.
Jews were fearful of candidate Trump, giving him the lowest Jewish vote in recent presidential elections. When the midterms came, an even more significant percentage of Jews (79 percent) voted Democratic. Trump is ensuring that this trend will continue.
It would be inappropriate to ignore the problems that exist these days in the Democratic Party. Omar has brought with her a version of anti-Semitism that is very real in the Muslim world. To many, "Jewish control and money" is the only possible explanation for how Israel has succeeded, while so many Muslim countries are effectively failed states.
This problem is not new. There have repeatedly been periods of significant anti-Semitism in the African American community, for example. However, the Democratic Party has always known how to contain outbreaks of hate—and no Democratic president has ever encouraged these views.
Despite these challenges, and the bullhorn Netanyahu and Trump have provided Israel's fiercest critics in Congress by denying them entry into Israel, the voices of these freshman congresswoman are likely to remain on the fringes of power.
In 2020, Jews will still not be inclined to increase their votes for Trump. In fact, just the opposite is likely—his professed love of Israel notwithstanding. After Tuesday's remarks, Jews will presumably be even more enthusiastic about working as part of larger coalition of Americans to remove him from office.
Marc Schulman is a multimedia historian.
The views expressed in this article are the author's own.​​​​​