'His Dark Materials' Iorek Byrnison Voice: Who Voices the Bear in the HBO series?
While movie adaptation The Golden Compass had acting legend Ian McKellen voice the armored bear Iorek Byrinson, the BBC/HBO version of His Dark Materials went for a younger, less well-known performer in the role.
English actor Joe Tandberg has not been seen on screen in many projects, but his voice may be familiar to His Dark Materials viewers, especially those who are keen video gamers.
Tandberg voiced the character of Josera Snow, a bastard son of House Forrester from Game of Thrones: A Telltale Game Series in 2014. He also voiced Runar in Final Fantasy XIV and a Space Wolf in 2016 game Battlefleet Gothic: Armada.
The actor has been seen on screen most recently in the 2018 Netflix supernatural YA drama The Innocents, where he plays one of the police officers out looking for the two main teens of the series.
For His Dark Materials, he not only voiced the character, but on occasion he also played him on set. As Radio Times wrote: "Sometimes the bear was just represented by actor Joe Tandberg (who also provides Iorek's voice onscreen) wearing (functionally) a bearskin costume, while other times he wore a special rig that allowed Iorek's bear head to hang in front of his own.
"Other times, he just wore a plain boiler suit with a light rig over his face, or stepped away in favor of a static model to help the crew include Iorek's scale, or was replaced by a large grey cushion for scenes where Iorek was less mobile or in a confined space."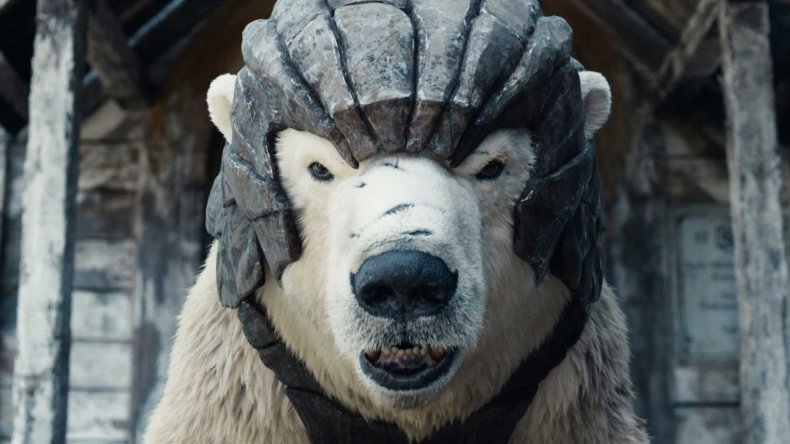 Other times, Iorek was brought to life via puppets, which were also used for some daemon scenes. As previously reported by Newsweek, Lyra actor Dafne Keen said of these: "We had puppets. We did a take with the puppet and then they pulled the puppet out and we remember what the puppet did. But we always had the voice of the actor, which really, really helps and the puppeteers really, really helped because that way you see what your soul is doing in a scene."
Tandberg has also been teasing his first episode of His Dark Materials on Twitter this weekend. Alongside a picture from the set posted on November 18, he wrote: "The North is no place for a girl... Or is it? Stay tuned!"
His Dark Materials airs Mondays at 9 p.m. on HBO.
'His Dark Materials' Iorek Byrnison Voice: Who Voices the Bear in the HBO series? | Newsgeek