'His Eyes Were Locked on Us': Alligator Attacks 77-Year-Old Florida Woman
A 77-year-old woman has been attacked by a near 8-foot alligator in a Florida neighborhood.
The Bradenton woman was rushed to hospital after she was bitten by the reptile that had been lurking in a pond at Ellsworth Avenue on September 3. Neighbors heard the woman's screams and one rushed outside to help, Fox13 reported.
Florida is home to 1.3 million alligators. They can be found in all 67 counties of the state and often lurk in local ponds and wetlands.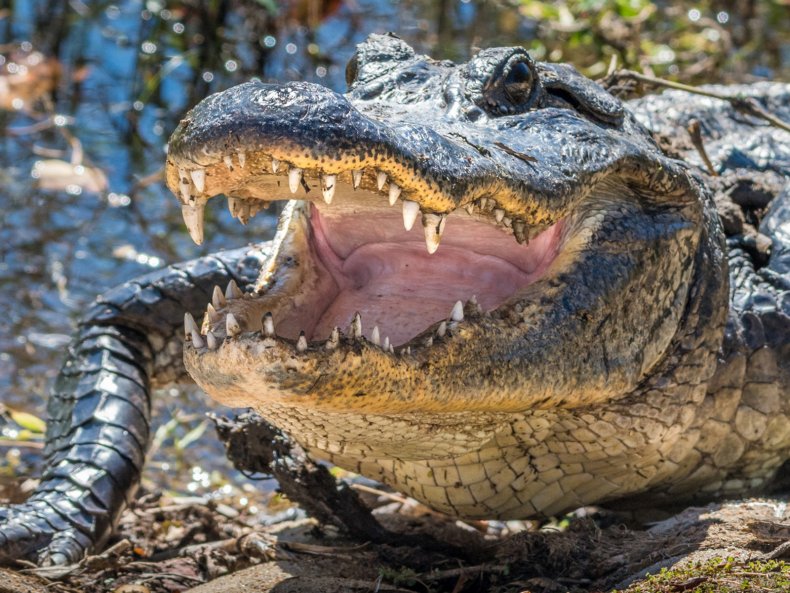 Wildlife officials arrived at the scene at around 6 p.m to investigate.
It is not yet clear how severe the woman's injuries are. Newsweek has contacted the Florida Fish and Wildlife Conservation Commission (FWC) for comment.
East Manatee Fire District Battalion Chief Craig Madsen, who responded to the incident, told Fox13 that the neighbor who had rushed outside to help saw the alligator on the sidewalk shortly after the incident.
"He said as he started yelling at it ... the gator released the victim and proceeded back in the water," Madsen told the news outlet.
Once back in the pond, the alligator stayed in one spot.
Madsen said "his eyes were locked" on the officers.
As they investigated, police officers had a weapon on hand in case the alligator attacked.
The alligator, which was measured at 7 feet and 10 inches long, was euthanized by a licensed nuisance alligator trapper.
The reptile was seen lying dead shortly afterwards with blood around its mouth, WFLA reported.
Madsen said the alligator appeared to have been fed by humans.
"It was pretty apparent once the trapper arrived at scene, he had a bag of marshmallows and he threw a couple of marshmallows out into the pond and as soon as that marshmallow hit the water the gator came straight to the marshmallow to eat it. It seemed apparent that this gator had been fed and obviously that's not something we recommend because it could turn into circumstances like this," he told Fox13.
In Florida, an alligator is deemed a nuisance if it displays threatening behavior. An alligator may be considered a nuisance if "it's at least 4 feet in length and believed to pose a threat to people, pets or property," the Florida Fish and Wildlife Conservation Commission (FWC) says on its website.
Nuisance alligators are usually euthanized and not relocated, as they will often return to the site of their capture.
Alligators will not usually attack a human unless provoked. But alligators that are fed by humans become used to them, meaning they are bolder and more likely to attack.
A wildlife photographer and videographer, Gordon Silver, had been in the area at the time of the incident.
"I was sort of shocked. I've lived here 5 years and I've never seen a gator come after anybody like that," Silver told Fox13. "Usually they run the other way even when you see them on a path over here, crossing over here from pond to pond they see a human and they take off. Every pond you come across, it could be a little small puddle and there might be a gator in there. You just have to be aware."