Hispanic and Black Adults Are Much More Concerned About Contracting Coronavirus Than White Adults: Poll
As the coronavirus continues to spread across the U.S., a new study has found that Hispanic and black adults are much more concerned about catching the new disease than white adults.
According to a Pew Research Center poll, released Tuesday, more than half—55 percent—of the overall public are either very or somewhat concerned they will catch the virus and require hospitalization. When broken down by race, larger portions of Hispanics and black adults said they are very concerned about catching COVID-19, 43 percent and 31 percent respectively, compared to just 18 percent of white adults.
A larger share of Hispanic and black adults are also more concerned about unknowingly spreading the coronavirus to others compared to white adults, with 49 percent of Hispanic adults and 38 percent of black adults indicating they are very concerned about unwittingly passing on the virus, compared to 28 percent of white adults.
Black adults personally know more people who have suffered serious illness caused by COVID-19. More than a quarter—27 percent—of black adults say they know someone who has either been hospitalized or has died from the novel virus, compared to only 13 percent of Hispanic and 13 percent of White adults.
The study surveyed 4,917 U.S. adults between April 7 and 12. The margin of sampling error is plus or minus 2.1 percentage points.
Newsweek reached out to Pew Research Center for additional information.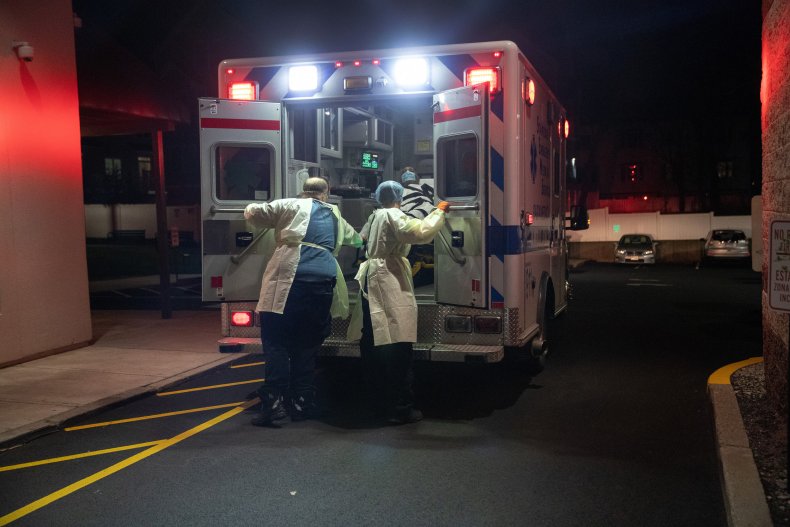 Recent figures from American cities that have been hit hardest by the coronavirus outbreak indicates that minority communities have been disproportionately impacted. In a limited study, the CDC found that African Americans, a group that constitutes roughly 13.4 percent of the population, contributed to 33 percent of domestic hospitalizations.
Early data from New York City this week also showed the death rate among Hispanic and black COVID-19 patients double those of white patients. Latinos make up 34 percent of those who have died in the city from coronavirus, according to preliminary statistics, despite only representing 29 percent of the population. Black individuals make up 28 percent of New York City's coronavirus-related deaths, despite representing 22 percent of the population.
New York City Mayor Bill de Blasio on Wednesday said these sharp racial disparities reflect the city's economic inequalities. "There are clear inequalities, clear disparities in how this disease is affecting the people of our city," de Blasio said. "The truth is that in so many ways the negative effects of coronavirus—the pain it's causing, the death it's causing—tracks with other profound health care disparities that we have seen for years and decades."
The racial disparity in some other states are even more pronounced. According to preliminary data, black people in Chicago make up 72 percent of deaths caused by the virus.